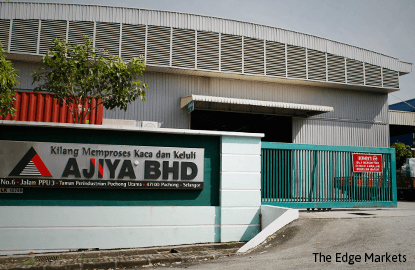 KUALA LUMPUR (Aug 9): Ajiya Bhd will partner with Sarawak-based IMAG Development & Construction Sdn Bhd to develop a housing project to be awarded by Prima Corporation Malaysia (PR1MA).
The safety glass and metal roll manufacturer said in a bourse filing today that its subsidiary Ari Utara Sdn Bhd (ARIU) has signed a memorandum of understanding (MoU) with IMAG to work together, secure and implement a project to be awarded by PR1MA.
It said Polybuilding Construction Sdn Bhd, which has received a letter of intent from PRIMA last month to construct 746 units of PR1MA homes comprising townhouse units with all the necessary amenities, utilities, facilities and infrastructures on a 24.88-acre leasehold land in Matang, Sarawak, "is desirous of assigning this project in total to IMAG".
IMAG is in turn interested to use Ajiya Green Integrated Building Solutions (AGIBS), which is produced by ARIU, for this project. Ajiya said ARIU has agreed to design, supply and deliver AGIBS to IMAG.
"The MoU is only binding in the event of IMAG successfully securing the project," it said.
PR1MA was established under the PR1MA Act 2012 to plan, develop, construct and maintain high-quality housing with lifestyle concepts for middle-income households in key urban centres.
Ajiya closed 0.5 sen or 0.5% higher at RM1 today, for a market capitalisation of RM303.1 million.