This article first appeared in The Edge Malaysia Weekly, on July 18, 2022 - July 24, 2022.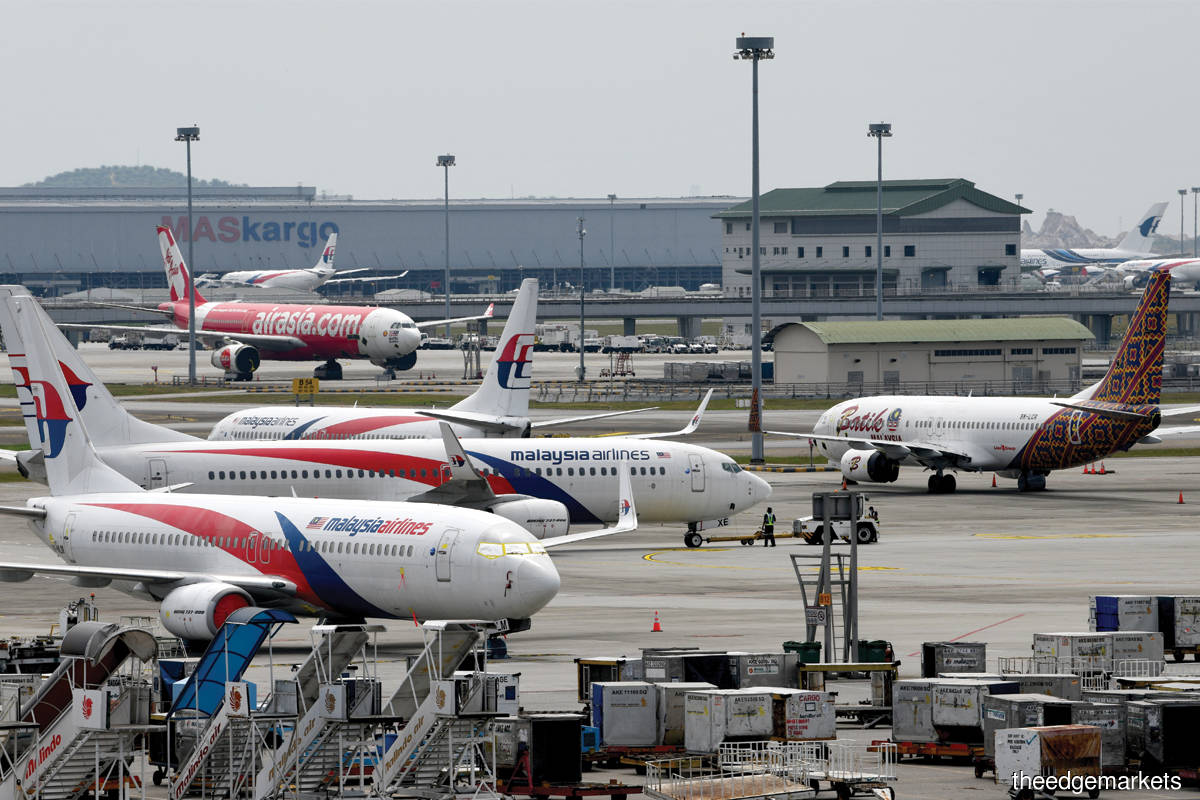 FOR the second quarter of the year, airlines worldwide are poised to report their strongest quarterly revenue since the onset of the Covid-19 pandemic, led by higher airfares and robust demand. Revenue growth is expected to slow in the third and fourth quarters, however, as flight cancellations and tight capacity limits at airports have thrown a curveball at airlines' recovery, says an aviation expert.
John Grant, chief analyst at global travel data provider OAG Aviation Worldwide Ltd, says at OAG's webinar on "International Air Travel: Market Share and Prospects for the Remainder of 2022": "As airlines went into the second quarter of this year, many were expecting this summer to be the highest-ever revenue recorded — but not necessarily in terms of profitability. I think  we will see a bit of pullback [than previously forecast] by what's going on in the market.
"Nevertheless, 2Q2022 financial results, which airlines will be releasing this week and next, certainly in the US and Europe, will still look pretty good. Airlines have, however, cut back their planned flight capacity for 3Q and probably 4Q."
According to Grant, a major unknown for airlines is how much corporate demand will return from September if, indeed, it does. "It has been a particularly soft period for corporate demand. If that doesn't return by mid-September, then the airline industry is going to be getting more and more concerned about how the last quarter of this year will be."
Last week, London's Heathrow airport joined Gatwick airport and Amsterdam's Schiphol airport in imposing a cap on daily passenger traffic as airlines and ground crews struggle to process a surge in travel demand. It was reported that Heathrow would limit daily passenger traffic to 100,000 people through Sept 11, asking airlines to refrain from selling summer tickets. Forecasts show that it would have to handle as many as 104,000 passengers a day over the summer, the airport said.
How much will airlines lose? Assuming a notional yield of US$400 per passenger departing from Heathrow and that Heathrow is seeking a reduction in passengers of 1.375 million handled at the airport through to September, this equates to lost revenue of more than US$550 million (RM2.4 billion), Grant estimates.
According to OAG data, global cancellation rates this year are above 2019 levels but below those of 2021 and trending downwards.
OAG data on the Southeast Asia aviation market shows that international airline capacity in the region in June 2022 still has a long way to go, at 66% below 2019 levels, whereas domestic airline capacity was at -12%. Total airline capacity in Southeast Asia was 40% behind June 2019.
The country in Southeast Asia with the best recovery so far is Vietnam, where total airline capacity is now 3% ahead of June 2019.
In a July 10 strategy note, CGS-CIMB Research says Malaysia's airline seat capacity has been recovering slower than hoped for because the process of restoring cabin crew strength is slowing down the airlines' plans to reinstate flights.
"Our top-down estimate of Malaysia's international passenger traffic recovery in 2022 currently stands at 40% of the 2019 base, but our bottom-up analysis suggests that potentially only 31% can be achieved. Meanwhile, our top-down estimate for Malaysia's domestic sector is for a recovery in 2022 to 85% of the 2019 passenger traffic base, but a bottom-up analysis suggests that 75% could be more realistic," the research firm notes.
Grant says while international air travel in Southeast Asia has undoubtedly been hit by a couple of percentage points — owing to airlines having to cancel flights, the inability to operate according to their planned schedules and adjusting capacity even now for August — the biggest impact comes from the loss of international Chinese tourists.
This is likely to remain unchanged before April 2023, he says, as China's stringent zero-Covid strategy is likely to run into next year.
"There is still a long way to go for countries like Japan, which is still closed to mass travel. International seats from China used to be nearly a million a week, but the number of seats available now is 112,597 a week [for the week of July 11, 2022]. That is a huge loss to every one of those countries surrounding China," he notes.
Grant points to Thailand, whose international capacity is still down 66.4% in the week of July 11, 2022, from the week of July 15, 2019. "Much of that [international capacity] is linked to China. Thailand was a very popular market for Chinese tourists, and that is not around at this moment.
"If you look at Northeast Asia, airlines such as Asiana Airlines and Korean Air are still operating at only 60% of their normal capacity because they feed a lot of traffic through their Asian hubs to and from China."
China's new lockdowns aside, aviation experts say India's large size makes it a prized market for airlines. "The Indian market has bounced back strongly and there is great opportunity there," says Grant. "It is going to be the 'new China' for the next couple of years. That's where a lot of the action and activity is going to be."
Another speaker at the OAG webinar, Sandeep Bahl, executive programme director for US-India Aviation Programme, says domestic and leisure demand as well as the visiting friends and relatives traffic post-Covid-19 in India have been robust and continue to grow. "I don't think the numbers are back to pre-pandemic levels yet," says Sandeep.
OAG data shows that India's international seat capacity in the week of July 11, 2022, is still down 10.1% against the week of July 15, 2019, while domestic capacity is down 5.6%.
Airport staff issues unlikely to end soon
Do not expect the flight disruptions and staffing shortages that plagued airports to end anytime soon, Grant says, adding that airports should have been better prepared to respond to this issue.
"I understand the difficulties of running these highly intensive, labour-driven industries, but we should have seen what was going to happen and we should have been more prepared. But I guess the crux of all of these [issues] is we as travellers had it too good for too long, paying ridiculously cheap airfares and subsequently not paying fair value market wages in the industry for some of the jobs that are absolutely crucial to the operations of the sector.
"We can't go on paying minimum wages or just above minimum wages for baggage handlers, security staff and other roles that are absolutely crucial to the operation. It has come home to haunt us this summer," he says.
"This is compounded by the fact that in many communities around larger airports, a husband and wife sometimes would be employed by the same company... maybe doing different jobs, but taking a salary from the same employer. But [with] Covid-19, sudden redundancies and furloughs have made people realise that that was an extremely high-risk position to be in. So, many families are saying, 'We can't both go back into the same industry; it is too risky for our finances, with inflation creeping up, cost of living rising and so on'.
"It is not going away in the short term. You see spikes in certain regions. As we go into August, we will probably see more flight cancellations."
Sandeep concurs: "The airline industry lacks the agility needed, with so many regulatory constraints and uncertainties. Covid-19 brought in changes such as contactless self-check-in, but on the soft side — such as security checkpoints and baggage handling — you still need people. We were unable to improve on that."
Another speaker, Julian Carr, chief marketing officer of airlines and route development at GMR Airports Ltd says the avia­tion industry did not expect to recover to the current level more quickly than it has.
"When we were getting people [in the aviation industry] to leave and find jobs elsewhere, the express distribution market was going through the roof. For example, people now working for Amazon or its equivalent don't want to return to this industry. So, there needs to be an underlying shift in the overall model to some extent; otherwise, we are really going to struggle to retain and recruit people."
Carr does not see the employment issue persisting in the long term. "From next year, we are going to be in a better place. Heathrow and Amsterdam are doing the right thing to limit the number of flights — ultimately trying to get some degree of capacity control is important and that will give certainty to passengers."