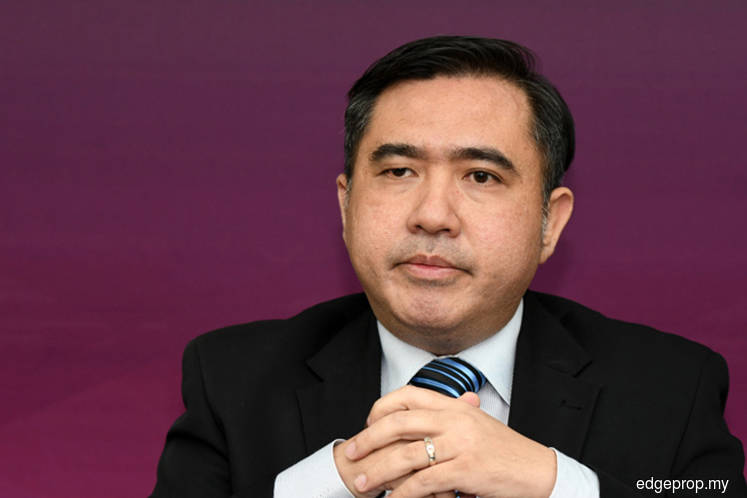 KUALA LUMPUR (Sept 4): The three airline operators, namely Malaysia Airlines Bhd (MAS), AirAsia Group Bhd (AirAsia) and Malindo Airways Sdn Bhd (Malindo), have agreed to increase airline capacity by about 20% for domestic flights during the peak festive seasons starting next year, after a meeting held earlier today, according to Transport Minister Anthony Loke Siew Fook.
Among the peak festive seasons include Chinese New Year (CNY), Hari Raya Aidilfitri, as well as Pesta Kaamatan and Hari Gawai, he said.
"Right now, the commitment is only to increase about 20% additional capacity during that three (CNY, Hari Raya Aidilfitri and Pesta Kaamatan and Hari Gawai) festive seasons from the existing route operated by the airlines operators. We don't want to have overcapacity; if there is overcapacity, it is a waste of resources for the airline operators.
"But the capacity is based on the availability of the aircraft and so on. That's why some airline operators will have to operate the midnight flight (above 10pm and 11pm) to cater for this high demand festive seasons, because we cannot disrupt their normal schedule," Loke told reporters at the Malaysian Aviation Commission (Mavcom) office to announce update on airfares.  
This approach is still in the trial period throughout the year until next year, of which consumers can start purchasing their air ticket for CNY on Oct 1, followed by Hari Raya Aidilfitri on February and March. However, for Pesta Kaamatan and Hari Gawai, the dates have yet to be decided.
"We started with this three festive seasons, because these are the most demanded [ones]. Not to say that we left out other festive sessions, but for example, during year end, it is spread out because people have choices to travel throughout the week or months. There is no particular day for them to travel.
"However, during CNY, Hari Raya Aidilfitri and Pesta Kaamatan and Hari Gawai, people will travel three to four days, before that particular day," Loke added.
This announcement came following the meeting held between the ministry and the chief executive officer of MAS, as well as the CEOs of AirAsia and Malindo earlier today.
So far, the government and the airline operators have agreed to increase the capacity, instead of setting up the ceiling price for domestic flights during the peak festive seasons.
"We are adopting fair approach to the airline operators and consumers, because this is the first time we called them (MAS, AirAsia and Malindo) to sit down together to discuss on the pricing patterns of airfares for domestic flights during peak seasons.
"We gave them choice of what they want, do you want us (the government) to put the cap or you (the airline operators) want to increase the capacity?," he said adding that definitely the airline operators chose to increase their capacity. 
Loke said this capacity increment is to allow more seats for the consumer to purchase their flight tickets early, as this approach will cause the airfare prices to fall. 
"The earlier you buy your flight ticket, the cheaper it will be. If you buy last minute, then the prices will soar as airline operators look at the supply and demand, he said.
"We (The government) don't want to disrupt the market but if this approach cannot lower down the airfare prices, then we will again sit down to look and discuss on any other possible way to tackle this issue, like on whether we have to apply the ceiling price or not," he said.
The ministry, together with airline operators, have identified seven routes that will get additional 20% capacity for seven consecutive days before the CNY festive season. This includes Kuala Lumpur to Sibu, Kuala Lumpur to Kota Kinabalu, Kuala Lumpur to Kuching, Ipoh to Johor Bahru, Johor Bahru to Sibu, Johor Bahru to Kuching, and Johor Bahru to Kota Kinabalu.
For Hari Raya Aidilfitri, among routes involved are Kuala Lumpur to Kota Bahru, Kuala Lumpur to Alor Setar, Kuala Lumpur to Kuching, and Kuala Lumpur to Kuala Terengganu.
"Obviously, we will identify more routes in future," Loke said. He added that routes for Pesta Kaamatan and Hari Gawai will definitely be from Peninsular Malaysia to Sabah and Sarawak.