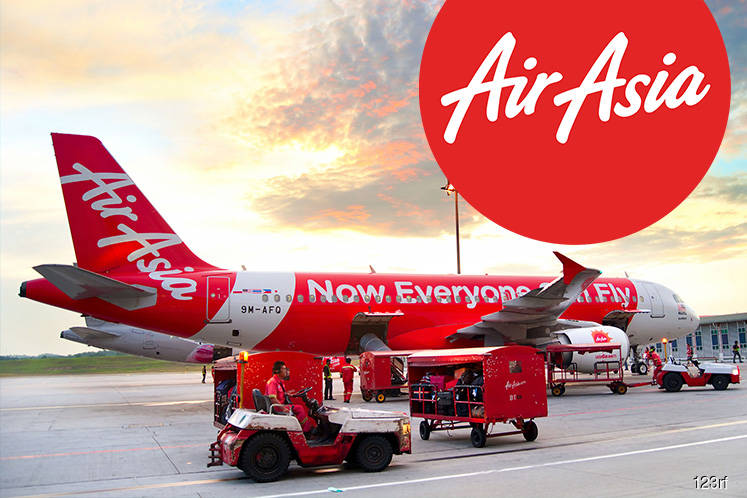 KUALA LUMPUR (Jan 10): AirAsia Group Bhd still intends to dispose of the five aircraft which have not been transferred to its intended purchasers, in the future, according to MIDF Amanah Investment Bank Bhd Research.
In a note today, the research house opined the fact that 79 aircraft have already been transferred to the purchasers under the disposal of its aircraft leasing business is a positive sign the airline has progressed well in divesting its non-core assets.
In addition, the proposed sale of 25 aircraft to Merah Aviation Holding Ltd, an indirectly controlled entity of Castlelake L.P., will further dispose of AirAsia's non-core assets.
MIDF Research estimates the increase in depreciation charges on the five aircraft to be minimal at only 1.4% which will be partially offset by the lease income obtained.
"As such, we are maintaining our earnings estimates for FY18 and FY19 at this juncture," it said.
Yesterday, AirAsia announced that the transfers of aircraft and aircraft engines under the sale and purchase agreement with entities managed by BBAM Ltd Partnership — Herondell SPA, Incline B SPA and FLY SPA — have been completed with the exception of five aircraft which are currently leased to third party airlines by its wholly-owned subsidiary Asia Aviation Capital Ltd (AACL). The estimated enterprise value of the five aircraft is US$173.67 million (RM711.27 million).
AirAsia said the five aircraft will not be transferred to the purchasers as the agreements have now lapsed. Therefore, only 79 aircraft have been transferred from the 84 aircraft agreed under the disposal of its aircraft leasing business for US$1.185 billion.
MIDF Research has maintained its buy call on AirAsia with an unchanged target price of RM3.48 per share.
"We continue to like AirAsia as the company continues enhance its cost structure via digitalisation efforts.
"Overall, we are sanguine on the prospect of AirAsia predicated on stable demand growth with conservative average available seat kilometers (ASK) expansion of 13.3% so far in FY18, and resilient load factor despite volatile fuel price," it added.
At 11.35am, AirAsia fell 2% or 6 sen to RM2.94 with 7.37 million shares traded.