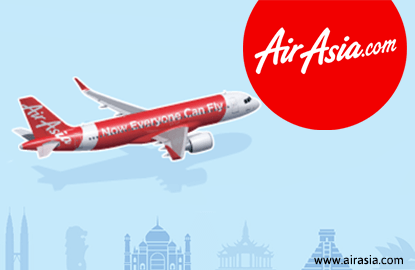 KUALA LUMPUR (June 21): AirAsia Bhd said today the relocation of its new headquarters to the Kuala Lumpur International Airport 2 (klia2) is likely to be delayed for at least another four months.
This, according to AirAsia's chief executive officer Aireen Omar, was due to the access road leading to its new headquarters (HQ) not being completed on time.
"We (are) only allowed to move in (to the new HQ) by October. Even then, I am not so sure whether we are able to move in by October as they (Malaysia Airports Holdings Bhd, MAHB) are supposed to build an approach road leading to our new HQ.
"We have told them back in (last) August, and until now they haven't really make any effort to make sure it can be done by October," Aireen told reporters at a press conference today.
AirAsia's corporate office currently remains at the low-cost carrier terminal (LCCT) though its airline operations have moved to klia2 since May 8, 2014.
The low-cost carrier had earlier said the construction of the new headquarters would start in June 2014 and is scheduled to be completed by end-2015.
Aireen said the delay was due to the actual building of klia2, which now is five times larger than originally planned.
"That (change of plan) affected our building ... and because of that we have to move our HQ to another new location, causing the delay," she explained.
It is worth noting that AirAsia is paying RM27,000 per month to MAHB to rent the space for its corporate office.
Meanwhile, Aireen said issues, such as "ponding" at the airport's apron, have caused constant repairs on AirAsia's aircrafts.
"I was told by MAHB that the soil may take another five years to settle," she said, adding this is not safe for passengers.
Last year, AirAsia served a letter of demand on MAHB and Malaysia Airports (Sepang) Sdn Bhd, seeking to recoup losses worth RM409 million.
The demand was made for the alleged operational losses it has incurred due to damages to its planes while operating from klia2 and the LCCT.
The carrier also claimed that MAHB's breaches have damaged its brand and reputation, as well as causing the public to think that the failings of the facilities are within its control since it is the single largest carrier operating out of klia2.