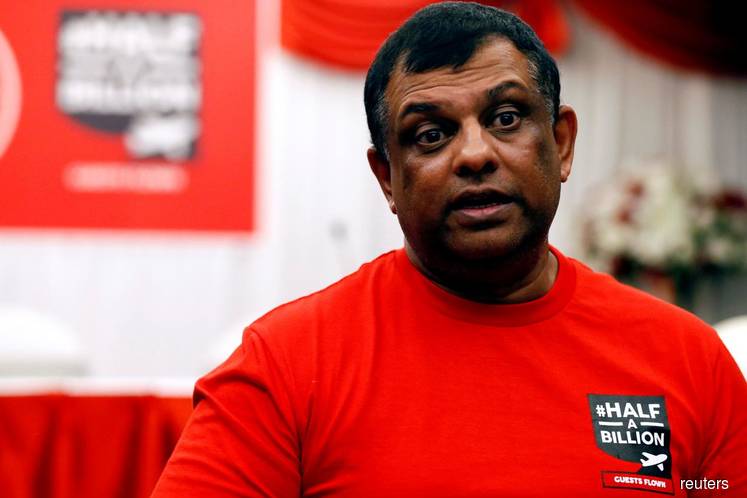 SEPANG (Nov 19): AirAsia Group Bhd is tapping into RHB Bank Bhd's expertise and reach to improve the services of its e-wallet, BigPay.
Treasury services, foreign exchange services which offer better rates, and remittances are some of the areas the two sides are considering, said AirAsia group chief executive officer Tan Sri Tony Fernandes.
"We will introduce (these collaborations) at the right time. What I've mentioned (about BigPay) is just one of the many, many ways we can work with RHB," Fernandes told reporters at the signing of a strategic partnership between both parties today.
These are among the many ways both AirAsia and RHB could collaborate, he added.
"We also like RHB for their Asean infrastructure. Their geography fits our strategy," added Fernandes, who is also a director of BIG Loyalty Sdn Bhd.
RHB is currently the only bank that AirAsia is working with, although Fernandes said the group has been approached by other banks seeking partnerships.
Earlier this year, RHB group managing director Datuk Khairussaleh Ramli said RHB would seek to partner with existing e-wallet players instead of developing its own wallet in what is already a crowded space.
Today, the bank and the airline operator had entered into a strategic partnership to offer RHB customers the opportunity to accumulate AirAsia BIG Loyalty points across selected retail banking products.
Targeted for launch in the first quarter of 2019, the loyalty programme will later be extended to regional and international transactions as well, Khairussaleh said.
"It is an opportunity for us to reward our four million customers for their loyal support of RHB," he added.
AirAsia today appointed Spencer Lee as the chief executive of BIG Loyalty. Lee was previously the chief commercial and strategy officer of RedBeat Ventures, AirAsia's digital venture arm.
According to Fernandes, BigPay will be undergoing a rebranding as it expands its product offerings and caters to the lifestyle needs of its users.