This article first appeared in The Edge Malaysia Weekly, on September 9, 2019 - September 15, 2019.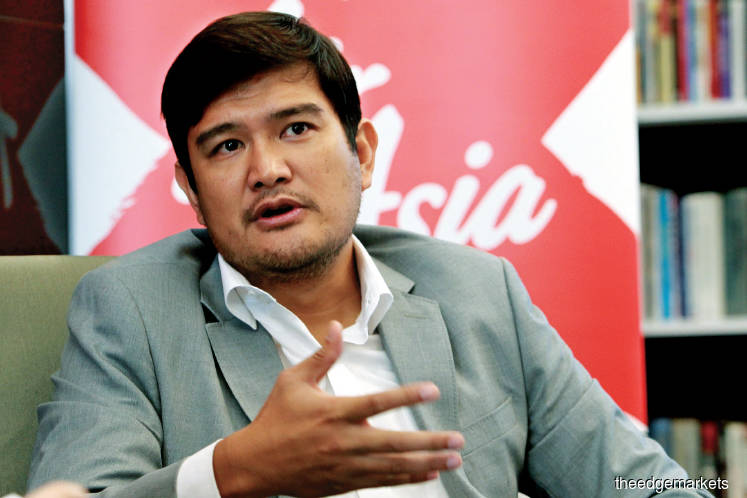 Benyamin: AAX expects improved performance as its turnaround strategy gains momentum. Photo by Mohd Shahrin Yahya/The Edge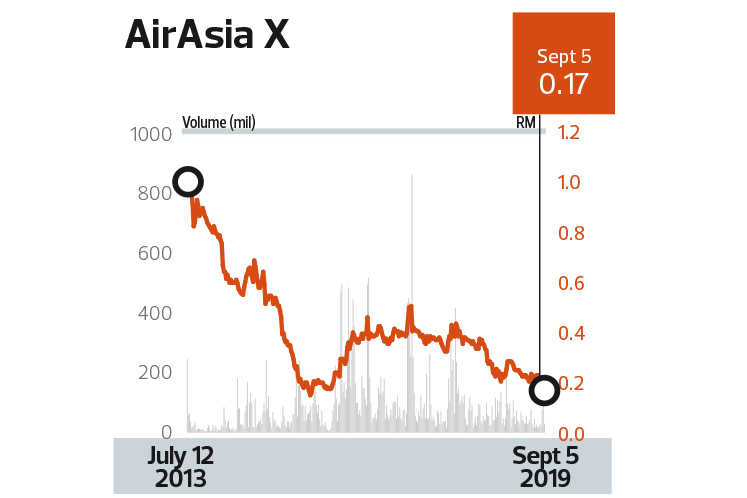 A bigger-than-expected first-half loss has once again shone the spotlight on the viability of AirAsia X Bhd's (AAX) long-haul, low-cost airline model.
It reported a net loss of RM163.78 million for the cumulative six months ended June 30, 2019 (1HFY2019), over 10 times more than the RM15.96 million net loss it posted a year earlier. This was due to deferred taxation, loss on disposal from the sale and leaseback of three aircraft and foreign exchange losses. Its revenue slipped 6.4% year on year to RM2.18 billion.
The airline's financial performance has been fairly volatile since its listing on Bursa Malaysia in 2013. In the past six years, only two (FY2016 and FY2017) have been profitable.
Two analysts and an industry expert who spoke to The Edge say going low cost on long haul is difficult as the airline is subject to the same fixed costs and operating expenses as its full-service counterparts.
"Since it went public, AAX has seen the ups and downs of oil prices, including in 2015, when crude prices sank to US$35 a barrel, and yet, against such a backdrop, it didn't help bring the airline to profit," one analyst tells The Edge.
AAX posted a net loss of RM244 million on revenue of RM3.15 billion for the financial year ended Dec 31, 2015 (FY2015).
The analyst says one of the challenges AAX faces is that the long-haul routes it plies are not unique to the airline and the frequency of the flights is low.
"Take, for example, the Kuala Lumpur-Hawaii route. The flight is via Osaka. The route between Osaka and Hawaii faces fierce competition from full-service carriers, which have large seat capacities. Thus, AAX has no commanding market position in the long-haul market, which is much more competitive," he says.
"The airline is also exposed to foreign exchange volatility, which has been largely negative, given the weakening of the ringgit against the US dollar."
The other analyst is sceptical of the long-haul, low-cost airline model, noting that many airlines, including Scandinavian budget carrier Norwegian Air, have had not much success with it.
The industry expert says unlike short-haul, low-cost carriers that benefit from a cost advantage over network carriers, AAX shares the same cost structure as the latter.
"On the long-haul routes that AAX operates, it will be competing with big [network] carriers that have a lot of capacity. These long-haul routes are also governed by strict rules — such as passengers being entitled to compensation in the event of cancellations or long delays and the crew to get proper rest before starting their next duty — which will push up operating costs.
"On top of this, AAX is subject to fixed costs such as fuel, labour and landing fees," she explains.
AAX CEO Benyamin Ismail tells The Edge that a number of external factors, including the fuel price, market conditions and several significant weather-related events, have adversely affected the airline over the past year.
However, he says AAX remains confident of its long-haul, low-cost operations despite a challenging operating environment in recent times.
"AAX is confident of its transformation strategy and has put in place the right foundations to ensure sustainable growth going forward. The airline expects improved performance as its turnaround strategy gains momentum," Benyamin says in an email reply.
MIDF Research analyst Adam Mohamed Rahim believes the long-haul, low-cost model still works for AAX, although it requires some tweaking.
"For instance, AAX plans to boost aircraft utilisation to boost productivity and gain more available seat kilometres. AAX has signed a code-sharing arrangement with its sister company, AirAsia Group Bhd, for the Kuala Lumpur-Singapore sector. It is widely known that this is an extremely profitable route due to slot constraints during peak hours.
"By using AAX's aircraft, which has more than twice AirAsia's aircraft seat number, both airlines will be able to optimise their combined slots and boost profitability," he tells The Edge.
Adam also believes that the challenges faced by AAX are temporary. One of the headwinds is the accounting treatment for leases under MFRS16 as the majority of AAX's aircraft are leased. Thus, he sees AAX gaining from a lower amount of interest beyond the fifth year of the lease term.
In an Aug 23 note to investors, Adam maintains his view of AAX's ability to turn a profit for FY2019, albeit at a marginal level, given the tough operating and regulatory environment.
"However, we are revising downwards our earnings forecasts for FY2019 and FY2020 to RM17.9 million (previously RM68.7 million) and RM65.6 million (previously RM74.4 million) respectively. This is taking into consideration a more conservative yield growth due to the fewer-than-expected passengers carried in 1HFY2019," he writes.
AAX's share price has fallen 13% since the airline reported disappointing second-quarter earnings. It closed at 17 sen last Thursday, giving the company a market capitalisation of RM705.19 million. The stock has also been trading in a 52-week range of 17 sen to 32 sen — far below its initial public offering price of RM1.25 per share.
Nonetheless, Benyamin says there are no plans to privatise AAX, which is controlled by AirAsia co-founders Tan Sri Tony Fernandes and Datuk Kamarudin Meranun, who together held a 31.59% stake as at March 20, 2019.
"Just last week (Aug 30), AAX announced a firm order for an additional 12 Airbus A330neo aircraft, bringing the total from 66 to 78 A330neos on order and 30 state-of-the-art A321XLR aircraft to join its long-haul fleet.
"This firm order is testament to the confidence the airline has in the future of its long-haul operations," he says.
Two A330neos recently joined the fleet and further deliveries of the A330neo are expected in the second half of next year.
"These new-generation aircraft are the cornerstone of AAX's future growth, providing numerous cost efficiencies, such as significantly reduced fuel burn and carbon emissions and enhanced customer experience, to make flying longer haul more affordable and comfortable than ever," says Benyamin.
In a Sept 3 report, Maybank IB Research aviation analyst Mohshin Aziz says the risk of an equity call by AAX cannot be ignored due to the limited borrowing capacity in its balance sheet.
He points out that AAX's net gearing stood at 10.6 times as at end-June 2019, which could swell further as it might have to reimburse Malaysia Airports Holdings Bhd for passenger service charge arrears.
Mohshin says the underperformance of its associates in Thailand and Indonesia is a major cause for concern for investors, and is causing AAX's valuations to remain suppressed.
"Fuel cost is the airline's single largest expense component, representing 65% to 70% of operating cost. AAX has hedged 52% of its 2019 fuel requirements at US$63.5 per barrel," Mohshin notes, estimating that a US$1 per barrel change in fuel cost will impact AAX's earnings by RM20 million.
He has a "sell" call on AAX, noting that its shares remain overvalued and expects the airline to remain loss-making in FY2019 and FY2020. Although AAX operates across three countries, it is not sustainably profitable in any, he says.