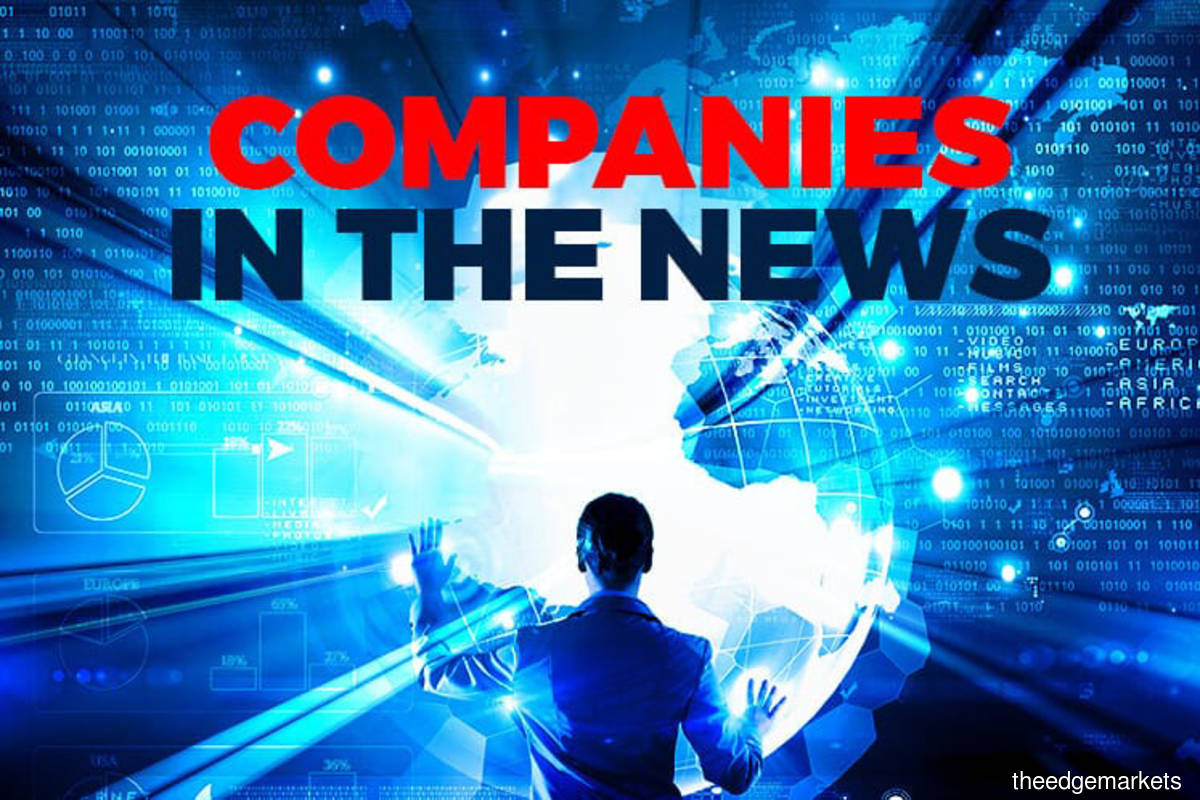 KUALA LUMPUR (Aug 10): Based on corporate announcements and newsflow today, stocks that may be in focus on Tuesday (Aug 11) are as follows: AirAsia X Bhd (AAX), AT Systemization Bhd, Axiata Group Bhd, Supermax Corp Bhd, Top Glove Corp Bhd, Hartalega Holdings Bhd, HLT Global Bhd, JAKS Resources Bhd, Kimlun Corp Bhd and Microlink Solutions Bhd.
AirAsia X Bhd (AAX)'s Malaysia operations carried only 2,291 passengers in 2Q20, from the 1.46 million in the corresponding quarter last year. Passenger load factor (PLF) was 38%, from 80% a year prior. Malaysia operations capacity fell to 6,032 seats, from 1.81 million seats in 2Q19. Its Thailand operations saw a PLF of 82%, based on a capacity of 377 seats and 309 passengers carried during the quarter.
AT Systematization Bhd is commissioning six glove dipping lines for its new factory to the tune of RM36.15 million. It will see one single former dipping line and five double former dipping lines. It signed a supply contract with Ripcol Engineering Sdn Bhd (RESB) for lines. Consequently, it will see 928 million pieces of rubber gloves per year. The fifth double dipping former line is expected to be installed and commissioned by April next year. The contract is subject to shareholder approval, with a more definitive agreement to be put into place within three days from when shareholders register their approval.
Axiata Group Bhd is to issue US$1.5 billion (RM6.29 billion) in equivalent Euro medium-term note (EMTN) notes to refinance its debts and fund its capital structure. The EMTN programme has been issued a BBB+ rating by Standard & Poor Rating Services, it is still procuring a rating from Moody's, which has assigned an issuer rating of Baa2(s) to the group. The notes will be listed on the Singapore Exchange or other competent authorities that are agreed upon between it and the relevant dealer.
Supermax Corp Bhd posted a record quarterly net profit of RM399.62 million in 4QFY20, from the RM15.06 million a year prior. It posted a highest ever net profit of RM525.58 million for FY20, up 327% from RM123.11 million in FY19. Quarterly revenue was up 147% to RM929.12 million, from RM375.96 million a year prior, with annual revenue standing at RM2.13 billion from RM1.54 billion previously. It is declaring a share dividend payout of one treasury share per every 45 shares held in FY20, subject to its earlier announced bonus issue that is set to be approved at an EGM on Aug 18. The better earnings were on account of greater demand and higher average selling prices.
Top Glove Corp Bhd is still finalising its total remediation fee to its foreign workers with the US Customers and Border Protection (CBP), currently estimated at RM53 million. This estimate is higher than the RM20 million to RM50 million previously gauged to be paid to some of its foreign workers, to refund recruitment fees paid to recruitment agents. It is still engaging with the US agency ver the ban on its products, which has been effective July 15.
Hartalega Holdings Bhd is to buy a 60.57 acre piece of land in Sepang for RM158.3 million to build additional glove manufacturing facilities, to be completed in 2021. As a result of the purchase, it will increase its capacity by 19 billion pieces per year to 44 billion pieces per year. Separately, it will reimburse up to RM40 million in recruitment fees previously paid by migrant workers to employment agents during the recruitment process.
HLT Global Bhd aims to raise RM236.14 million to RM324.68 million through a private placement of 20% of its issued shares to build a new rubber glove manufacturing plant. The private placement will add anywhere between 105.42 million to 144.95 million new shares. The indicative price per placement share is 2.24%, a 9.69% discount to its five-day volume weighted average price of RM2.48. About RM205 million to RM300 million of the proceeds will be used to partly finance land acquisitions, as well as factory construction and glove dipping lines for the plant. It expects production to increase to between 4.1 billion to 5.3 billion pieces, from one billion pieces a year at present.
JAKS Resources Bhd is appealing against the High Court's decision for it to pay damages to Star Media Group Bhd over the latter's corporate guarantee claim — concerning the balance RM134.5 million for the sale of a piece of land in Section 13, Petaling Jaya from Star Media to JAKS. JAKS contends that the late payment interest of 8% per annum on the balance purchase price owed between Oct 25,2015 and July 6, 2020, could amount to RM50 million and is almost sufficiently covered by the proceeds of the bank guarantee previously paid to Star Media.
Kimlun Corp Bhd will pay RM40 million cash for a 49% stake in property developer Bayu Damai Sdn Bhd (BESB), which is in the midst of acquiring nine plots of land in Alam Damai, spanning 43.46 acres, for RM95 million. BESB is planning to undertake a mixed development with a GDV of RM2.2 billion in 2022 there. BESB counts Puan Sri Teng Siew Kean, who is the spouse of Melati Ehsan Holdings Bhd founder Tan Sri Yap Suan Chee, as one of its joint shareholders.
Microlink Solutions Bhd is developing a insurance policy renewal digital platform with Pos Malaysia Bhd for nine months. Pos Malaysia will take a 12% cut of net revenue generated from the software usage with Microlink. The platform will have to be intergrated into Pos Malaysia's existing digital channel.