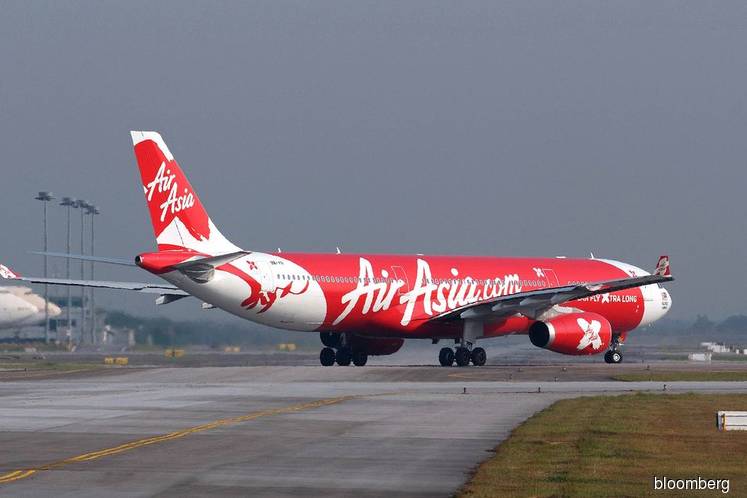 KUALA LUMPUR (Nov 23): Having recorded positive bottom line in the last six consecutive quarters, AirAsia X Bhd (AAX) slipped into the red again in the third quarter ended Sept 30, 2017 (3QFY17) due to higher operating expenses.
It posted a net loss of RM43.3 million in 3QFY17 compared with a net profit of RM11.03 million a year ago. Operating expenses jumped 25.1% to RM1.17 billion in 3QFY17 from RM934.13 million.
The long-haul low-cost affiliate of AirAsia Bhd recorded a loss per share of one sen for the quarter under review, versus earnings per share of 0.3 sen in 3QFY16.
Quarterly revenue grew 14.5% to RM1.12 billion in 3QFY17 from RM982.4 million in 3QFY16.
AAX chief executive officer (CEO) for Malaysia Benyamin Ismail said the airline did well operationally in 3QFY17, but blamed higher operating expenses on a one-off provision of doubtful debt of RM50.2 million, which fell under the "other operating expenses" category.
"It is a necessary action that has to be taken as we move on from past management's business decisions. With the observed booking trends, we are in line with expectations for a recovery in the 4QFY17," he said in a statement today,
"Revenue for 3QFY17 is the strongest recorded in the airline's history of third quarters as we see higher contribution from scheduled flight revenue up 22% year-on-year (y-o-y), ancillary revenue up 29% y-o-y and freight services up 43% y-o-y.
"Ancillary revenue per passenger rose 4% y-o-y, driven by the successful implementation of dynamic pricing across our products," he added.
Benyamin pointed out that the operating loss of RM35 million was mainly due to higher other operating expenses (opex) as a result of a RM50.2 million provision for doubtful debt recorded in 3Q17.
For the cumulative nine months (9MFY17), AAX saw its net profit shrink 92.4% to RM14.47 million from RM191.53 million a year ago, despite revenue growing 17.8% to RM3.34 billion from RM2.84 billion.
In a filing with Bursa Malaysia today, AAX said it expects prospects to remain positive based on the current forward booking trend, forward loads and average fares are trending better than the previous year.
However, it cautioned that the depreciation of the ringgit remains a key concern as a large portion of AAX's borrowings and operating costs are denominated in US dollars.
AAX group CEO Datuk Kamarudin Meranun said management will continue to fine tune the airline's network and introduce new markets to strengthen its network.
"Our bookings for 4QFY17 and 1QFY18 are ahead of last year showing that demand to fly remains strong and reflects growing evidence that consumers are prioritising expenditure on flights and holidays above other non-essential items.
"Most importantly, we believe we can end 2017 on a high note as we are confident that 4QFY17 will be a good quarter for us. The group also plans to add third-party leased all-economy class A330s in 2018 to focus on shorter China routes and redeploy our existing fleet to new markets," he said.
AAX's share price fell 0.5 sen or 1.3% to close at 38 sen today, giving it a market capitalisation of RM1.6 billion.