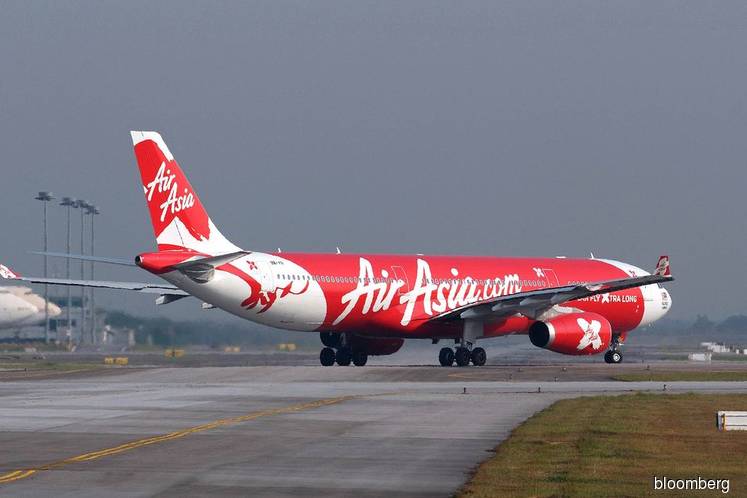 KUALA LUMPUR (Jan 26): AirAsia X Bhd (AAX) said total passengers carried rose 12% to 1.55 million passengers in the fourth quarter of 2017 (4Q17) compared with 1.38 million passengers for the same quarter of 2016.
AAX said available seat per kilometre (ASK) in 4Q17 rose 8% year-on-year to 9.15 billion, while passenger load factor (PLF) grew two percentage points (ppts) to 83%.
"During the quarter, AirAsia X Malaysia added frequencies to five routes in total, namely to Xi'an, Sapporo, Incheon, Busan, and Taipei, encouraged by year-end peak season demand," AAX said in a statement.
"Additionally, the company added Jeju to the network in December, which is also the latest unique route for the company. The fleet size for AirAsia X Malaysia remains at 22 A330s as at end of December," it added.
For 2017 as a whole, total passengers carried jumped 25% to 5.84 million passengers from 4.69 million in 2016. ASK rose 19% to 35.05 billion while PLF rose 3ppts points to 82%.
AAX said its associate AirAsia X Thailand saw a 27% year-on-year increase in total passengers carried in 4Q17 to 445,137.
AirAsia X Thailand increased its frequency for the Incheon route to three times daily from November 2017, and for the Osaka route to twice daily from December 2017 onwards.
"AirAsia X Thailand reported PLF of 91%, up by a whopping 13ppts as compared to 78% from the same period last year as it recovered from the short-term impact on the tourism sector due to the passing of King Bhumibol Adulyadej and the Thai government's crackdown on zero-dollar tours from China," AAX added.
No additional aircraft was added into AirAsia X Thailand in 4Q17 as the fleet size remained at six aircraft.
As for AirAsia X Indonesia, AAX said its operations were temporarily hampered in 4Q17 due to the volcanic activity of Mt. Agung in Bali from end September to December.
AirAsia X Indonesia carried a total of 113,792 passengers during the quarter while PLF stood at 69%. Its fleet size remained at two, bringing the total fleet of the AAX Group to 30 as at end of December 2017.