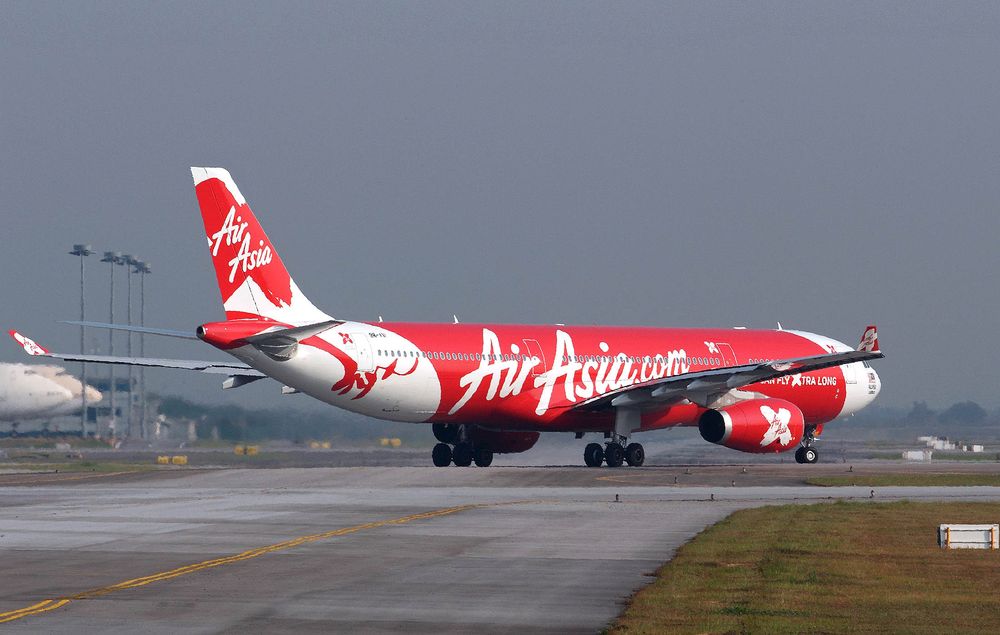 KUALA LUMPUR (Feb 27): Long-haul, low-cost airline AirAsia X Bhd (AAX) saw its four-quarter net loss widen 8.8% to RM95.81 million from RM88.05 million, on higher depreciation and finance costs with the adoption of MFRS 16 Lease which came into force on Jan 1, 2019.
AAX's filing with Bursa Malaysia today showed that depreciation costs increased by 10 times to RM241.26 million in the three months ended Dec 31, 2019 (4QFY19) from RM24.14 million a year ago, while finance costs more than doubled to RM100.37 million from RM47.96 million in 4QFY18.
As a result, AAX's loss per share was higher at 2.3 sen for 4QFY19 compared with 2.1 sen for 4QFY18.
This was despite revenue for the quarter rising 3.6% to RM1.2 billion from RM1.15 billion a year ago. Passengers carried recorded in 4QFY19 increased 8% year-on-year to 1.61 million, while passenger load factor stood at 81%. 
AAX said its 49%-owned affiliate Thai AirAsia X Co Ltd (TAAX) narrowed its net loss to RM15.2 million in 4QFY19 from RM27.6 million in 4QFY18. As at Dec 31, 2019, the unrecognised amount of the group's share of loss of TAAX, which have not been equity accounted for, amounted to RM93.3 million.
Meanwhile, the group has discontinued the recognition of its share of losses incurred by PT Indonesia AirAsia Extra (IAAX) as the group's interests had been reduced to zero. IAAX recorded a bigger net loss of RM67 million in 4QFY19 compared with RM31 million in 4QFY18. As at Dec 31, 2019, the unrecognised amount of the group's share of loss of IAAX, which have not been equity accounted for, totalled RM154.5 million.
Higher depreciation and finance costs also caused the airline's net loss for the full year ended Dec 31, 2019 (FY19) to widen by 62.4% to RM489.48 million from RM301.48 million in the previous year, while revenue fell 3.9% to RM4.39 billion from RM4.57 billion in FY18.
Its depreciation costs for FY 19 surged 7.2 times to RM922.19 million from RM127.27 million in FY18, while finance costs increased 5 times to RM354.01 million from RM70.61 million in the previous year.
Going forward, AAX foresees major challenges in the first half of 2020 posed by the recent coronavirus (Covid-19) outbreak.
"The virus outbreak has had an adverse impact on the sale of passenger tickets at AAX, with the biggest impact in the Chinese market. However, sales have also been impacted in Japan, South Korea and Australia and the company will have to bear the cost of ticket refunds for passengers who have cancelled flights to China.
"Passenger bookings in the forward months are also trending lower as a result of the outbreak, which is impacting all tourism related businesses in the region. Fares are expected to be under pressure for the next couple of months as the company tries to stimulate air travel demand on the
back of the virus outbreak," it said.
To mitigate the risks, the airline will launch extensive promotional campaigns and redeploy capacity into other core markets to counter the impact of the weak global economy, as well as the virus outbreak.
"This strategy is aimed at stimulating price sensitive customers, maintaining a healthy load factor and supporting ancillary income. The company is also actively monitoring all operational costs as we expect the headwinds to persist."
In addition, AAX said management is doubling up efforts to review areas where the company can improve its cash flow and futher cut costs.
The airline has hedged 80% of its fuel requirement for 1QFY20 at average Brent hedge prices of US$59.8 per barrel. For the remainder of the year, AAX has hedged 72% of the fuel requirement at average Brent hedge prices of US$59.6 per barrel. 
AAX shares closed unchanged at 10.5 sen today, bringing its market capitalisation to RM435.56 million. The counter saw 4.89 million shares traded.