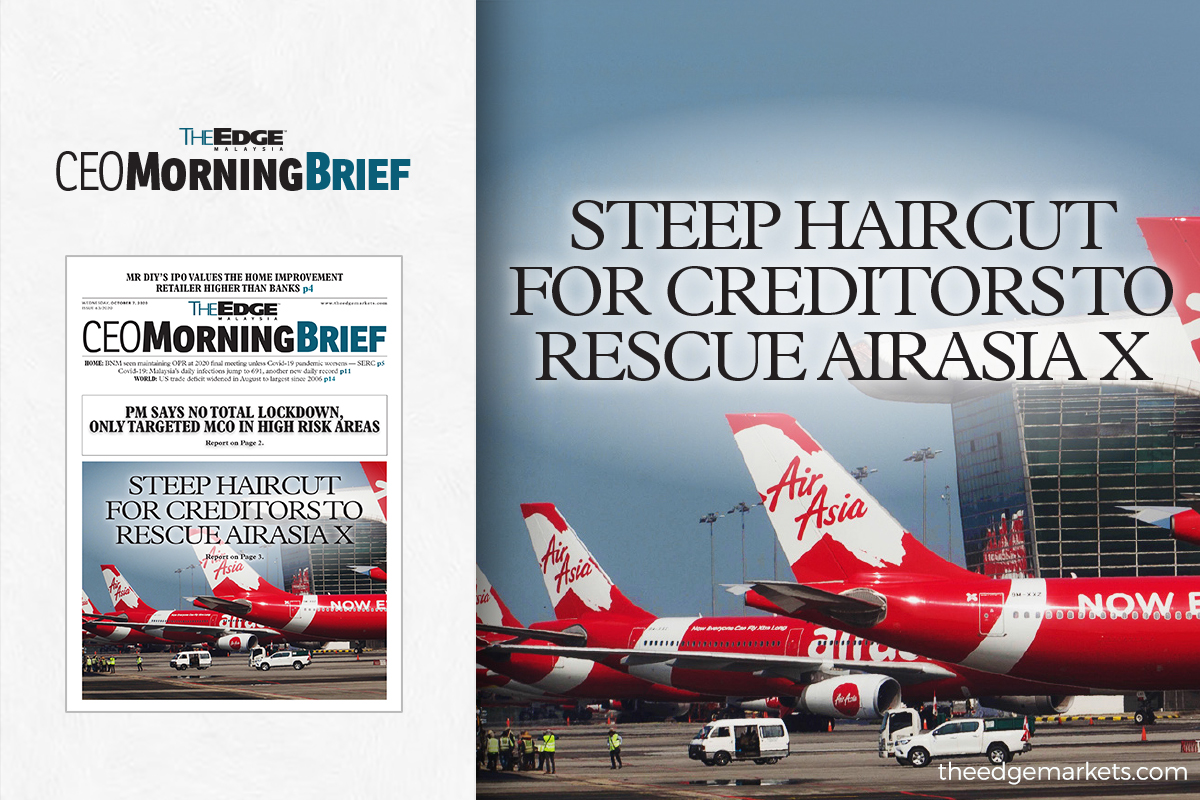 KUALA LUMPUR (Oct 6): AirAsia X Bhd (AAX) has unveiled a massive debt restructuring proposal in which the airline will reconstitute RM63.5 billion worth of debts, including future lease rentals, aircraft purchase commitments and advanced ticket sales, into a principal amount of up to RM200 million.
Besides a steep haircut for creditors, the long-haul low-cost carrier also proposed a capital reduction of 90% of its issued share capital in order to offset its accumulated losses. This means a reduction of RM1.38 billion from its share capital.
AAX, which slipped to the brink of insolvency as the Covid-19 pandemic added to its financial woes, has also proposed share consolidation to combine every 10 shares into one, according to a bourse filing.
The cash-strapped airline did not propose any cash call to recapitalise its balance sheet in the announcement.
However, the group said it intends to raise up to RM500 million, including by applying for a government-guaranteed loan under the Danajamin PRIHATIN Guarantee Scheme and/or raising funds from equity providers.
As at June 30, AAX's total borrowings were at RM6.09 billion, while its current lease liability amounted to RM856.41 million, and its non-current liabilities stood at RM4.95 billion.
AAX's proposal comes just a few days after Malaysia's national carrier, Malaysia Airlines Bhd, revealed on Oct 2 that it had reached out to its lessors, creditors and key suppliers, seeking steep discounts, under an urgent restructuring exercise.
Similarly hit hard by the pandemic, the group's holding company Malaysia Aviation Group had said in a letter to lessors that the group was unlikely to make payments owed after November, unless it received more funding from state fund Khazanah Nasional Bhd.
Meanwhile, in its announcement today, AAX said the principal sum of RM200 million is an amount which the group's future operational cash flow may accommodate, and is payable annually over a period of up to five years via three equal payments from the third to the fifth anniversaries of the implementation of the proposed debt restructuring.
"The debt settlement amount shall be unsecured and carry an interest rate of 2% per annum payable in arrears, commencing on the anniversary of the implementation date of the proposed debt restructuring.
"In the case of airline customers and travel agents, they will receive travel credits with extended validity for future travel or purchase of seat inventory," said AAX in the announcement to Bursa Malaysia.
Tune Group Sdn Bhd, which is the investment vehicle owned by Tan Sri Tony Fernandes and Datuk Kamarudin Meranun, is the largest shareholder of AAX, holding a 17.83% stake. AirAsia Group Bhd owns 13.76%, while Kamarudin holds an 8.94% direct stake and Fernandes has a 2.69% direct stake.
Its director Datuk Lim Kian Onn, who will assume the deputy chairman post tomorrow to lead the airline's restructuring, owns a 4.24% stake.
AAX said it will rationalise its network plan (by suspension and/or termination of unprofitable and/or immature routes), shift its focus from market share to that of sustainability and yield to drive profitability, and focus on routes that have proven load and yield performance.
The carrier has been loss making in most of the years since it was listed in 2013. (see chart)
For the six-month period ended June 30, AAX's net loss widened substantially to RM854.9 million as its revenue halved to RM1 billion.
The board has appointed Mercury Securities Sdn Bhd as the principal adviser for the proposed corporate restructuring.
AAX's share price closed at five sen today, giving it a market capitalisation of RM207 million.
Read also: