This article first appeared in The Edge Malaysia Weekly, on March 9, 2020 - March 15, 2020.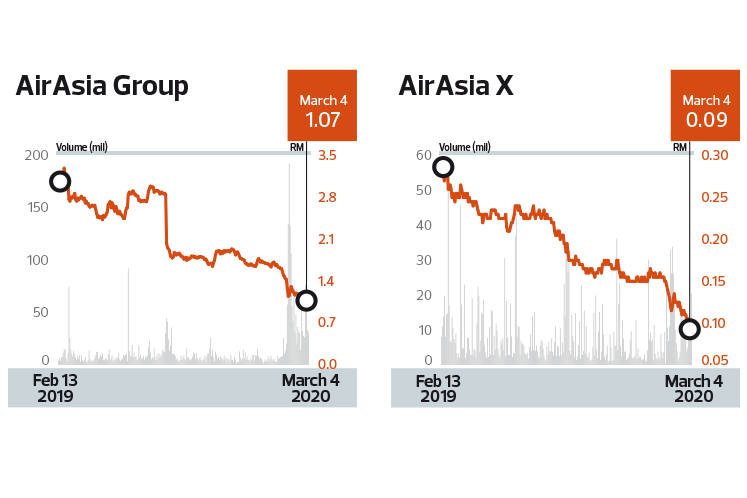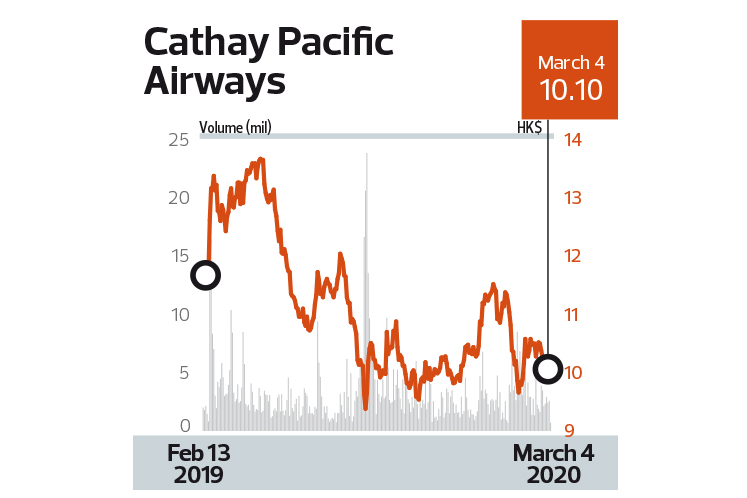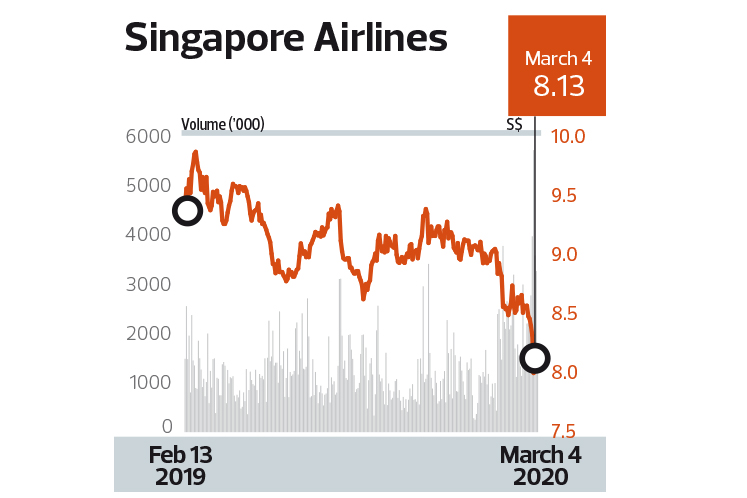 THE global aviation industry has been one of the industries hardest hit by the evolving coronavirus (Covid-19) outbreak and there is no let-up in sight. Governments and airlines across the world are responding to the situation, but at this stage it is unclear how long airlines can hold out.
And investors, nervous about how the spread of Covid-19 will affect travel, are increasingly shying away from aviation stocks. As at last Wednesday's (March 4) close, Singapore Airlines Ltd (SIA) shares were down 10% year to date and Hong Kong's Cathay Pacific Airways Ltd shares had dropped 12%. Air Canada, the world's hottest airline stock three months ago, has shed about 28% of its value.
Local airline stocks have not escaped the selldown, made worse by the weakness in the broader stock market following the recent political upheaval. As at the close on March 4, AirAsia Group Bhd (AAB) had lost 37%, or RM2.1 billion, of its share value year to date and its low-cost, long-haul affiliate AirAsia X Bhd (AAX) had given up about 44%, or RM291 million. The stock of airport operator Malaysia Airports Holdings Bhd also lost 18%, or RM2.3 billion, of its market value in that period.
Analysts have raised concerns over AAX's balance sheet, with a cash balance of only RM358 million as at Dec 31, 2019, and borrowings of RM6.32 billion.
And with only RM224 million in shareholders' equity and a market capitalisation of RM373.33 million at last Wednesday's close, there is an urgent need for fresh capital injection, they say, adding that AAB may need to step in to provide support to AAX.
In a Feb 17 report, CGS-CIMB Research transport analyst Raymond Yap estimated that AAX would need to raise RM1 billion in new equity, suggesting a rights issue of 12.5 billion new shares at eight sen each. Shares in AAX closed at nine sen on Wednesday.
"This will expand the share base from the current 4.15 billion to 16.65 billion, but keep AAX solvent with a book value of 1.5 sen per share," he wrote.
Yap said AAX's cash balances benefitted from RM909 million in proceeds in the sale and leaseback of five aircraft during the nine months ended Sept 30, 2019 (9MFY2019) — but without the benefit of this in FY2020, and on the back of evaporating demand, AAX will need urgent financial rescue.
AAX's major shareholders include Tune Group with a 17.8% stake, AirAsia Bhd (13.8%) and non-executive director Datuk Kamarudin Meranun (8.9%).
"[For] now, there is no plan to raise funds through the market, as the management of the airline is focused on duly executing the turnaround plan," AAX says in an email response to questions from The Edge.
"The aviation industry as a whole is facing strong headwinds at this time, following the Covid-19 outbreak. Despite these very challenging circumstances, efforts are in place to counter the impact of the current situation and a turnaround plan is being implemented to ensure a viable and sustainable operation moving forward."
The airline says its turnaround plan involves taking an aggressive approach to reduce costs and stimulate demand, including suspending non-profitable routes, ongoing capacity management to match flights with demand, deferring future deliveries of the Airbus A330 neo aircraft and engaging in short-term wet-lease arrangements.
It also recently launched the AirAsia Unlimited Pass — a RM499 one-year pass (excluding taxes and fees) for unlimited trips to Australia, Japan, South Korea, China and India — to boost cash flow.
In a March 2 report, KAF Equities analyst Max Koh noted that the Covid-19 outbreak posed a serious risk to AAX's operations, given that China represents 30% of its capacity. "As it is, it had cancelled more than 600 flights in March as well as reduced capacity to major cities such as Shanghai, Chengdu and Beijing."
He said the airline is looking at the potential sale of two A330s, which could yield US$100 million (RM416.2 million) in cash proceeds and that would help tide it over the next three years.
"It is also in the midst of renegotiating its lease maintenance, as well as looking to the early return of five leased aircraft," he added.
PublicInvest Research aviation analyst Nur Farah Syifaa' Mohamad Fu'ad concurs, noting that the delivery of new A330neo aircraft will be deferred, with a plan to move towards a dual fleet type strategy with A321 aircraft for medium-haul thin routes (flights of between four and six hours) and A330 aircraft for long-haul routes (flights exceeding six hours).
In a report on Feb 28, she says AAX's network plans included adding short-haul routes and cancelling non-profitable routes such as Tianjin, Lanzhou and Jaipur.
AAX's net loss increased 62% year on year to RM489.48 million in FY2019, owing mainly to lower-than-expected revenue. Revenue declined 4% y-o-y to RM4.39 billion in FY2019, owing to fewer passengers carried because of lower demand from 1QFY2019 to 3QFY2019.
"Its core net loss of RM283 million was below our and consensus' loss estimates of RM182 million and RM232 million respectively," she says. The research firm expects AAX to post a core net loss of RM130.3 million in FY2020, before returning to the black with a core net profit of RM54.3 million in FY2021.
Shukor Yusof, founder of aviation consultancy Endau Analytics, tells The Edge that this is an opportune time to revisit the potential merger between AAX and Malaysia Airlines Bhd (MAS). Khazanah Nasional Bhd has been seeking an investor for the cash-strapped national carrier since last year. In January, Reuters quoted sources as saying that Japan Airlines (JAL), Air France-KLM, AirAsia and Malindo Air had submitted a proposal.
"If you can eliminate emotions, a MAS-AAX merger could be the best solution in current circumstances to help save both airlines. My view, as a Malaysian, is that why go for JAL and Air France-KLM when you have AAX and the latter has more synergies in terms of fleet composition, staff and familiarity than the other [foreign] carriers? It also has brand recognition and is supporting local jobs, although there could be collateral damage in any merger in terms of job losses," he says.
Another possibility is for AAX to be absorbed by AAB, he adds. "AirAsia Group has that brand name and a management that has been able to prolong its existence all these years."
Shukor points out that Malaysian carriers such as AAX, MAS, Malindo Airways Sdn Bhd and FlyFirefly Sdn Bhd were already struggling to cope even before Covid-19 emerged amid overcapacity, high fuel costs, a depreciating ringgit and stiff competition.
"So, you have to ask, how much of a chance do these airlines have of coming out of this crisis in one piece? Major airlines with stronger balance sheets such as Cathay have grounded about half of its fleet, Lufthansa has cut almost a fifth of its flight capacity and SIA has also announced flight cuts.
"That doesn't mean you have to immediately close shop. But at the same time, it depends on how deep your resources are to be able to tide [yourself over] this crisis. In these instances, those with very well-managed financial resources will be the ones that are [better] able to withstand the crisis. It's survival of the fittest," Shukor says.
"Right now, the way things are evolving, all bets are off, anything can happen. But you need to act in the best interest of your shareholders. At the same time, you have to be practical about whether the business is going to be able to sustain itself and how long this virus will go on. One thing we do know is that Covid-19 is very different from SARS (in 2003). All this speculation that, as the summer season comes, the virus will be over ... we don't know that, but the damage it has done to the airline industry is worse than SARS."
He believes there is a likelihood of some airlines in the region going down this year as the Covid-19 outbreak takes a toll on the sector. It was reported on Thursday (March 5) that UK carrier Flybe collapsed after a bid for fresh financial support failed. It had blamed its woes on the impact of the Covid-19 outbreak on demand for air travel.