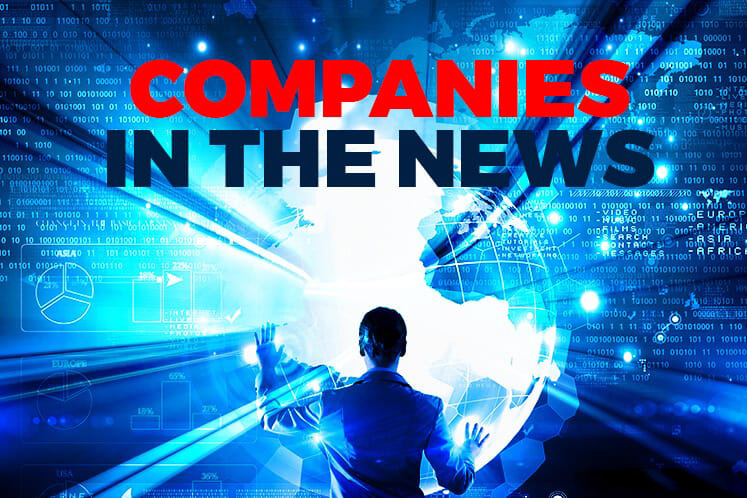 KUALA LUMPUR (Feb 28): Based on corporate announcements and news flow today, stocks in focus on Monday (March 2) may include: AirAsia X Bhd, Alliance Bank Malaysia Bhd, Berjaya Corp Bhd, CIMB Group Holdings Bhd, Destini Bhd, Dagang NeXchange Bhd, FGV Holdings Bhd, Malaysia Airports Holdings Bhd, Media Prima Bhd, Sime Darby Plantation Bhd, Tenaga Nasional Bhd and Yinson Holdings Bhd.
AirAsia X Bhd said it will defer delivery of 78 Airbus SE A330neo planes and consider other changes to reduce its fleet as the coronavirus dents demand.
AirAsia X said late on Thursday it might sell two A330s that could fetch up to US$100 million and return five others to lessors early, adding it was already in negotiations with lessors about a targeted 30% cut in lease rates.
Alliance Bank Malaysia Bhd's net profit fell 10% year-on-year (y-o-y) to RM134 million in its third financial quarter ended Dec 31, 2019 (3QFY20) from RM148.93 million a year ago, on higher operating expenses which rose 7.3% y-o-y.
Quarterly revenue was marginally higher by 1.4% at RM424.32 million from RM418.4 million in 3QFY19.
The group's net profit for the cumulative nine months (9MFY20) was also down by 23.4% to RM326.21 million from RM425.82 million a year ago, mainly due to credit losses stemming from the impairment of a few large accounts during 1QFY20 and increased credit costs in the mortgage portfolio.
However, revenue for 9MFY20 came in 3.4% higher at RM1.26 billion from RM1.22 billion in 9MFY19.
Berjaya Corp Bhd (BCorp) is selling its trust beneficial interest on the hotel component of the Four Seasons Hotel & Hotel Residences Kyoto, Japan for 49 billion yen (RM1.87 billion) cash.
BCorp said the disposal will enable the group to monetise its investments in the hotel, with an estimated gain exceeding RM600 million. The disposal is targeted to close in mid-March.
The group said its unit Kyoto Higashiyama Hospitality Assets Tokutei Mokuteki Kaisha (KHHA) has entered into an agreement with Japanese firm Godo Kaisha Tigre on the proposed disposal of the trust beneficial interest.
CIMB Group Holdings Bhd recorded a net profit of RM4.56 billion for FY19 which was 18.3% lower than RM5.58 billion a year ago despite higher revenue, mainly because the group had incurred one-off transformational costs that amounted to RM643 million in FY19.
The bank declared a second interim dividend of 12 sen per share, pushing FY19 dividend payout to 26 sen or RM2.55 billion, translating into a dividend payout ratio of 55.9% of FY19 net profits versus FY18's 25 sen or 42.4%.
For the fourth quarter ended Dec 31, 2019 (4QFY19), net profit was RM848.64 million versus RM1.12 billion a year ago, while revenue climbed to RM4.52 billion from RM4.07 billion.
Separately, CIMB expects a challenging year in 2020, against the backdrop of slower economic growth and the Covid-19 outbreak. The group also expects loan growth to moderate to 6% in its current financial year from the 6.7% it achieved in 2019, in line with Malaysia's projected GDP growth of 3.6% to 3.7% this year.
Destini Bhd posted a record net quarterly loss of RM237.26 million for 4QFY19 as it booked a provision and impairment of RM145.17 million on its assets and goodwill in the fourth quarter. In contrast, the group recorded a net profit of RM1.56 million in 4QFY18.
Quarterly revenue sank to RM76.66 million, down 25% y-o-y from RM102.77 million previously.
This pushed its full FY19 into the red with a net loss of RM235.44 million — its largest recorded annually — in contrast to a net profit of RM1.81 million in FY18 while revenue declined 26% to RM297.15 million from RM401.11 million.
Dagang NeXchange Bhd (DNeX) unit OGPC Sdn Bhd has bagged a contract worth RM14 million from Petronas Dagangan Bhd for the supply, installation, testing and commissioning of outdoor payment terminals for Petronas stations for a period of one year starting on Feb 19.
DNex executive deputy chairman Datuk Samsul Husin said the contract win has given the company the confidence to keep building OGPC's order book.
FGV Holdings Bhd posted net profit of RM75.79 million in the fourth quarter ended Dec 31, 2019 versus a net loss of RM209.16 million in the year-ago period, due to improved crude palm oil margins, and significantly reduced operating costs.
FGV said revenue for the quarter slipped to RM3.15 billion from RM3.23 billion a year earlier.
For FY19, FGV's net loss narrowed to RM242.19 million from RM1.08 billion a year earlier on the back of revenue of RM13.26 billion versus RM13.46 billion previously.
Malaysia Airports Holdings Bhd (MAHB) ended its FY19 on a softer note due to one-off gains recorded in relation to the fair valuation of investment in GMR Hyderabad International Airport Ltd amounting to RM258.4 million and the disposal of investment in GMR Male Private Ltd for RM28.2 million.
The group posted a 26.2% y-o-y decline in net profit to RM537.04 million while revenue for FY19 rose 7.4% y-o-y to RM5.21 billion, underpinned by the growth in airport operations driven by sustained growth in passenger and aircraft movements.
MAHB also proposed a final dividend of 10 sen per share for FY19. This brings total dividends for the year to 15 sen per share.
For 4QFY19, MAHB's earnings increased 5% y-o-y to RM29.51 million, supported by better profit contribution from local operations. Revenue for the quarter grew 7.4% y-o-y to RM1.34 billion on higher passenger growth.
Separately, Datuk Mohd Shukrie Mohd Salleh has been appointed as the group CEO of MAHB effective March 2. Mohd Shukrie was previously acting group CEO following the departure of Raja Azmi Raja Nazuddin on Jan 7.
Media Prima Bhd has redesignated its group executive director Datuk Iskandar Mizal Mahmood as its new group managing director, effective April 1, to succeed Datuk Kamal Khalid, whose tenure will end on March 31.
Iskandar, who first joined Media Prima's board on Oct 1 last year, has over 30 years of experience with a multitude of companies, ranging from multinationals to government-linked companies, which were in industries like investment banking and technology.
Sime Darby Plantation Bhd has posted a net loss of RM45 million in 4QFY19 on the back of a decline in fresh fruit bunch (FFB) production and contribution from Sime Darby Oils (Downstream) operations.
In addition, the group also recorded a net loss of RM13 million from its discontinuing upstream Liberia operations. Quarterly, revenue stood at RM3.37 billion. The group changed its financial year end to Dec 31 from June 30 previously, so there is no comparative quarter.
For FY19, the group posted a net profit of RM122 million compared with RM729 million in the corresponding period last year with its performance affected by lower CPO and palm kernel prices realised, as well as lower FFB production.
Tenaga Nasional Bhd (TNB), which turned to a profit of RM653.3 million in 4QFY19, declared a final dividend of 20 sen per share and a special dividend of 50 sen per share. This brings the total to RM1 per share for FY19 compared with 53.27 sen for FY18.
TNB said its 4QFY19 earnings were mainly boosted by a one-off gain of RM598.9 million. Furthermore, it is worth noting that the net loss of RM134.3 million in the previous corresponding quarter was pulled down by a one-off impairment of RM304.7 million.
The better net profit in the quarter was despite a 3.42% drop in revenue to RM12.18 billion from RM12.55 billion, no thanks to lower electricity sales.
For the full FY19, TNB's earnings jumped over 20% y-o-y to RM4.53 billion on the back of lower impairment, coupled with forex gains as opposed to losses in FY18. Revenue was flattish at RM50.94 billion compared with RM50.39 billion in FY18.
Separately, Tan Sri Ahmad Badri Mohd Zahir was named as chairman of the national utility company effective March 12, replacing Tan Sri Leo Moggie who did not renew his contract.
Yinson Holdings Bhd has finally reached an agreement with the lenders of Singapore-listed Ezion Holdings Ltd (EHL), as Yinson will end up owning a controlling 63.4% stake in EHL.
The agreements, entered into by Yinson's wholly-owned subsidiary Yinson Eden Pte Ltd (YEPL), would require YEPL to make a cash investment of US$150 million in EHL for the stake.
Prior to that, EHL will go into a scheme of arrangement that is expected to result in its total debts to be reduced from about US$1.6 billion to around US$400 million.