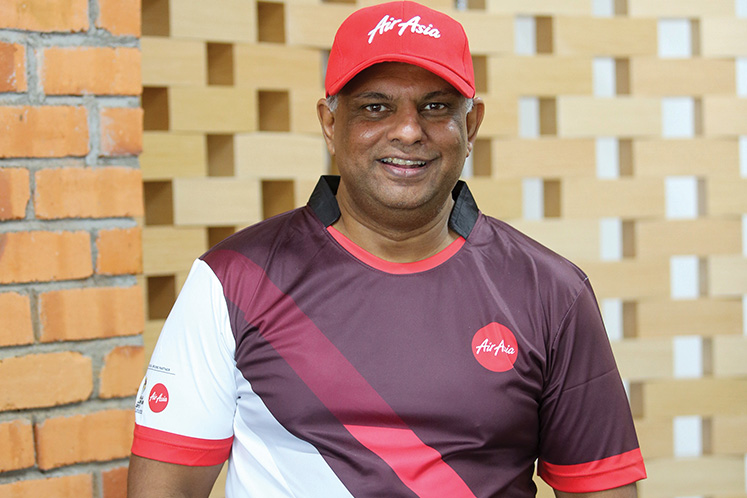 This article has been updated.
KUALA LUMPUR (April 2): Like many of its peers around the world, the AirAsia group is in talks with the Government for help in the form of loans.
The co-founder of AirAsia group, Tan Sri Tony Fernandes revealed that he is currently in discussion with the Government to obtain a loan as a means to ease tight cash flow given the tough operating environment as a result of the unprecedented travel ban worldwide.
AirAsia Group Bhd and its sibling AirAsia X Bhd grounded operations for nearly a month amid the Movement Control Order imposed from March 18 to April 14.
In an interview with Bloomberg TV earlier, Fernandes reiterated that the AirAsia group does not need to be bailed out by the Government. He stressed that there is enough cash to last for a while.
"We don't need a bailout. Obviously, many airlines are looking at loans. We think the cash can last us for the most part of this year and if sales return, then we're okay. But it'd be great to get a loan as well and we are working on that with the Government," he said.
According to investment analysts, AirAsia Group needs about RM4 billion to RM5 billion to sustain its operations, while AirAsia X needs about RM1 billion.
Fernandes also refuted speculation that he is in merger talks. But the CEO of AirAsia Group did not rule out the possibility of it happening.
"We're just focused on getting ourselves in order. It has not been mentioned to me at the moment. But I would keep the option open," said Tony, who is also non-independent and non-executive director of AirAsiaX. He is also the controlling shareholder of the two public-listed airlines.
Comparing the two low-cost carriers, AirAsia Group seems to be on a better financial footing simply because the proceeds from aircraft sales helped to build up some cash reserves. The short-haul low-cost carrier is currently sitting on a net cash position of RM2.2 billion. That said, analysts noted that AirAsia Group has lease liabilities of RM10.15 billion on its balance sheet, although its borrowings are not that high for now.
Nonetheless, AirAsia X's cash balance was at RM357.96 million as at Dec 31, 2019 compared with its short-term liabilities of RM866.82 million and long-term debts of RM5.45 billion.
On the long-haul AirAsia X, Fernandes said the company is focusing on rationalising its fleet, with most flights becoming medium haul.
"AirAsia X was doing very well pre-COVID-19 over the last fourth quarter and the beginning of January. We're changing the fleet now, and bringing down the routes to shorter distances. We think we will be a beneficiary in some ways as people want to save more money, so a low-cost product will be more viable.
"We think in the immediate future, travel will be regional and won't be cross-continental, so we think both AirAsia and AirAsia X are in a good spot," he said.
Fernandes said with travel restrictions imposed to curb the spread of the COVID-19 outbreak, airlines worldwide are struggling as they are hit hard with a slump in sales.
However, he remains optimistic as the company reopens for sales at the end of the month.
Looking ahead, Fernandes said growth will not be airlines' priority for a while, given economic uncertainties. However, he remains positive that the travel sector will bounce back in due time.
At the noon market close, shares in AirAsia ended one sen or 1.27% higher at 80 sen, while AirAsia X ended 0.5 sen or 10% higher at 5.5 sen.