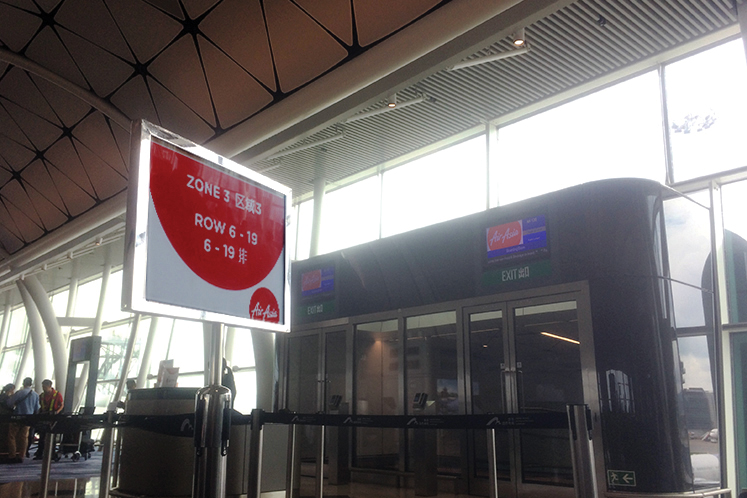 KUALA LUMPUR (Feb 27): AirAsia Group Bhd, Asia's largest low-cost carrier by passengers carried, fell into the red in the financial year ended Dec 31, 2019 (FY19), mainly due to the absence of a RM1.1 billion gain in 2018.
It posted a net loss of RM303.72 million in FY19 compared with a net profit of RM1.97 billion in the previous year.
The carrier was also impacted by the recognition of one-off costs, which includes consultant costs for sales and leaseback transactions of RM25 million, tax provision and payment for a subsidiary of RM49 million, discounting of a long term receivable of RM40 million and share of losses in AirAsia India of RM280 million including recognition of prior year losses, it added.
In a statement today, AirAsia also blamed the weaker performance on accounting treatment of its restructured aircraft ownership, moving from owning to leasing aircraft, despite recording similar cash outflow in either financing method.
"MFRS137 accounting treatment has resulted in a 43% increase in maintenance and overhaul costs, while MFRS16 adoption negatively impacted the results by RM131 million in FY19," it said.
Revenue for the year, however, was up 17% to RM12.45 billion from RM10.64 billion in the previous year.
The carrier continued to post positive operating cash flow (post operating lease) during the year amounting to RM1.6 billion. 
In the fourth quarter ended Dec 31, 2019 (4QFY19), AirAsia narrowed its net loss to RM384.48 million from RM394.97 million a year ago, resulting in a lower loss per share of 11.5 sen for 4QFY19 compared with 11.8 sen for 4QFY18.
Though it reported lower loss for the quarter, AirAsia said the profit and loss statement was affected by the difference in accounting treatment of leased versus owned aircraft with regards to maintenance provision treatment, as well as the carrier adopting MFRS16 in 2020.
"Despite a loss on the face of the income statement, the company continues to generate strong cash flow, reflected by the positive operating cash flow (post operating lease) reported of RM728 million during the quarter," it said.
Meanwhile, revenue for the quarter rose 19% to RM3.36 billion from RM2.82 billion a year ago, driven by an 11% year-on-year (y-o-y) capacity addition and a 9% y-o-y increase in revenue per available seat kilometre (RASK).
"Air travel demand held firm as we carried 9% y-o-y more passengers (in 4QFY19). Ancillary revenue for the quarter also grew by 16% y-o-y to RM732 million, with non-airline ancillary revenue up 105%," said AirAsia. 
AirAsia shares closed down 3 sen or 2.63% at RM1.11 today, with 26.56 million shares done, bringing a market capitalisation of RM3.71 billion.