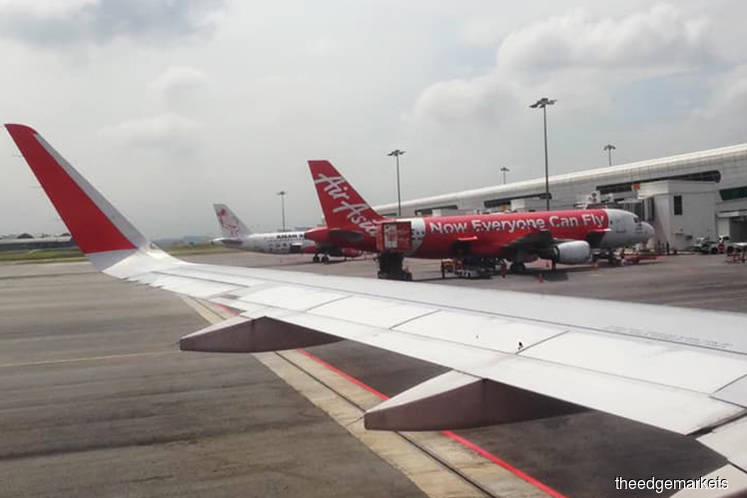 KUALA LUMPUR (Jan 26): AirAsia Bhd carried 10.44 million passengers between October and December 2017 (4Q17), an increase of 17% from 8.93 million passengers a year ago, while load factor improved to 88% in 4Q17 from 87% in 4Q16.
In a statement today, the low-cost carrier said its capacity across the Malaysia, Indonesia and the Philippines markets increased 16% year-on-year (y-o-y) in 4Q17 as the number of aircraft grew by 11 to 116, comprising 84 in Malaysia, 15 in Indonesia and 17 in the Philippines.
Systemwide passenger capacity for 4Q17 rose 14% y-o-y as measured by available seat-kilometre (ASK) terms, while systemwide traffic volume, measured in revenue passenger-kilometres (RPK), was up 15% y-o-y.
"AirAsia's Malaysian operations commenced operations of five new routes, namely two from Johor, one from Kuala Lumpur, one from Kuching and one from Singapore, and had increased frequencies on nine routes originating from Kuala Lumpur, Kuching, Johor and Singapore.
"(At the same time,) Philippines AirAsia Inc commenced operations of two new routes introduced from Manila, as well as increased frequencies on two routes originating from Manila," it added.
For the whole year of 2017, AirAsia Bhd Consolidated carried a record number of passengers, transporting 39.09 million passengers, an 11% increase compared with 35.1 million passengers in 2016.
Full year load factor was 88% in 2017, rising one percentage point (ppt) from 87% in 2016, while capacity rose 10% y-o-y.
Both the ASK and the RPK were up 9% and 11% respectively in 2017 over 2016.
In terms of AirAsia's operations in Malaysia alone, the airline carried 10% more passengers last year to 29.18 million from 26.41 million in 2016, while capacity grew 8% y-o-y and load factor increased by 2ppts to 89% from 87% in 2016.
At 4.26pm, AirAsia shares were up 4 sen or 0.95% at RM4.25 today, with 11.6 million shares done, giving it a market capitalisation of RM14.2 billion.