This article first appeared in The Edge Financial Daily, on November 4, 2019.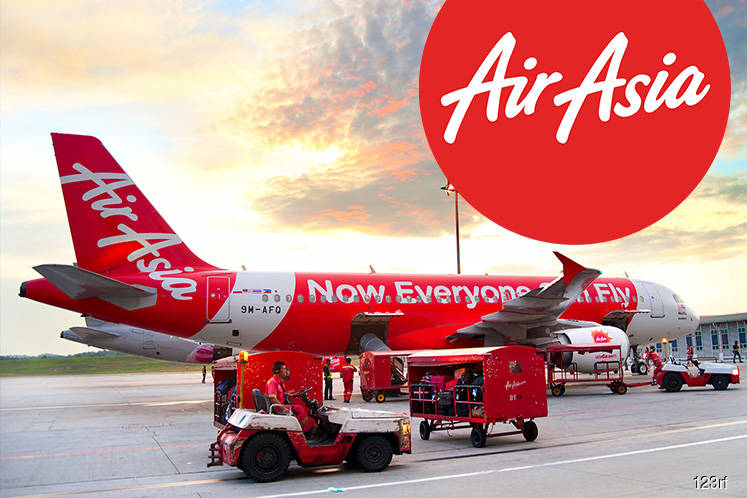 This article has been updated for accuracy.
AirAsia Group Bhd
(Nov 1, RM1.90)
Maintain buy with a higher target price (TP) of RM2.12: Recall, in the first half of financial year 2019 (1HFY19), the 17.8% year-on-year (y-o-y) increase in AirAsia Group Bhd's (AAGB) passengers contributed to higher 1HFY19 ticket sales of 18.6% to RM4.4 billion. This also resulted in airline-related ancillary income revenue growing by 12.8% y-o-y. After including non-airline ancillary segments such as Teleport, AirAsia.com, RedBeat Ventures and BigPay, total ancillary grew by 40.3% y-o-y. Most of the contribution for non-airline ancillary revenue came from Teleport, AAGB's logistics arm at more than 50%. Teleport has established presence in six countries (Malaysia, India, Thailand, Indonesia, the Philippines and Singapore) covering 85 cities. It also signed agreements with Air New Zealand and Oman Air to expand and provide market access for its cargo business.
Teleport currently operates at a 38,000 sq ft warehouse located at the former low-cost carrier terminal in Sepang, equipped with a digitalised operating system to increase efficiency. By the end of this year, Teleport expects to expand its capacity by 93,000 sq ft at a revamped warehouse beside the existing facility which will cater for both parcels shipped via wide-body aircraft (AirAsia X Bhd) and narrow-body aircraft (AirAsia Group). The management guided that the utilisation of Teleport's end-to-end supply chain network will be increased from the current 15% to 20% in FY20.
On top of normal freight forwarding agents, Teleports has implemented a platform to crowdsource drivers for logistics deliveries. We view this to be similar to current e-hailing services, but for parcels. The crowdsourced drivers handling the drop-off and pickup activities will have the "Teleportal" application which will track the total deliveries and earnings made by the driver. The application also comes with a barcode scanner for the e-proof of delivery, enabling pre-consolidation to take place at the point of pickup. This would in turn reduce the overall turnaround time compared to if consolidation of parcels were only to be done at the warehouse.
We opine that the expansion plans and digitalisation initiatives bode well for the growth in Southeast Asia cargo (with a market size of US$10 billion) from which the contribution from e-commerce is expected to reach 25% out of total air cargo by 2023. With small and medium enterprises (SMEs) depending on online tools for 75% of their international sales, we expect SMEs to tap Teleport services that are mainly driven by technology and vast networks.
Another customer group targeted by Teleport is online sellers on social media. Social commerce is unique to Southeast Asia with more than 30% of online shoppers purchasing directly from social media. To leverage this, Teleport has introduced a platform called "Teleport Social" which enables sellers on social media to integrate with Teleport's logistics infrastructure. In essence, the platform itself will eliminate the need for online sellers to migrate to a specific marketplace to sell their product online.
We are maintaining our estimate for FY19 as we believe that Teleport is on track to meet its revenue target of RM400 million.
Meanwhile, we are adjusting our earnings estimate for FY20 by 1.8% as we take into account higher utilisation of  Teleport as guided by the management.
We revise our TP to RM2.12 per share (previously RM2.08) pursuant to our FY20 earnings adjustment. Our TP is derived via pegging our forecast FY20 earnings per share of 19.3 sen at an unchanged target price-earnings ratio (PER) of 11 times. The target PER is premised on AAGB's regional peers which are trading at a 12-month trailing PER of 11 times on average.
We continue to like AAGB as the company continues to enhance its cost structure, along with its efforts in rationalising revenue and cost via digitalisation efforts with Teleport being one of them. We view that Teleport will offer higher growth prospects for the next five years given its asset-light model as the majority of its capital expenditure is for technology, combined with its cash flow-positive profile. This would provide opportunities to reinvest cash to compound returns further. Our positive outlook for AAGB also hinges on: i) its more prudent hedging policy, ii) stable operations with added capacity; and iii) continuous improvement to derive higher values per km flown.
Meanwhile, the adoption of Malaysian Financial Report Standards 16 will be a headwind in the coming years as the majority of AAGB's fleet is leased. Nonetheless, AAGB is expected to gain from a lower amount of interest beyond the fifth year of the lease term. We opine that passenger growth in Malaysia to remain intact despite the departure levy which took effect in September as the levies gazetted are lower than regional peers such as Thailand and Hong Kong. As for low-cost carriers such as AAGB, the percentage of departure levy from the total ticket price is still immaterial at around 1.6% on average for normal fares. — MIDF Research, Nov 1