This article first appeared in The Edge Financial Daily, on August 30, 2017.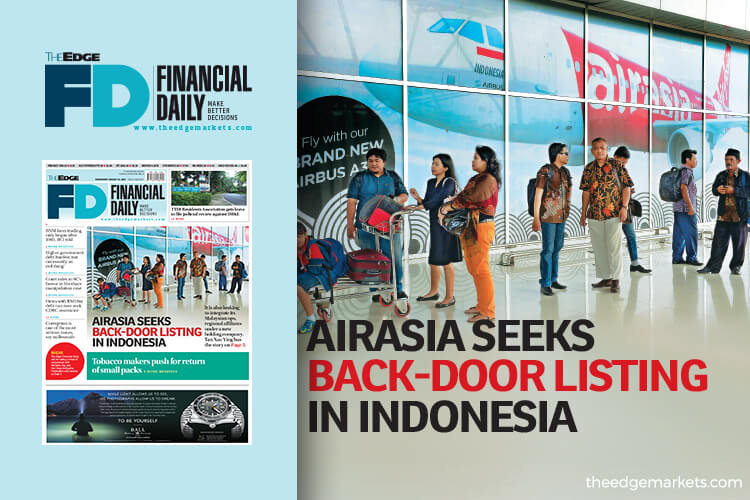 KUALA LUMPUR: AirAsia Bhd, Asia's largest low-cost carrier, is seeking a back-door listing of its Indonesian unit PT Indonesia AirAsia (IAA) on the Indonesia Stock Exchange (IDX) in Jakarta.
The airline also revealed a plan yesterday to establish a holding company under which its airline operations in Malaysia and its various regional affiliates will come under its control, in line with its co-founder and group chief executive officer Tan Sri Tony Fernandes' pursuit of an Asean airline.
In a filing with Bursa Malaysia yesterday, AirAsia said it intends to inject 57.25% of IAA shares into Jakarta-listed logistics and warehousing firm PT Rimau Multi Putra Pratama TBK (RMPP) via a debt-and-share-swap deal. The proposed transaction is expected to be completed by the fourth quarter of this year, following which RMPP will be the new holding company of IAA.
Analysts are positive on AirAsia's reverse takeover of RMPP as it allows the airline to tap into the equity market in Indonesia.
"Going forward, Indonesia is poised for growth. With the entry of new shareholders, the burden of IAA's working capital and capital expenditure can now be shared instead," Hong Leong Investment Bank analyst Daniel Wong told The Edge Financial Daily.
MIDF Amanah Investment Bank analyst Tay Yow Ken said IAA's listing on the IDX would allow the group to unlock the value in IAA.
"With a listed status, IAA can now consider undertaking a rights issue or private placements to raise cash, or AirAsia to monetise its stake in IAA via a share sale," he added.
As at June 30, 2017, the issued share capital of RMPP was 54 billion rupiah (RM17.28 million) comprising 216 million shares. Audited financial statements of RMPP show that for the financial year ended Dec 31, 2016, the company's net profit and net assets stood at 4.06 billion rupiah and 33.19 billion rupiah respectively.
Meanwhile, AirAsia has executed multiple agreements to partially dispose of and subsequently convert its perpetual securities investments in IAA into new shares in RMPP.
The four agreements executed are the conditional sale of perpetual capital securities agreements between AirAsia and AirAsia Investment Ltd (AAIL), between AirAsia and PT Fersindo Nusaperkasa (FNP), a pledge agreement between AirAsia and FNP, and a conditional standby buyer agreement among all three parties.
Under the terms of the conditional standby purchase agreement, RMPP will undertake a rights issue of up to 13.65 billion new rights shares of RMPP at a nominal value of 250 rupiah per share, on the basis of 23,818 new RMPP rights shares for every 377 existing RMPP shares held.
FNP and AAIL have been appointed by RMPP as standby purchasers to subscribe up to 10.40 billion rights issue shares, to be satisfied by non-cash consideration via a transfer of the IAA perpetual securities.
Accordingly, FNP and AAIL together will own up to 97.96% equity interest in RMPP.
Upon completion of the rights issue, RMPP will own perpetual securities of IAA to be converted into up to 241,067 of IAA's newly issued shares, or up to 57.25% of IAA's equity interest, the statement said.
The proposed transaction has been mooted in view of financing needs for the group's growth in Indonesia, including the doubling of its fleet by 2020.
In a separate filing, AirAsia said the new holding company's structure will see AirAsia's Malaysian operations, its five affiliates in the Philippines, India, Thailand, Indonesia and Japan, as well as its digital-related services and intellectual properties consolidated into five separate business segments.
The proposed structure will see the transfer of the associate companies held under AAIL and involved in regional airline business to the new holding company to be known as AirAsia Group Bhd, where upon completion AAIL may be liquidated.
AirAsia Group will become the investment holding vehicle assuming the listing status of AirAsia, while AirAsia will continue to operate the Malaysian airline business as a wholly-owned subsidiary of AirAsia Group.
The proposed internal reorganisation also involves AirAsia exchanging 3.34 billion shares including treasury shares — representing the entire issued share capital — as at Aug 14, 2017, being the latest practicable date prior to the date of this announcement, with 3.34 billion new shares in AirAsia Group.
"The reference price of the newly listed AirAsia Group shares on Bursa Malaysia will be the last closing price of AirAsia shares on the market day prior to the suspension of trading on Bursa," said AirAsia.
The proposed exercise is conditional upon the following approvals from AirAsia shareholders at a forthcoming extraordinary general meeting and a court-convened meeting. The proposed internal reorganisation is expected to be completed by the first quarter of 2018.