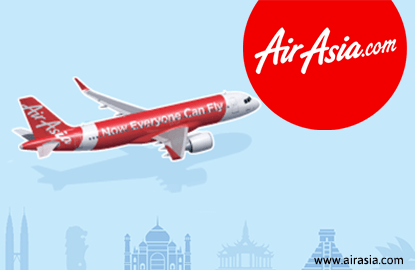 KUALA LUMPUR (March 30): AirAsia Bhd said the group's founders are not considering a privatisation of the low-cost carrier at this point of time.  
"The founders and Tune Air (Sdn Bhd) indicated that they are not considering a privatisation at this stage," it said in a filing with the stock exchange today.
 
The Edge Weekly, in its latest issue dated March 28 - April 3, reported that Tan Sri Tony Fernandes and Datuk Kamaruddin Meranun, who collectively control 18.87% of AirAsia through Tune Air, are planning to privatise the airline in partnership with a company under state-owned China Everbright Bank Co.
AirAsia said it had made due enquiries with all its directors and "they are not aware of the reason for the article".  
Talks of privatising AirAsia has permeated the market a number of times, with the most recent in the second half of last year, which caused the stock to rally.
 
The Edge report had quoted a source as saying that Fernandes had tried to privatise AirAsia before, but failed because of funding issues.
"But this time, things are firmer," the source said.
It would take roughly RM5 billion for Fernandes and the related parties to buy the 81.13% of AirAsia shares not owned by Tune Air, based on adding a presumed 20% premium to last Friday (March 25)'s closing price of RM1.84. This would then make the shares valued at RM2.21 each.
AirAsia had a book value per share of RM1.60, as at Dec 31, 2015.
The stock stood at RM1.81 at the midday break, for a gain of four sen. A total of 22.74 million shares were traded, making it the fourth most actively-traded counter across the exchange.