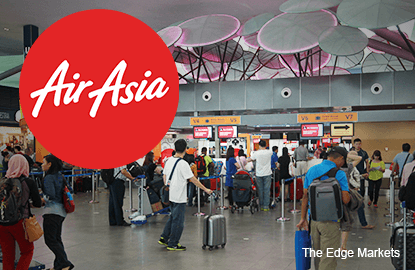 KUALA LUMPUR (April 1): AirAsia Bhd has entered into a share subscription agreement with its founders Tan Sri Tony Fernandes and Datuk Kamarudin Meranun to raise RM1.01 billion.
In a filing with Bursa Malaysia today, the budget airline said it has entered into a conditional subscription agreement with Fernandes and Kamarudin through Tune Live Sdn Bhd, to issue and subscribe 559 million new shares in AirAsia at RM1.84 per share, in order to raise RM1.01 billion.
The issue price represents a 0.6% premium to the airline's last closing price of RM1.83 and a 31.4% premium to the 12-month volume weighted average price of RM1.41 per share.
Tune Live, which is currently dormant, is equally-owned by Fernandes and Kamarudin. Upon completion of the proposed shares issuance, Tune Live will hold 15.7% of the enlarged issued capital of AirAsia.
As at March 28, Fernandes and Kamarudin hold directly and indirectly, a total of 18.9% shareholding in AirAsia. The duo hold a combined 18.87% stake in AirAsia via another private vehicle named Tune Air Sdn Bhd.
Post the proposed shares issuance, Fernandes and Kamarudin will hold a 32.5% stake in AirAsia, just slightly under the 33% threshold to make a mandatory general offer to the airline's minority shareholders.
AirAsia said it will use the raised proceeds to reduce its gearing from 2.79 times now to 2.22 times post the proposed shares issuance, financing of aircraft, engines and parts, pre-delivery payments of aircraft, general corporate and working capital, and the expenditures related to the exercise. About 10.3% or RM103.82 million of the funds will be used to partially fund the construction of its new headquarters at klia2, which is scheduled to be completed this year.
According to AirAsia, it will convene an extraordinary general meeting to seek approval from its non-interested shareholders for the proposed shares issuance.
On the rationale, AirAsia said the shares issuance is the most appropriate means of fund-raising, since the terms for its US$1 billion Multicurrency Medium Term Note (MTN) Programme which was announced on Jan 6, 2016, were not favourable due to weak market sentiments.
"The proposed shares issuance is expected to generate annual interest savings of approximately RM10.69 million, arising from the pre-payment of bank borrowings," it added.
Barring any unforeseen circumstances and subject to all relevant approvals being obtained, AirAsia targets to complete the corporate exercise by the third quarter of 2016.
Shares in AirAsia will resume trading next Monday (April 4). The stock was not traded today. It last closed at RM1.83 per share, for a market value of RM4.93 billion.