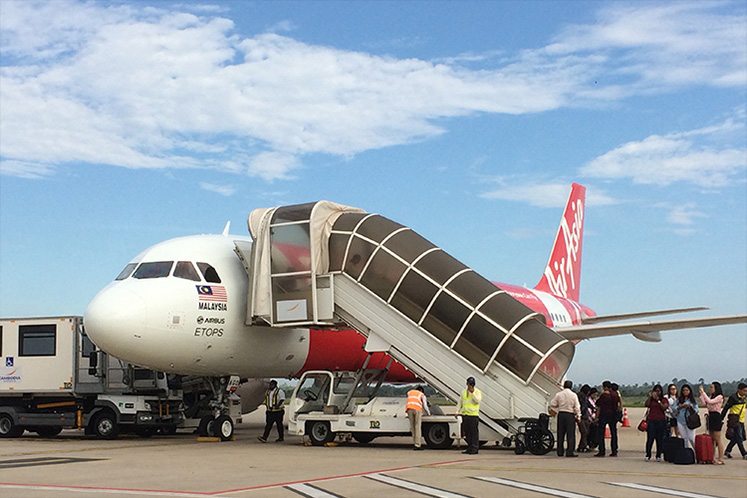 KUALA LUMPUR (July 6): AirAsia Group Bhd posted a net loss of RM803.85 million for the first quarter ended March 31, 2020 (1QFY20), partly dragged down by the wrong hedge against crude oil prices which collapsed in March and the hefty sum of depreciation. 
The group posted the net loss against a net profit of RM96.09 million in the corresponding period last year. This is the largest quarterly net loss since the budget carrier has been listed in 2004. 
Quarterly loss per share came in at 24.1 sen in 1QFY20 compared with earnings per share of 2.9 sen previously. Quarterly revenue declined 15.3% year-on-year (y-o-y) to RM2.31 billion from RM2.73 billion.
The budget airline saw a negative operating cash flow of RM116.1 million, in contrast to a positive cash flow of RM289 million, according to its filing with Bursa Malaysia.
In terms of its earnings before interest, tax, depreciation and amortisation (EBITDA), the budget carrier earned RM29,000 compared with RM564.57 million in the previous corresponding quarter.
The group said the colossal net loss was mainly on account of RM270.1 million worth of fair value losses on derivatives, some RM110 million in settlement losses for fuel hedges, as well as RM243 million in additional depreciation and lease liabilities interest on operating lease aircraft.
In order to ensure sufficient working capital, AirAsia said it has sought payment deferrals from its suppliers and lenders. In addition, the budget carrier is restructuring a major portion of fuel hedges while working on its remaining exposure.
"This will help to deal with the excess of hedged volume against expected fuel consumption post-Covid-19 and reduce the hedging losses if fuel price remains at today's prices," it noted in the quarterly result release.
Further measures in managing and containing cost include both the management and senior employees of AirAsia Group volunteering a salary sacrifice, re-negotiating contracts and deferring all non-essential expenditures, it added.
"While confirmed initiatives so far are expected to result in at least a 30% cost reduction y-o-y in 2020, we are hopeful of further cost reduction than 30% in 2020," it noted.
AirAsia also added that it has applied for bank loans in its operating countries to shore up its liquidity. It also noted that it has been presented with proposals to raise capital to strengthen its equity base or liquidity from a number of investment bankers and lenders to help it weather Covid-19.
The airline revealed that it is engaged in ongoing deliberations with a number of parties for joint ventures and collaborations that may result in additional third-party investments in specific segments of its business.
In a separate statement, AirAsia CEO Tan Sri Tony Fernandes said he was encouraged by the strong demand seen since the resumption of operations in late April.
He opined that its sale and leaseback deals have served to benefit in the current situation.
"Our past sale and leaseback deals serve to be beneficial in the current situation, as leasing provides us the flexibility and room for renegotiating contracts with our supportive lessors and suppliers," he said.
The budget carrier noted that its load factor was healthy at 77%. 
Capacity reductions, which amounted to 17% and 1% respectively for Malaysia and the Philippines, were due to domestic routes and international routes being halted in mid-March.
Over in Indonesia, its capacity increased by 10% in redeploying the additional international route capacity to domestic markets.
Malaysia and Indonesia saw average fares rise by 12% and 11% respectively, while in the Philippines average fares fell by 9%.
Group revenue per available seat-kilometre (RASK) was up by 2% to US$0.0364, from US$0.0358 on improved pricing strategy in Malaysia and Indonesia. Cost per available seat kilometre (CASK) also went up, rising by 36% to US$0.0470 from US$0.0346 as a result of fuel hedge losses as prices fell following lower oil demand, higher maintenance, depreciation and lease liabilities.
Associates Thai Air Asia Co Ltd (Thai AirAsia) and AirAsia (India) Ltd also posted losses. In the case of Thai AirAsia, it saw a loss after tax of 1.22 billion Thai baht, from a profit after tax of 902.92 million Thai baht. AirAsia India saw loss after tax increased to 3.35 billion rupees, from 1.47 billion rupees.
AirAsia's share price tumbled 47.3% year to date to close at 89.5 sen today, valuing it at RM2.99 billion. It dropped to a multiple-year low of 52 sen in mid-March.
Read also:
AirAsia's annual net loss may exceed RM3b in FY20, analysts say
We have applied for bank loans to shore up liquidity — AirAsia