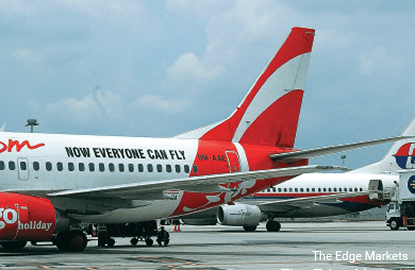 KUALA LUMPUR (Feb 4): AirAsia Bhd and Malaysia Airlines Bhd (MAB) (formerly known as Malaysian Airline System Bhd) today won their appeal over the RM10 million fine imposed on each of the companies by Malaysia Competition Commission (MyCC).
The tribunal has unanimously set aside the RM10 million fine imposed by MyCC on both the airlines.
In the decision today, the tribunal's chairperson Datuk Hasnah Mohamed Hashim said fines that have been paid shall be refunded.
"The reason for the decision will be announced in the written judgement released later," she added.
The tribunal members include Tan Sri Lin See Yan, Tan Sri Haidar Mohamed Nor, Tan Sri Sulaiman Mahbon and Dr Wan Liza Md [email protected] Fahmy.
Speaking to reporters outside the court, AirAsia legal counsel Amir Faezal Zakaria said the decision is good for the aviation industry as a whole.
"The competition tribunal has reached [the] right decision today and (it) is [the] right decision for the industry as well.
"There are many collaborations and alliances in the airlines (industry) that take place all the time," he said.
The tribunal recognised that consent would be obtained for these alliances and collaborations from the relevant regulators, he added.
Meanwhile, a MyCC spokesperson said the commission will study the judgement and consider its options.
MyCC had on Sept 6, 2013 found MAS and AirAsia guilty of anti-competition practices under Section 4(2)(b) of the Competition Act 2010, by entering into a share-swap agreement in 2011, which was subsequently called off by Khazanah Nasional Bhd in 2012.
MyCC was established in 2011 with the express purpose of enforcing the Competition Act.
Shares in AirAsia were trading at RM1.40, up two sen or 1.45% at 3.01pm, for a market capitalisation of RM3.1 billion.