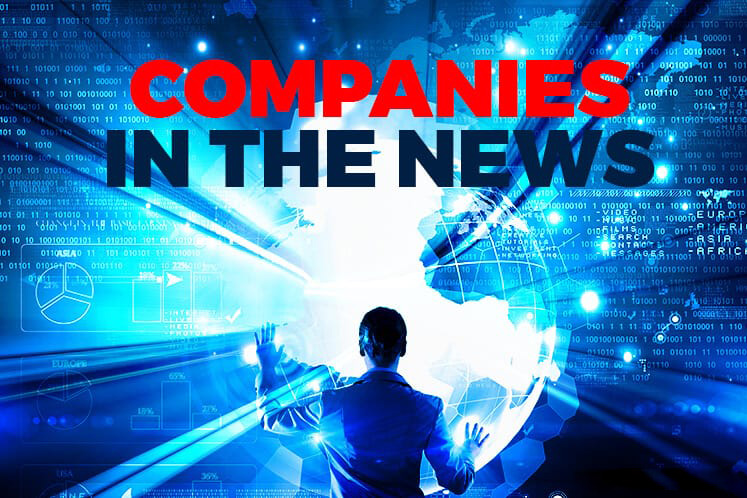 KUALA LUMPUR (Feb 14): Based on corporate announcements and news flow today, stocks in focus on Thurs (Feb 15) may include: AirAsia Bhd, Luxchem Corp Bhd, Carlsberg Brewery Malaysia Bhd, Heineken Malaysia Bhd, Serba Dinamik Holdings Bhd, Supermax Corp Bhd, Yinson Holdings Bhd, TRIplc Bhd, Hibiscus Petroleum Bhd, Kumpulan Perangsang Selangor Bhd, Dialog Group Bhd and Protasco Bhd.
AirAsia Bhd group chief executive officer Tan Sri Tony Fernandes cheered budget airlines' tailwinds, which include lower crude oil prices and a stronger ringgit.
"Oil continues to drop. Asean currencies led by the ringgit holding their own. Airports now all focusing on LCC (low-cost carriers). Let the good times roll in," Fernandes said via Twitter today.
Luxchem Corp Bhd proposed an interim dividend of 1.5 sen per share for the fourth quarter ended Dec 31, 2017 (4QFY17) in conjunction with the industrial chemicals supplier's earnings announcement.
The interim dividend brings the full-year payout to four sen a share. The dates of entitlement and payment will be determined and announced in due course.
Luxchem proposed its dividend despite reporting lower net profit.
Its 4QFY17 net profit dropped to RM9.49 million from RM13.51 million a year earlier. Revenue was higher at RM197.2 million against RM186.37 million.
For the full year, net profit declined to RM40.75 million from RM43.5 million a year earlier. Revenue increased to RM806.68 million from RM701.55 million.
Carlsberg Brewery Malaysia Bhd, whose share price closed at a record high of RM16.66 today, posted a 6% year-on-year rise in its fourth quarter profit and announced a 77 sen dividend payout, comprising a final dividend of 66 sen and a special portion of 11 sen.
The stronger profit for the quarter ended Dec 31, 2017 of RM50.01 million — compared with RM47.07 million a year ago — was mainly due to the continued recovery of its associate's business in Sri Lanka.
Its quarterly revenue, however, declined 1% y-o-y to RM429.94 million from RM434.64 million.
For the full FY17, Carlsberg Malaysia posted an 8% rise in net profit to RM221.17 million from RM204.98 million in FY16 while revenue grew 5% to RM1.77 billion from RM1.68 billion.
Heineken Malaysia Bhd, whose share price hit a new high of RM20.42 today, reported a 10.54% fall in fourth quarter net profit to RM93.64 million, from RM104.68 million a year earlier, due to higher taxation.
Earnings per share for the quarter ended Dec 31, 2017 (4QFY17) fell to 31 sen, from 34.65 sen previously.
Quarterly revenue grew 6.09% to RM612.69 million from RM577.52 million.
Its cumulative revenue for FY17 increased 2.6% to RM1.93 billion, from RM1.88 billion in FY16.
Profit before tax went up 4.6% to RM363 million from RM347 million in FY16, while net profit totalled RM270.06 million. No comparison figure was provided for net profit.
The group proposed a single-tier final dividend of 50 sen per share.
Serba Dinamik Holdings Bhd said its wholly-owned subsidiaries have secured a total of seven new contracts, worth a combined estimate of RM830.9 million.
Six of its contracts are for Serba Dinamik Sdn Bhd (SDSB), and one for Serba Dinamik International Ltd (SDIL).
SDSB received two engineering, procurement, construction and commissioning (EPCC) contracts and four operations and maintenance (O&M) contracts while SDIL's contract is on an O&M basis.
SDIL will be providing genset operation and maintenance services at Chevron Indonesia's Kalimantan operation. The contract started on Dec 4, 2017 and is due for completion on Nov 3, 2019.
Supermax Corp Bhd's net profit jumped 59% to RM35.9 million in the second quarter ended Dec 31, 2017 (2QFY18) from RM22.57 million a year ago, driven by stronger revenue, higher production capacity and improved operational efficiency.
Quarterly revenue grew 42% year-on-year to RM335.91 million from RM236.74 million, as it enjoyed stronger demand for gloves and achieved higher output.
The glove maker declared a single-tier interim dividend of 3 sen per share in respect of FY18, to be paid on March 28.
For the first six months of FY18 (1HFY18), the group's net profit grew 52% y-o-y to RM63.8 million from RM42.11 million, as revenue rose 28% to RM647.94 million from RM505.74 million.
Yinson Holdings Bhd's wholly-owned subsidiary is issuing RM1.5 billion worth of mudharabah bonds to refinance its outstanding financing facilities and sukuk facilities, and fund its working capital, equity contribution and capital expenditure for new projects.
Yinson said Yinson TMC Sdn Bhd made a lodgement with the Securities Commission Malaysia (SC) today to establish the sukuk mudharabah programme.
The programme would have a perpetual tenure with the first issuance to be made within 60 business days from today.
TRIplc Bhd's shareholders have agreed to its proposed restructuring and transfer of listing exercise, following its court convened meeting and extraordinary general meeting today.
The exercise will see the group becoming a subsidiary of Pimpinan Ehsan Bhd (PEB) and subsequently sold to Puncak Niaga Holdings Bhd.
TRI managing director Datuk Yusof Badawi said more than 99% of the company's shareholders voted for the proposals.
Bloomberg reported Hibiscus Petroleum Bhd's oil production will more than double to 9,000 barrels per day from current 4,000 barrels upon completion of the purchase of a 50% stake in North Sabah oilfield from Royal Dutch Shell Plc. It is on track to complete the acquisition by end-March.
"We can't give any projection" on earnings, "it will more or less follow the trend of doubling up," said managing director Kenneth Pereira in an interview at the company's office in Kuala Lumpur.
Diversified group Kumpulan Perangsang Selangor Bhd (KPS) is entering the electronic manufacturing services (EMS) segment, following its acquisition of a Penang-based fully-integrated EMS player, CPI (Penang) Sdn Bhd, for RM250 million.
KPS inked a conditional share sale agreement (SSA) for the 100% equity purchase from HK Resources Sdn Bhd and TCS Resources Sdn Bhd.
The price tag — to be fully satisfied in cash from internal funds and bank borrowings — values CPI at an enterprise value to earnings before interest, tax, depreciation and amortisation ratio of 6.5 times.
The acquisition comes with a profit guarantee of no less than RM25 million for the financial year 2018 (FY18), and no less than RM26 million for FY19.
Dialog Group Bhd's net profit in the second quarter of financial year ended Dec 31, 2017 (2QFY18) grew 26.71% to RM115.76 million compared with RM91.36 million a year earlier thanks to its Malaysian operations and higher contributions from its joint ventures (JVs) and associates.
Dialog explained that in November last year, its associate company — Pengerang LNG (Two) Sdn Bhd achieved its commercial operation and received the first commercial Liquefied Natural Gas (LNG) cargo at its newly commissioned regasification terminal at the Pengerang Deepwater Terminal.
Quarterly revenue came in flat at RM857.43 million from RM856.78 million.
An associate company of Protasco Bhd has entered into a concession agreement with the federal government for the maintenance of federal roads in Sarawak.
Protasco said DAL HCM Sdn Bhd has been granted the right to undertake routine maintenance, periodic maintenance, emergency works and other activities on part of the federal roads consisting 751 km.
DAL HCM is a 30%-owned unit of HCM Engineering Sdn Bhd, which in turn is wholly owned by Protasco. The other 70% stake is owned by D.A.L. Keluarga Realty Sdn Bhd.