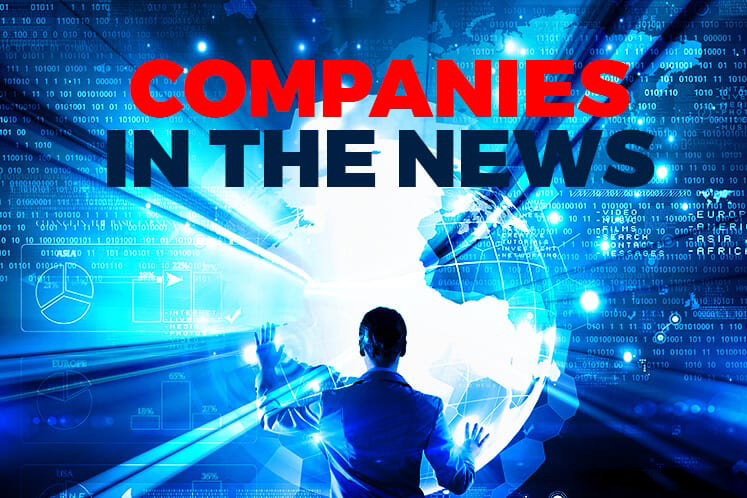 KUALA LUMPUR (Jan 10): Based on corporate announcements and news flow today, companies in focus on Thursday (Jan 11) may include: AirAsia, LPI Capital, AYER, Vertice, Ewein, Goldis, IGB, Tan Chong Motor, Accsoft, Tiger Synergy, MyEG and MAHB.
AirAsia Bhd is looking for a business partner for its budget airline's unit AirAsia Global Shared Services Sdn Bhd (AGSS).
AGSS' support services include finance and accounting, as well as IT, besides sourcing and procurement operations.
LPI Capital Bhd has proposed to undertake a bonus issue on the basis of one bonus share for every five existing shares.
It also declared a second interim single tier dividend of 45 sen per share, to be paid on Feb 6.
Its net profit for the fourth quarter ended Dec 31, 2017 (4QFY17) rose 2% to about RM83 million from RM81.45 million in 4QFY16, largely driven by contribution from the general insurance segment, which rose 4.3% y-o-y to RM110.4 million from RM105.8 million. Revenue strengthened 2% y-o-y to RM363.49 million from RM355.55 million.
The group's net profit for the full-year FY17, however, fell 28% y-o-y to RM313.79 million from RM437.22 million — though revenue rose 7% y-o-y to RM1.47 billion from RM1.38 billion — mainly due to a one-off RM150.4 million gain from sale of equities recorded in 2016.
AYER Holdings Bhd, which has undergone a rebranding exercise from TAHPS Group Bhd, is in the midst of restructuring its master plan for Bukit Puchong.
The group will be looking at launching landed and non-landed properties this year, while also working on adding recreational, education and healthcare components to enhance the value of their township.
Penang-based property developer Ewein Bhd has confirmed that its group managing director Datuk Ewe Swee Kheng has been remanded by the Malaysian Anti-Corruption Commission (MACC) to facilitate and assist in the graft probe in relation to the undersea tunnel project in Penang.
The company said it does not expect the remand of the group MD to have any operational, management or financial impact on the company, as its deputy MD Chuah Poh Lim "will continue to run Ewein Group's business as usual".
Meanwhile, apparel retailer Vertice Bhd said the MACC investigation on the Penang undersea tunnel project will not impact its progress.
It said the role of Consortium Zenith Construction Sdn Bhd — a 13.21% associate company of Vertice as the main contractor for the project will continue as previously planned.
Vertice said the financial performance of the group is also not expected to be adversely impacted by the recent reported events.
Goldis Bhd aims to complete its takeover of IGB Corp Bhd in early March, with the latter's shares to be delisted from the Main Market of Bursa Malaysia within the same month.
The High Court has granted an order sanctioning the proposed takeover exercise, which will see Goldis taking over the listing status of IGB Corp, but renamed to Ipoh Goldis Bersatu Bhd.
Tan Chong Motor Holdings Bhd has secured the rights to be the exclusive distributor, assembler and after-sales service provider of King Long products in Vietnam.
Its wholly-owned subsidiary TC Motor Vietnam Co Ltd (TCMV) entered into the exclusive distributorship agreement with Xiamen King Long United Automotive Industry Co Ltd.
The partnership with the Chinese company which specialises in the design, production and sale of various buses and coaches, will help facilitate Tan Chong's penetration into the different bus and coach segments.
Accsoft Technology Bhd has proposed to undertake a share split involving the subdivision of every 10 existing shares in the company into 25 shares.
The proposed corporate exercise is expected to result in Accsoft shares being more affordable in order to appeal to a wider group of public shareholders and investors, as well as improve the trading liquidity of the shares.
Tiger Synergy Bhd is planning a four-into-one (4-into-1) share consolidation, and an issuance of redeemable convertible notes to raise up to RM150 million to fund its current property development projects.
The proposed share consolidation will involve the consolidation of every four existing Tiger Synergy shares into one consolidated share.
It has also inked a conditional subscription agreement with Advance Opportunities Fund 1 (AOF1) and Advance Capital Partners Asset Management Private Ltd (the discretionary investment manager of AOF1) for the proposed notes, to be issued in three tranches to AOF1.
The redeemable convertible notes, at an interest rate of 1% per annum, will be due in 2023. The first tranche's principal amount will be RM25 million, the second RM50 million and the final will be RM75 million.
Of the gross proceeds of up to RM150 million to be raised from the proposed notes, Tiger Synergy expects some RM125.28 million to be used for its ongoing property development projects, with the remainder left for working capital and to defray expenses related to the proposals.
My E.G. Services Bhd (MyEG) has been granted approval by Bank Negara Malaysia to issue electronic money via its iPayEasy e-wallet.
MyEG said its sub-subsidiary MY E.G. Alternative Payment Services Sdn Bhd (MyEG Alternative) has received a letter of approval from the central bank allowing it to issue electronic money via its designated payment instrument, with a maximum wallet limit of RM1,500 per customer.
The number of passengers passing through the 39 airports Malaysia Airports Holdings Bhd (MAHB) manages in the country rose by 1.2% year-on-year (y-o-y) in December 2017.
A total of 8.99 million people travelled through the airports in Malaysia in December 2017, up from 8.89 million a year ago.
MAHB said international traffic rose 10% y-o-y to 4.82 million passengers, while domestic traffic fell 7.5% y-o-y to 4.17 million passengers.