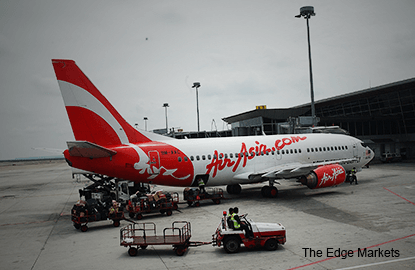 KUALA LUMPUR (Sept 6): AirAsia Bhd will rent two AirBus A330s, complete with air crew, from sister company PT Indonesia AirAsia Extra (IAAX) for US$12.9 million (RM52.67 million).
In a filing with Bursa Malaysia today, AirAsia said the first contract — valued at US$9.8 million — is for IAAX's A330 widebody aircraft PK-XRA (MSN 716), which will run for nine months between Sept 16 and March 15 next year.
The second, for PK-XRC (MSN 654), has a tenure beginning Oct 1 through Nov 30, and is valued at US$3.1 million.
AirAsia said it signed the agreement today with IAAX for what is called a wet lease. This is where an airline rents out its available aircraft in its fleet to another, with its crew, maintenance, and insurance in tow.
AirAsia said by leasing the aircraft, it will derive benefits. One, the agreement gives it six extra crew sets daily to add on to its manpower supply, while any extra capacity from the A330s will allow it to reduce flight frequencies and hence lesser crew requirement.
Also, additional capacity from A330s will allow AirAsia to overcome slot constraints in some airports, said the low-cost carrier. "It also enables AirAsia to better manage its network," it added.
"For routes with low load factor, AirAsia could reduce frequency, thus reducing fixed costs required to operate the route. Whereas additional capacity could be added for routes with high load factor to capitalise on the high demand," said AirAsia.
The transaction is based on minimum guaranteed block hours, both airlines agreed, and will be paid on a monthly basis. Any additional hours above the guaranteed minimum block hours will be charged according to the agreed hourly rate, said AirAsia.
Although this agreement will bring no material impact to its earnings, AirAsia reported it to the stock exchange as the wet lease agreement is deemed a related-party transaction. However, it will not need to obtain shareholders' approval, as it did not breach the 5% percentage ratio prescribed under the Main Market Listing Requirements.
AirAsia shares ceded two sen today to close at RM2.86, giving the company a market value of RM7.96 billion. Sister AirAsia X Bhd meanwhile lost one sen to 40 sen, bringing its market capitalisation to RM1.66 billion.