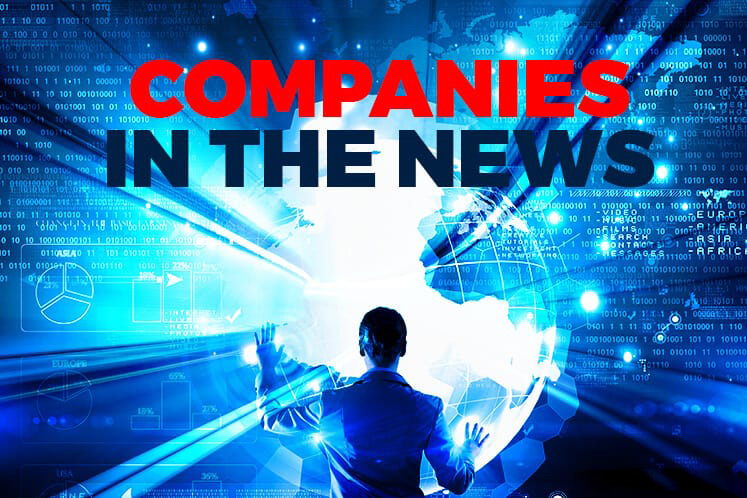 KUALA LUMPUR (Nov 27): Based on corporate announcements and news flow today, companies that in focus tomorrow (Nov 28) may include: AirAsia Group Bhd, Widad Group Bhd, Menang Corp (M) Bhd, Taliworks Corp Bhd, Genting Plantations Bhd, Revenue Group Bhd, Econpile Holdings Bhd, TH Heavy Engineering Bhd, Padini Holdings Bhd, Alliance Bank Malaysia Bhd, Sime Darby Property Bhd, Mah Sing Group Bhd, Allianz Malaysia Bhd, Reach Energy Bhd, and Ranhill Holdings Bhd.
AirAsia Group Bhd slipped into the red in the third quarter ended Sept 30, 2019 (3QFY19) with a net loss of RM67.46 million versus a hefty net profit of RM804.03 million a year ago due mainly to the fair value loss on derivatives amounting to RM237.7 million plus RM206.3 million of unrealized losses on foreign exchange, net off against gain on disposal of property, plant and equipment of RM92.1 million.
For the nine-month period, the carrier's net profit was down sharply to RM99.46 million from RM2.21 billion a year ago, while revenue was higher at RM8.75 billion from RM7.67 billion.
Widad Group Bhd is planning to take over Menang Corp (M) Bhd's concession, which is housed under the latter's 71%-owned unit Inovatif Mewah Sdn Bhd, on management and maintenance of UiTM Seremban 3 campus in Negeri Sembilan for RM122 million cash.
Under the agreement, Menang will be disposing of its 71% stake in Innovatif Mewah while Tentu Selesa will let go of its 29% equity interest subject to terms and conditions of a share sale and purchase agreement which will be entered into later.
Taliworks Corp Bhd's net profit tripled to RM72.64 million for 3QFY19 from RM19.68 million last year, boosted by a gain relating to the termination of an agreement by Syarikat Pengeluar Air Sungai Selangor Sdn Bhd (SPLASH). Revenue, however, fell 5% to RM93.62 million from RM98.36 million.
For the nine-month period, net profit surged 113% to RM95 million from RM44.7 million last year, despite a 2% decrease in revenue at RM271.57 million from RM277.13 million.
The group announced the appointment of Tunku Ali Redhauddin Ibni Tuanku Muhriz — formerly senior vice-president/director of investments at Khazanah Nasional Bhd between 2004 and 2010 — as its independent non-executive chairman, and Datuk Roger Tan Kor Mee as its independent non-executive director, effective today. Tunku Ali is also the independent non-executive chairman at Bumi Armada Bhd.
Genting Plantations Bhd's 3QFY19 net profit dropped 23.6% to RM17.96 million from RM23.51 million last year, dragged mainly by weaker palm product prices, lower contribution from its property business and losses at its biotechnology segment. Revenue contracted a marginal 2.8% to RM475.37 million from RM488.84 million.
For the nine-month period, Genting Plantations' net profit about halved to RM80.39 million from RM150.63 million last year, despite a 14.2% growth in revenue to RM1.62 billion from RM1.42 billion.
Revenue Group Bhd has partnered with Grab Malaysia to enable its in-app GrabPay's mobile QR payment to be made available at all of its merchant payment touchpoints, which will enable GrabPay e-wallet users to have wider and quicker access to Revenue's 20,000 touchpoints throughout Malaysia.
Econpile Holdings Bhd's 1QFY20 net profit sank 41.2% to RM8.84 million from RM15.04 million last year due to lower billings and higher percentage of billings from infrastructure projects that yielded narrower margins while revenue shrank to RM135.3 million in 1QFY20 from RM200.2 million.
TH Heavy Engineering Bhd's net profit plunged 97% to RM2.67 million for its 3QFY19 from RM100.76 million last year, due to the absence of debt waiver as part of its Scheme of Arrangement. This was despite revenue jumping to RM12.02 million from RM79,000 last year.
For the nine-month period, its net profit was RM9.77 million versus a net loss of RM3.47 million last year, while revenue amounted to RM35.48 million from RM408,000.
Padini Holdings Bhd's net profit for 1QFY20 rose by 9.15% to RM19.61 million from RM17.96 million, thanks to improved sales while revenue rose to RM338.04 million from RM329.79 million.
The group has declared a dividend of 2.5 sen per share for the financial year ending June 30, 2020 (FY20), payable on Dec 31.
Alliance Bank Malaysia Bhd expects its net profit for the current year ending March 31, 2020 (FY20) to decline despite seeing a fall in credit costs in the second-half. It also sees its loan growth for the year to grow slower than initially anticipated at between 5% and 7%, from 7%.
Sime Darby Property Bhd's net profit for 3QFY19 fell 12.4% to RM25.24 million from RM28.8 million last year, despite a 77% jump in revenue to RM850.03 million from RM480.34 million.
For the nine-month period, net profit shot up to RM495.58 million from RM109.04 million last year, while revenue ballooned to RM2.29 billion from RM1.66 billion.
Mah Sing Group Bhd's net profit for 3QFY19 declined 22.12% to RM50.02 million from RM64.23 million last year dragged by lower revenue from its property development segment. Quarterly revenue decreased 17.6% to RM415.47 million from RM504.26 million.
For the nine-month period, net profit also fell 24.4% to RM155.35 million from RM205.57 million last year, as revenue dipped 19.6% to RM1.35 billion from RM1.68 billion.
Allianz Malaysia Bhd's net profit jumped 43% to RM142.81 million for 3QFY19 from RM99.88 million last year, mainly contributed by its life insurance segment. Revenue increased 9% to RM1.42 billion from RM1.3 billion.
For the nine-month period, net profit rose 30% to RM359.4 million from RM276.98 million last year, while revenue climbed 6% to RM4.13 billion from RM3.88 billion.
Reach Energy Bhd found positive results of testing of the Exploration Well K-15 in its Emir Oil Concession Block onshore Kazakhstan. Its chief executive officer Shahul Hamid Mohd Ismail said the company achieved "another good success" in its exploration efforts in the block covering some 850 sq km.
Ranhill Holdings Bhd has signed three Memoranda of Understanding (MoUs) with Indonesia's PT Jasa Sarana yesterday to explore opportunities in the energy and waste management sectors in the province of West Java.