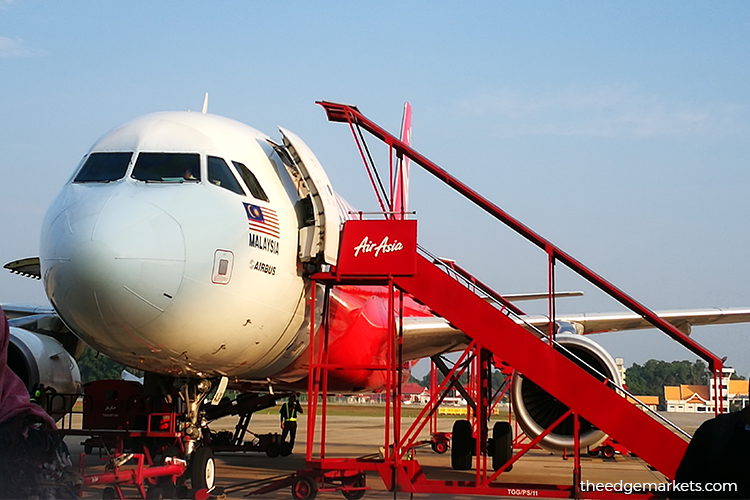 KUALA LUMPUR (July 19): AirAsia Group Bhd and AirAsia X Bhd (collectively AirAsia) are not happy and the two low cost carriers want to appeal against the High Court's ruling that they need to fork out RM40.73 million for uncollected passenger service charges (PSC).
"AirAsia strongly believes that the court has erred and we will appeal this decision.
"AirAsia will apply for a stay of execution and challenge Malaysia Airports (Sepang) Sdn Bhd's (MASSB) and its parent Malaysia Airports Holdings Bhd (MAHB's) actions — which we maintain are a burden on all traveling Malaysians — until we exhaust all avenues available under the law," said AirAsia co-founders Tan Sri Tony Fernandes and Datuk Kamarudin Meranun in a joint statement today.
AirAsia said it is "taken aback" by the Kuala Lumpur High Court's ruling yesterday to dismiss their application to strike out three suits the airport operator brought against it over the overdue PSC.
The High Court ruled yesterday that the two airlines have to pay RM40.73 million to MAHB's subsidiary MASSB over unpaid PSC from the period between July and December last year.
The co-founders reiterated that these legal challenges are not simply a matter between AirAsia and MAHB.
"In the event we lose in the highest courts of appeal, it is [the] passengers, especially Malaysian travellers who will have to pay the differential MAHB is charging. We believe that the people of Malaysia should have the right to a fair deal," they added.
For the record, the monies being claimed against the two low cost carriers by MAHB were to be collected from the passengers. However, AirAsia did not collect the differential amount or withhold its payment to MAHB, the low cost carrier said.
To recap, MAHB had imposed a new PSC of RM73 for passengers using klia2 to destinations out of Asean effective July 2018, versus the previous rate of RM50 that AirAsia has continued to collect from passengers.
Since then, almost five million passengers have benefited from this lower PSC, said AirAsia.
"AirAsia has since the beginning opposed this increase in PSC arguing that passengers using the inferior klia2 cannot be forced to pay the same charges as that of the better-equipped and more luxurious KLIA. On that principle, AirAsia group has not collected the extra charges imposed by MAHB," they said.
They noted that AirAsia has also sought for Malaysian Aviation Commission (Mavcom) to mediate as provided under the Mavcom Act.
"Unfortunately, Mavcom has refused to intervene. We will continue to challenge Mavcom's decision to not intervene, which clearly goes against the provisions of the Mavcom Act.
"The failure of Mavcom to intervene and mediate is also causing a further and bigger division in this industry, which leads to a big drop in tourist arrivals and causes greater damage to the nation's economy," they added.
Nevertheless, it is understood that the court last month dismissed AirAsia's application for a judicial review against Mavcom's decision not to intervene.
Senior federal counsel Shamsul Bolhassan representing the Attorney-General's Chambers (AGC) had said then that the High Court agreed with the AGC that Mavcom has not decided on the MAHB-AirAsia dispute but has merely deferred its decision.
AirAsia X CEO Benyamin Ismail noted that MAHB is painting an inaccurate picture to the Malaysian public by suggesting that klia2 and KLIA are on par in terms of quality and service.
"Anyone who has used both terminals knows that this is an untruth and an attempt to justify higher earnings for MAHB, whose profits have been growing considerably because of such arbitrary decisions," said Benyamin in the same statement today.
Benyamin also noted that AirAsia has also been facing numerous operational issues with klia2, including frequent unplanned runway closures, uneven aprons and taxiways, and a poor airport design that requires long walks to gates causing passengers to be delayed or lose their way.
"Despite these challenges within an unfriendly operating environment, AirAsia group will, in the interests of providing choice and the best deal to our passengers, continue to fight for justice and fairness," he said.
Shares of AirAsia Group closed one sen or 0.35% higher at RM2.87 today, giving it a market capitalisation of RM9.59 billion, while AirAsia X's shares grew half a sen or 2.17% to close at 23.5 sen, valuing the company at RM974.82 million.
Read also:
https://www.theedgemarkets.com/article/tony-fernandes-klia-and-klia2-are...
https://www.theedgemarkets.com/article/court-rules-favour-mahb-psc-row-a...
https://www.theedgemarkets.com/article/fernandes-expresses-disapppointme...
https://www.theedgemarkets.com/article/airasias-bid-judicial-review-agai...