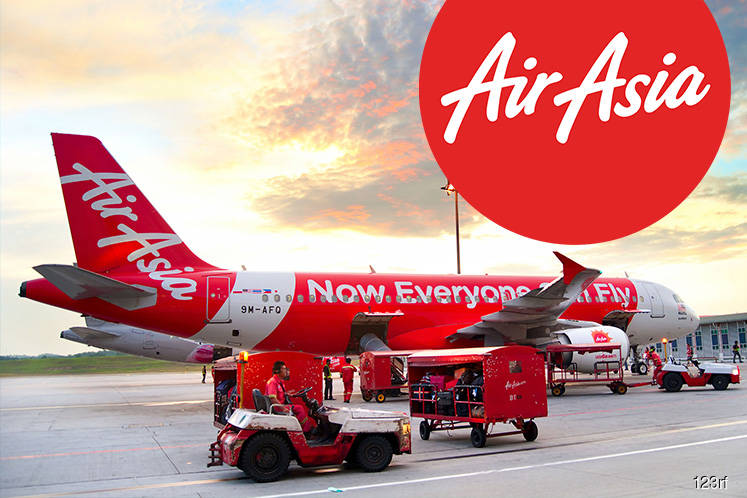 KUALA LUMPUR (April 26): AirAsia Group Bhd, Asia's largest low-cost carrier, carried 12.55 million passengers across its Malaysia, Indonesia and the Philippines markets in the first quarter of this year (1Q19), up 18% from 10.65 million passengers a year ago.
This was driven by a 17% year-on-year (y-o-y) increase in capacity for 1Q19. Its passenger load factor stood at 88% in 1Q19, up one percentage point (ppt) from 1Q18.
In a statement today, AirAsia said its capacity expansion, as measured by available seat kilometres (ASK), grew 11% y-o-y as the carrier added new routes and frequencies for both domestic and international routes to further grow its market share.
"Malaysia added capacity of 11% in 1Q19 with most of the seats sold, as passengers carried was up 10% y-o-y to 8.7 million passengers. Load factor was down one ppt to 87%," it added.
It added seven aircraft to its Malaysian fleet to reach 94 as at end-March 2019.
Indonesia AirAsia reported overall improved operating statistics, primarily attributed to eight aircraft that were transferred from PT Indonesia AirAsia Extra in 4Q18.
"For 1Q19, total passengers carried by Indonesia AirAsia saw an increase of 66% y-o-y, exceeding the 52% capacity added and recorded a load factor of 87%, which grew 7 ppts y-o-y," said AirAsia.
Philippines AirAsia also saw a passenger growth of 23% y-o-y in 1Q19. The carrier added 17% in capacity on new international routes during the January-March quarter. Load factor also grew by 4 ppts to 91%.
Meanwhile, AirAsia said Thai AirAsia carried 4% more passengers to 5.86 million in 1Q19, thanks to the extension of the visa-on-arrival fee waiver scheme for visitors from 20 countries and one territory.
"ASK was up by 10% y-o-y on the back of capacity that was added for China and Indochina routes. Load factor was, however, down one ppt to 90%," it added.
For AirAsia India, it carried 32% more passengers to 1.94 million in 1Q19, driven by capacity expansion of 23% y-o-y.
"AirAsia India closed the first quarter with 20 aircraft and it is well on its way to receive its 21st aircraft to start connecting Indian passengers into the group's Asean destinations," said AirAsia.
AirAsia Japan saw an impressive passenger growth of 80% to 94,051 passengers in 1Q19 from 52,263 passengers a year ago, as it launched its first international route to Taipei in February on the back of 79% y-o-y capacity added.
"AirAsia Japan will see a steady growth for both new domestic and international routes for 2019," said AirAsia.
AirAsia shares ended the morning session 3 sen or 1.2% higher at RM2.59 today, with 3.77 million shares done, bringing a market capitalisation of RM8.66 billion.