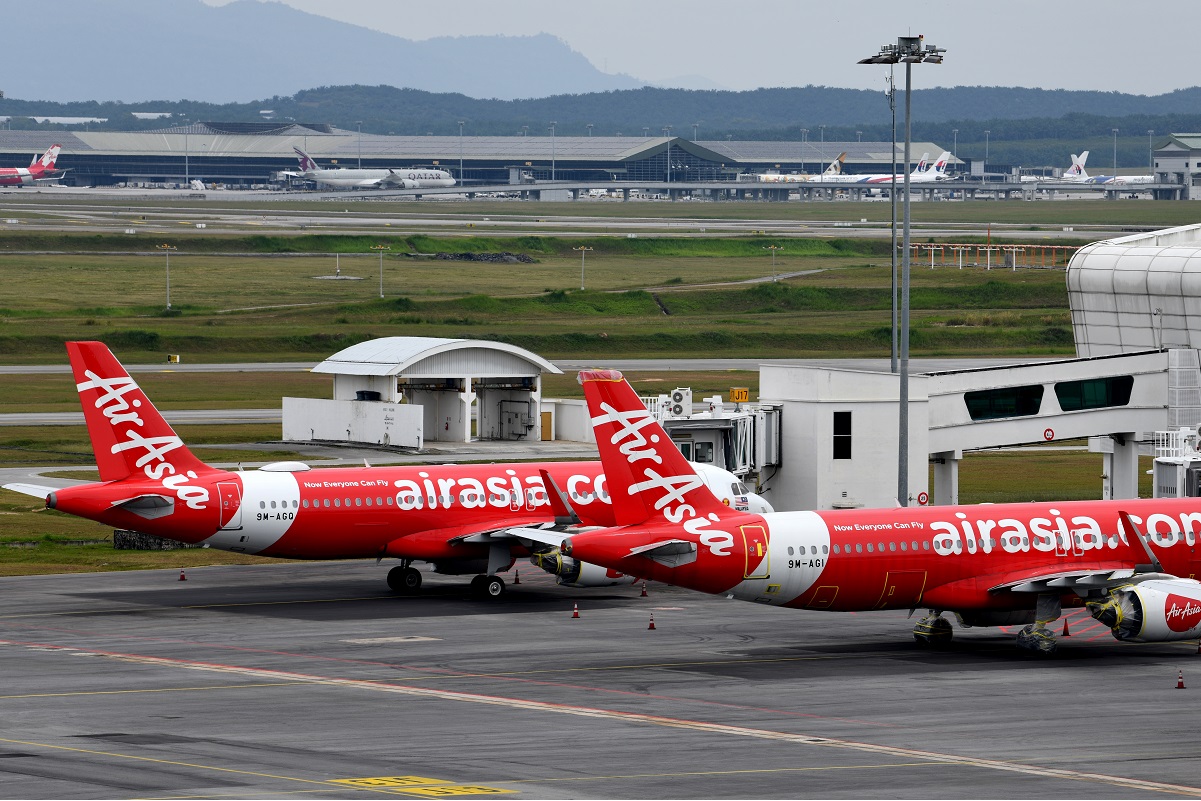 KUALA LUMPUR (July 13): AirAsia Group Bhd's share price fell more than 3% in Bursa Malaysia morning trade today after the budget airline announced yesterday its proposed rights issue of redeemable convertible unsecured Islamic debt securities (RCUIDS) to raise up to RM1.02 billion to finance the company's operations and business expansion.
At 10:04am today, AirAsia Group's share price pared gains at 86 sen after falling as much as three sen or 3.39% to 85.5 sen.
Yesterday, AirAsia Group said in a Bursa filing that the company proposed to undertake the renounceable rights issue of up to RM1.02 billion in nominal value of seven-year RCUIDS with a nominal value of 75 sen each on the basis of two RCUIDS with one free detachable warrant for every six AirAsia Group shares held.
AirAsia Group said that "under the maximum scenario, the proposed rights issue would entail an issuance of RM1.02 billion in nominal value of RCUIDS, representing the issuance of 1.37 billion RCUIDS together with 682.71 million new warrants".
Under the minimum scenario, the rights issue will entail an issuance of RM974.51 million in nominal value of RCUIDS, representing the issuance of 1.3 billion RCUIDS together with 649.68 million new warrants, according to AirAsia Group.
In a note today, TA Securities Holdings Bhd analyst Tan Kam Meng wrote that TA Securities advises AirAsia Group shareholders to subscribe for their rights securities and participate in AirAsia Group's recovery post Covid-19 pandemic.
Tan said AirAsia Group's recovery can be "fast and furious". 
According to him, the corporate exercise is critical to recapitalise AirAsia Group's balance sheet and keep the company afloat before its aircraft resume operations.
"As far as earnings are concerned, the proposed rights issue will lead to higher interest expense of additional RM81.9 million, resulting in higher losses of RM1.69 billion from estimated RM1.6 billion for FY21. However, this is inferior to the cash boost of RM1 billion which, coupled with other fund-raising exercises, can prop up its operations for the next two years.
"(There is however) no change to our earnings estimates (for AirAsia Group), pending approval from (AirAsia Group) shareholders and authorities. Maintain 'buy' on AirAsia (Group shares) with an unchanged target price (TP) of RM1.18/share, based on 8x FY22 earnings," he said.
MIDF Amanah Investment Bank Bhd analyst Ummar Fitri wrote in a note today that the price for each AirAsia Group RCUIDS at 75 sen, which is a discount to the existing market share price of AirAsia Group, is expected to encourage investor participation in the corporate exercise. 
Ummar said the 8% profit rate per annum for the RCUIDS is attractive with detachable warrant exercisable into new shares of AirAsia Group. 
He said existing AirAsia Group shareholders who do not participate in the corporate exercise will see some dilution in their shareholdings.
Ummar however said, "MIDF speculates that the foremost concern of the shareholders is on the company's survival and preparing for aviation recovery, post pandemic."
He said that at this juncture, MIDF has maintained its earnings forecast for AirAsia Group and is reiterating its "sell" call on the group's shares with an unchanged TP of 44 sen.
"We believe the recent (rise in) its share price might have overshot the valuation level that we deem fair for the company based on current situation. We are hopeful on aviation recovery but maintain level headedness in assessing the viability of the recovery. 
"Whilst the course charted seemed conservative, we consider it as precautionary and reasonable at a time when sentiment that lifted the share prices of aviation players which may be excessive given current surge in new Covid-19 cases. Due to this, we are reiterating our 'sell' call on AirAsia Group. We opine that although recovery for the aviation sector and air travel is expected to gradually take place in 2021, it remains an uphill battle for AirAsia Group given that it is struggling financially to remain afloat in the current pandemic-laden operating environment," he said.
At 10:04am today, AirAsia Group's share price pared gains at 86 sen after falling as much as three sen or 3.39% to 85.5 sen. At 86 sen, AirAsia Group commands a market capitalisation of about RM3.35 billion based on its 3.9 billion issued shares.