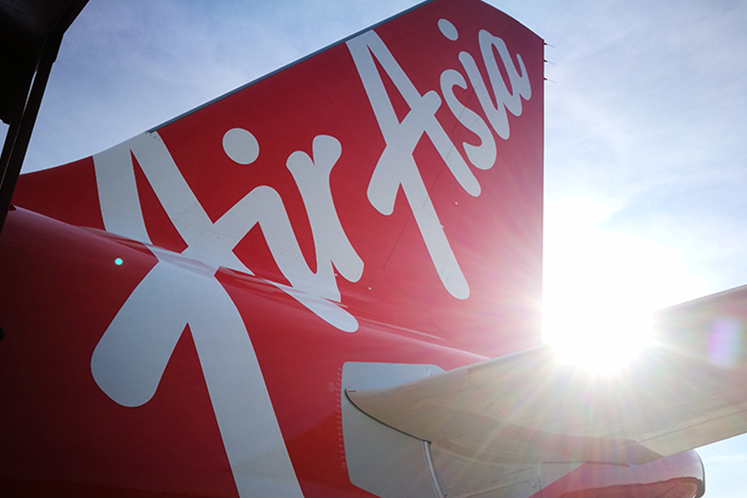 KUALA LUMPUR (Feb 18): AirAsia Group Bhd (AAGB) is expected to post a core net loss of RM1.1 billion amid the current Covid-19 outbreak, following lower demand and yields in Malaysia, Thailand and the Philippines.
In a Feb 17 note, CGS-CIMB Research said it was slashing its previous forecasted financial year ended Dec 31, 2020 (FY20) core net profit (CNP) estimate of RM147 million to RM1.1 billion core net loss (CNL) as the Covid-19 virus continues to impact Malaysia AirAsia(MAA), Thai AirAsia (TAA) and Philippines AirAsia (PAA).
"All three airlines in the AAGB group have significant exposure to flights to China, Hong Kong and Macau, the epicentre of the virus outbreak.
"Each of the three countries also has a much greater proportion of tourists that originate from the Greater China region than during the 2003 SARS epidemic. As such, the partial/full travel bans to/from China imposed by various countries will have a huge impact on travel demand," noted the research house. 
While capacity deployments to Greater China have been reduced among the three low-cost carriers, the adjustments are insufficient in quantity and duration — with more action needed to mitigate the downward spiral in earnings.
Additionally, MAA, TAA and PAA have "barely touched" their capacity to other regions, that is routes within Asean.
CGS-CIMB did note the revenue impact from Covid-19 would be somewhat offset by lower spot jet fuel prices, which have declined due to lower demand from China and global crude oil production reaching a state of oversupply.
Specifically, the research house now forecasts a 9.5% year-on-year (y-o-y) decline in revenue passenger kilometres (RPK) for MAA, as well as a nine percentage point (ppt) drop in passenger load factor (PLF) to 76% and a 3.8% drop in yields.
TAA's RPK is expected to fall 10.5% y-o-y, with a 6 ppt fall in PLF to 78% with a 2% decline in yields to boot.
For both MAA and TAA, North Asia RPK demand will fall 23% to 31% y-o-y, with domestic and Asean travel suffering less.
Conversely, PAA's RPK is expected to rise 1.1% y-o-y in FY20 due to continued growth in domestic travel. However, international travel demand is expected to fall 21%.
PAA's PLF is expected to come in at a healthy level of 82% in FY20, down 4.4 ppt, with yields possibly softening by 1% y-o-y.
"The negative impact of Covid-19 may be of less significance to Indonesia AirAsia (IAA) and AirAsia India (AAI) due to their lack of exposure to North Asian flights, with AAI purely domestic for now," CGS-CIMB opined. 
The research house continued to highlight that AAGB is less able to tolerate unexpected changes to demand and yields given that its profitability has already been adversely impacted by the higher cost of leasing planes — with practically all of its planes having been sold and leased back in the past two years.
"AAGB has already lost its lustre among investors, and Covid-19 will turn conditions far more hostile," the research house concluded.
As a result of the expected loss, CGS-CIMB has lowered its target price (TP) for AAGB to RM1.03, from RM1.58 previously.
This new TP is based on lower 2020 price-to-book value (P/BV) of 0.73 time (from 1 time), which is two standard deviations below its P/BV mean since 2013.
As of 9:30 am, shares in AAGB were trading unchanged at RM1.19, valuing it at RM3.98 billion. It saw 6.65 million shares traded.