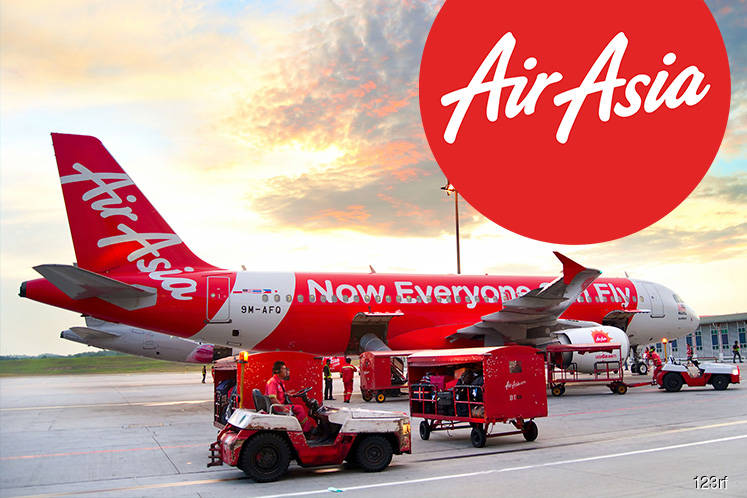 KUALA LUMPUR (April 27): AirAsia Group Bhd, which comprises the low-cost carrier's operations in Malaysia, Indonesia and the Philippines, carried 16% more passengers at 10.65 million in the first quarter of this year (1Q18) from 9.15 million a year ago, in line with the added capacity.
In a statement today, AirAsia Group said its capacity grew 19% year-on-year (y-o-y) in 1Q18. However, passenger load factor fell 2 percentage points to 87% in the current quarter under review.
"In 1Q18, AirAsia Group's total fleet size grew to 123 aircraft, comprising 87 in Malaysia, 15 in Indonesia (PT AirAsia Indonesia Tbk) and 21 in the Philippines (Philippines AirAsia Inc).
"During the period, Indonesia commenced operations of three new routes — two from Medan and one from Padang. The Philippines commenced operations of four new routes, while Malaysia increased frequencies on 13 routes — seven from Kuala Lumpur, five from Kota Kinabalu and one from Johor Baru," it added.
The number of AirAsia Indonesia's passengers carried was slightly lower by 2% y-o-y at 1.12 million in 1Q18, owing to the impact from Mount Agung's volcanic activities. Capacity rose 1% y-o-y, while passenger load factor fell 3 percentage points to 80%.
Philippines AirAsia, meanwhile, carried 39% more passengers at 1.61 million in 1Q18 compared to 1.15 million in 1Q17 on the back of a 47% increase in seat capacity. Passenger load factor, however, fell 5 percentage points to 87% from 92% in 1Q17.
AirAsia Group said Thai AirAsia (TAA) carried 5.64 million passengers in 1Q18, up 16% from 4.85 million in 1Q17. It reported a 15% growth in seat capacity, while passenger load factor was at 91%, up 2 percentage points y-o-y.
"In 1Q18, TAA added three aircraft to bring its total fleet to 59 aircraft," it added.
AirAsia India (AAI) meanwhile carried 1.47 million passengers in 1Q18, up 74% from 844,964 in 1Q17. Passenger load factor was down by 6 percentage point at 83% as a result of an 87% increase in capacity.
"AAI ended the first quarter with a fleet size of 16 aircraft after adding two aircraft," said AirAsia Group.
AirAsia Japan also saw an increase in passengers carried by 77% to 52,263 in 1Q18 from 29,455 in 4Q17. Capacity grew 44%, while passenger load factor was up 15 percentage points to 79% quarter-on-quarter.
As at March 31, 2018, AirAsia Japan's fleet size stood at two aircraft.
At 4.20pm, AirAsia Group shares were up 18 sen or 4.81% at RM3.92, with 7.64 million shares traded, bringing a market capitalisation of RM12.97 billion.