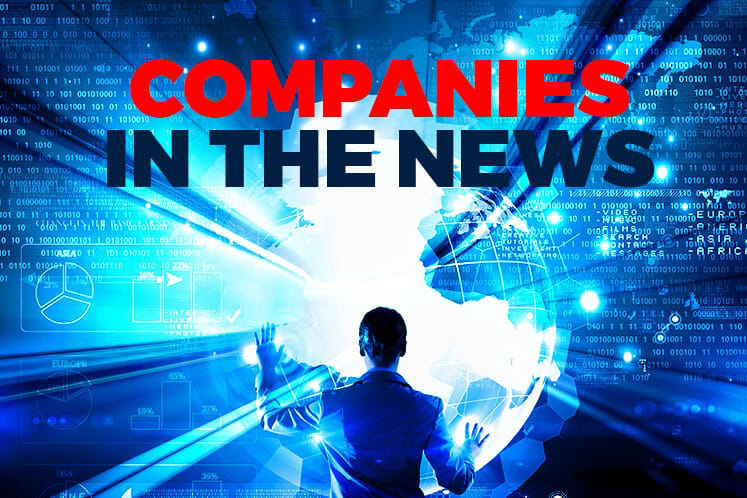 KUALA LUMPUR (May 13): Based on corporate announcements and newsflow today, companies in focus tomorrow (May 14) may include: AirAsia Group Bhd, Green Packet Bhd, Kumpulan Powernet Bhd (KPower), Magna Prima Bhd, MTAG Group Bhd, My E.G. Services Bhd, Star Media Group Bhd, Taliworks Corp Bhd, Widad Group Bhd and Vstecs Bhd.
AirAsia Group Bhd is looking at the possibility of increasing future airfares, following the implementation of the Conditional Movement Control Order (CMCO). Executive chairman Datuk Kamarudin Meranun stated that discussions are ongoing on the matter, adding that if there is an increase it would not be significant.
Green Packet Bhd's Kiplepay Sdn Bhd has inked an agreement with Tencent to provide e-KYC (Electronic Know Your Customer) services. The KipleID e-KYC will be offered to businesses, especially banks and financial institutions. KiplePay will leverage on Tencent's facial recognition and machine learning capabilities to build a localised e-KYC solution in Malaysia through the KipleID e-KYC. The KipleID e-KYC will deploy Tencent's patented "single flash" liveness detection solution, integrating reflection-based and motion-based detection technologies. Green Packet is currently in talks with several leading companies to pilot the KipleID e-KYC solution.
Kumpulan Powernet Bhd (KPower) has secured an RM208 million contract from Ghaurishankar Power Development Pvt Ltd (GDP) to build a mini hydropower plant in Solukhumbhu, Nepal. The job is expected to be completed within 36 months. KPower and GDP will enter into a definitive agreement within 60 business days from the date of acceptance of the award.
Magna Prima Bhd's major shareholder Top Fresh Foods (M) Sdn Bhd has raised its deemed interest in the company by 1.5 million shares, following an off-market acquisition on May 12, bringing its total indirect or deemed interest in Magna Prima to 72.05 million shares, representing a 21.51% stake. Top Fresh Foods also has a direct interest of 16.57 million shares or 4.95% in Magna Prima.
The acquired shares were of deemed interest by virtue of the interest held by the common directors and shareholders of Top Fresh Foods and Fantastic Realty Sdn Bhd. The common shareholder of Top Fresh Foods and Fantastic Realty is Lee Hing Lee. Lee Aik Chong is also a shareholder in Top Fresh Foods.
As such, Top Fresh is now the second-largest shareholder in Magna Prima, holding a 26.46% stake. The group's largest shareholder is Prisma Pelangi Sdn Bhd, which has a direct 30.72% stake.
MTAG Group Bhd is to release its third quarter ended March 31, 2020 (3QFY2020) results on or before June 30. Bursa Malaysia has granted MTAG an extension of time until June 30, from May 31, due to the enforcement of the Movement Control Order (MCO) to combat COVID-19.
My EG Services Bhd (MyEG) says it has not entered into any collaboration with the Social Security Organisation (Socso) in relation to the launch of its one-stop-portal for employers to manage COVID-19 screenings of their workforce. That said, MyEG said it did receive a letter dated May 8, 2020 from the Department of Labour Peninsular Malaysia expressing its support for the company's initiative, as well as its digital certificate related to the Prihatin Screening Programme.
The Prihatin Screening Programme is a COVID-19 screening programme for employees of companies that are allowed to operate during the Movement Control Order (MCO), including foreign workers. Screening is free for Socso contributors, with the screening costs to be borne by Socso.
Star Media Group Bhd has confirmed a report by theedgemarkets.com that its chief executive officer (CEO) Andreas Vogiatzakis had resigned. Star Media said the 53-year-old advertising veteran wanted to pursue other interests.
Following Vogiatzakis's resignation, effective May 16, Star Media will set up a temporary special committee until a suitable candidate has been found. The committee will comprise three non-executive directors - Datuk Fu Ah Kiow, Datuk Dr Mohd Aminuddin Mohd Rouse and Chan Seng Fatt.
Taliworks Corp Bhd's net profit rose 36.5% year-on-year (y-o-y) to RM15.91 million in 1QFY2020 from RM11.65 million a year prior, following lower operating costs and higher other operating income. The stronger profit was recorded despite a higher share of losses from associates and lower revenue – which came in 5.2% lower y-o-y at RM84.25 million from RM88.87 million.
It declared a first interim dividend of 1.65 sen for FY2020, payable on June 19. This translates into a payout of RM33.26 million.
Widad Group Bhd inked a collaborative agreement with disinfectant, antimicrobial and environmental product distributor Stoika Sdn Bhd (SBB) to sell, market and distribute the latter's SPDRO antimicrobial solution and SDST anti-microbial coating. Widad said the move is expected to enhance its integrated facilities management service offerings, and has the potential of expanding its revenue and customer base.
Vstecs Bhd has reclassified its three sen final dividend for FY19 as second interim dividend after postponing its annual general meeting to June, as a result of the MCO. The dividend will be paid on June 17.