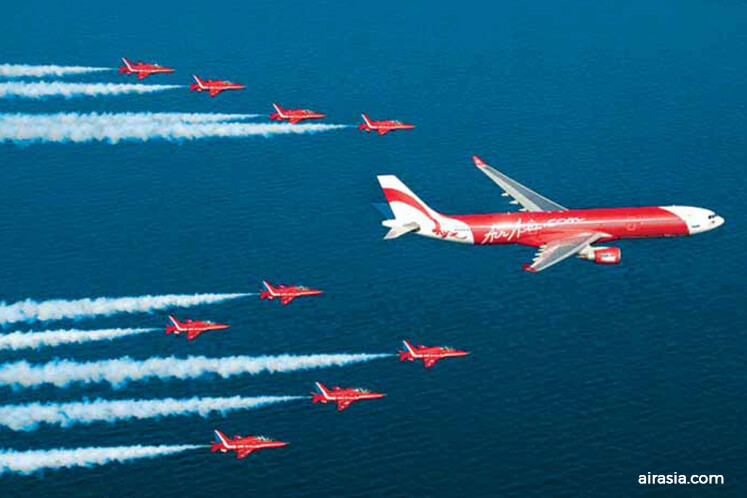 KUALA LUMPUR (March 31): AirAsia Bhd is forming a RM194 million (VND1 trillion) joint venture (JV) low-cost airline in Vietnam, which is expected to commence operations by early 2018.
The JV is to be an airline in Vietnam which offers an affordable but high-quality airline service to Vietnamese and foreign tourists, said AirAsia in a stock exchange filing today.
"AirAsia has conducted a feasibility study prior to entering into the JV and, based on the study, it is forecasted that the JV will be operationally feasible and commercially viable and is expected to contribute positively to AirAsia's financials both directly and indirectly in the future," it said.
AirAsia's wholly-owned subsidiary AirAsia Investment Ltd (AAIL) executed a shareholders agreement and a share subscription agreement with Gumin Co Ltd, an individual Tran Trong Kien, and existing Vietnamese seaplane service provider Hai Au Aviation Joint Stock Company (HAA).
AirAsia said the JV will require a capital of RM194 million (VND1 trillion), of which AAIL will subscribe for a 30% stake or 30 million shares for RM58.2 million (VND300 billion).
"AirAsia will raise internal funding for its portion of the equity," the filing read.
Gumin will hold a 69.9% stake or 69.99 million shares in HAA, while Tran will hold one share.
AirAsia also said AAIL and HAA signed a new shareholder loan agreement where AAIL will be providing a loan of US$2 million (RM8.84 million) to HAA.
Separately, Gumin will also be providing a loan amounting to US$4 million (RM17.68 million) to HAA, according to AirAsia.
While the filing did not provide further details of Gumin and Tran's background, a research report by MIDF Research's analyst Tay Yow Ken, issued shortly after AirAsia's announcement, revealed that Tran is the chairman of Buffalo Tours service provider Thien Minh Group.
HAA is also a member of Thien Minh Group, and according to Tay, the company is currently operating daily direct flights from Hanoi to Halong Bay and back (45 minutes per way) and sightseeing tours over Halong Bay.
Tay added that HAA also offers tours over Skull Island (shooting location for the latest King Kong movie), and operates two Cessna Grand Caravan 208B-EXs turboprops.
"In our view, the move is in line with AirAsia's ambitions of becoming the single largest LCC (low-cost carrier) in Asean with a holding company listed in Hong Kong or US," he said.
"The Vietnamese market is too large to be ignored and is boosted by its government's commitment to invest US$10 billion in improving air transport infrastructure and increasing the number of airports from 22 to 26 by 2019. Vietnam has been the missing link in AirAsia's push for an Asean airline," he added.
However, Tay highlighted that the Vietnamese airline market is currently dominated by VietJet, which has a total (including LCC) market share of 43%, ahead of national carrier Vietnam Airline.
"Competition will not be easy with both carriers [VietJet and Vietnam Airline] having a stronger brand name domestically. AirAsia could capture the foreign tourist market with its stronger brand name outside Vietnam," he noted.
At 3.19pm, AirAsia's shares were trading at RM3.07, down 3 sen or 0.97%.