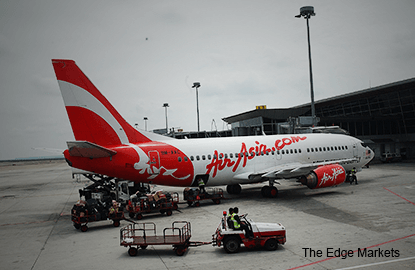 KUALA LUMPUR (Nov 3): AirAsia Bhd is introducing three weekly flights via a new route from Johor Bahru to Jakarta starting Jan 10, 2017, with a starting price of RM99 for a one-way trip.
The airline is also recommencing flights to Jakarta's Solo city, from Jan 17, 2017, from RM 149 for one-way travel.
These promotional rates can be booked via the AirAsia website, alongside the AirAsia mobile app (for iPhone and Android), as well as the mobile site mobile.airasia.com from now until Nov 13, 2016 up until May 25, 2017.
AirAsia's head of commercial Spencer Lee Teck Loong said, "Over the past year, we have worked hard to strengthen our connectivity from other hubs in Malaysia. We are delighted to announce another international route connecting not only Johoreans, but the Southern community directly to Jakarta; as well as providing more links for Indonesians to come to different points in Malaysia."
The AirAsia Group currently operates 125 weekly flights into Johor Bahru' Senai International Airport, which includes both domestic and international flights.