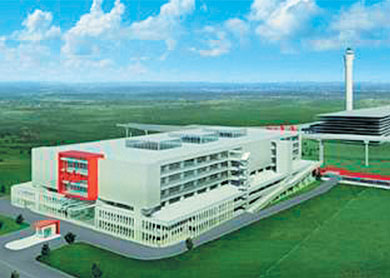 KUALA LUMPUR: AirAsia Bhd and its long-haul arm AirAsia X Bhd are finally preparing to move their Malaysian headquarters (HQ) out of the old low-cost carrier terminal (LCCT) to klia2 in Sepang, setting Nov 14 for the groundbreaking of the construction of its new HQ there.
The group's new HQ will be located just next to its budget hotel, Tune Hotel klia 2.
Media invites were sent out yesterday for the groundbreaking event.
The decision to kick-start the construction of the group's new HQ will put an end to a months-long standoff between the budget airline operator and Malaysia Airports Holdings Bhd (MAHB), the operator for klia2.
In the past, MAHB and its biggest customer in klia2 have not been able to see eye-to-eye.
AirAsia had repeatedly voiced its dissatisfaction over being hurried by MAHB to move to the new terminal. It had also been vocal about its concerns over the state of klia2's safety and security prior to the opening of the new terminal.
It was so adamant in its protests that the budget airline only moved its operations out of LCCT to klia2 on May 9 after much pressure from MAHB and the Ministry of Transport — a whole week after klia2 had opened its doors to travellers.
The moving of the group's HQ could be a signal that the relationship between AirAsia and MAHB is on the mend since MAHB's new managing director, Datuk Badlisham Ghazali, took charge and started agreeing to many of its requests.
This includes his willingness to accommodate Tune Hotel at klia2 and allow AirAsia's head office to remain at the LCCT until its new one is completed by end-2015.
Badlisham's more agreeable stance is perhaps because, as he told The Edge Financial Daily in an interview published on Nov 10, MAHB is counting on the AirAsia group to help them reach an internal target of 83 million passengers this year.
This article first appeared in The Edge Financial Daily, on November 12, 2014.