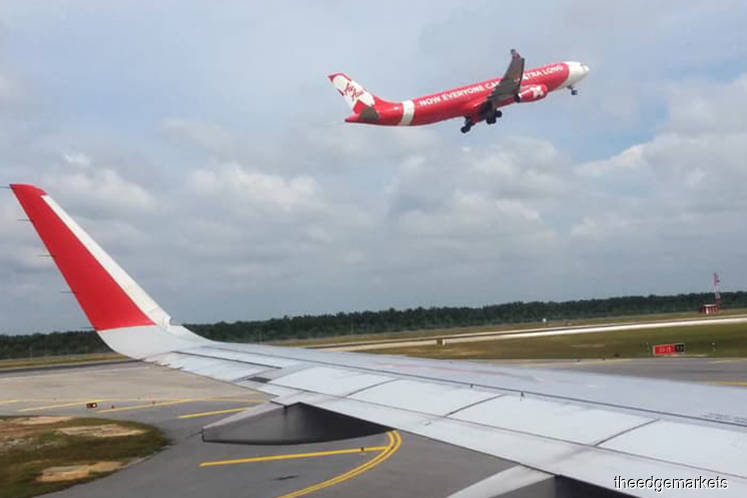 KUALA LUMPUR (Nov 29): AirAsia Bhd, the largest low-cost carrier in Asia, reported a 30% year-on-year (y-o-y) rise in net profit in the third quarter of 2017, despite it being traditionally a weak quarter, amid rising fuel prices and currency fluctuations.
Net profit rose to RM434.31 million in the three months ended Sept 30, 2017 (3QFY17) from RM335.13 million a year ago, helped by lower deferred tax and strong demand for air travel. Earnings per share also grew to 15.1 sen from 12.7 sen a year ago.
Quarterly revenue also increased 15% to RM2.45 billion in 3QFY17 from RM2.13 billion in 3QFY16, supported by a load factor of 87%.
However, operating profit for 3QFY17 was lower by 7% y-o-y at RM494.34 million, mainly due to higher aircraft fuel expenses, maintenance and overhaul expenses.
It is worth noting that the airline had consolidated its financial accounts for 3QFY17, combining its Malaysia, Indonesia and Philippine units.
In a statement today, AirAsia said revenue per available seat kilometre (RASK) averaged at 14.76 sen in 3QFY17, which was marginally lower by 1% from 14.98 sen a year ago.
The airline blamed the slight fall on lower average fare per passenger of RM172, which was down 2% y-o-y due to the shift in Hari Raya celebration which fell on the second quarter of this year compared with the third quarter of 2016.
However, AirAsia saw its ancillary income increase by 23% y-o-y to RM487 million in 3QFY17, mainly contributed from the execution of dynamic pricing across the board. Ancillary contribution per passenger grew 8% y-o-y to RM49.
The airline achieved a 12% y-o-y growth in passengers carried in 3QFY17 despite capacity addition of 14% y-o-y.
For the cumulative nine months (9MFY17), AirAsia reported a 19.4% decline in net profit to RM1.27 billion from RM1.57 billion a year ago, due to higher operating expenses from PT Indonesia AirAsia (IAA) and Philippines AirAsia.
This was despite revenue increasing 41.1% to RM7.05 billion in 9MFY17 from RM5 billion in 9MFY16.
Nevertheless, AirAsia group chief executive officer Tan Sri Tony Fernandes believes that 2017 will be another record year for the airline.
"Our low-cost model has proven to be resilient and has produced continuous growth even when the operating environment appeared competitive and less favourable to many airlines," he said in the statement.
Fernandes also said the airline is in the process of finalising the stock market listing of IAA. "We expect it to be completed by December."
He added that it is expecting to present a good full year 2017 results for its Philippine operations.
Despite the less than favourable operating environment in Thailand, Fernandes said its 45%-owned associate Thai AirAsia still came out as the only profitable airline recording net profit of THB472.1 million in 3QFY17, but down 35.3% from THB729.2 million in 3QFY16.
"The first 10 months of 2017 was challenging for our Thai associate as financial performance was affected by the crackdown on the Chinese zero dollar tours and the passing of the Thai King last year.
"The Chinese tourists have since started to return to Thailand, recording 7.39 million passengers — up by 1% y-o-y in the last nine months of 2017. The official one-year mourning period for Thailand ended on Oct 29, 2017," he said.
"We foresee a favourable season and a conducive operating environment for Thai AirAsia in the fourth quarter," he added.
On its 49%-owned associate AirAsia India, Fernandes expects it to be profitable once it starts flying regional routes and connecting them to AirAsia's wide network.
As at 3QFY17, AirAsia's net gearing ratio stood at 1.2 times compared with 1.33 times in 3QFY16.
On prospects, Fernandes said the airline will have 500 aircraft by 2027, with the addition of 22 aircraft this year and 33 aircraft in 2018.
"We will continue to expand our footprint in Asean. We are six months away from incorporating our new group's holding company, AirAsia Global Bhd," he added.
AirAsia shares closed up 9 sen or 2.9% at RM3.17 today, bringing a market capitalisation of RM10.6 billion.