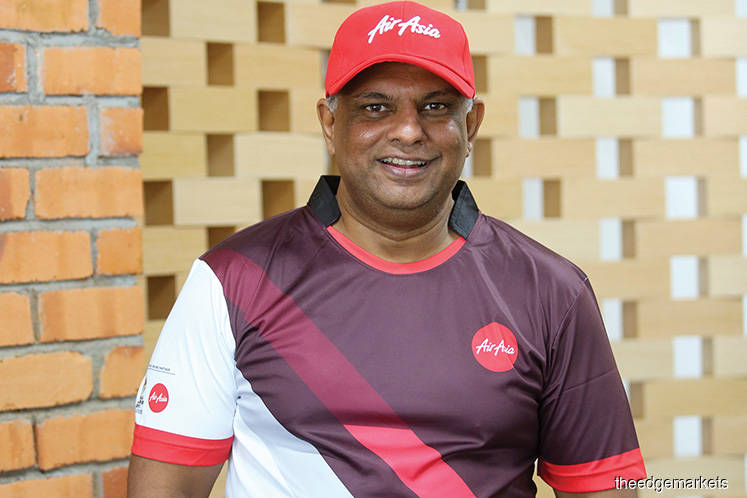 KUALA LUMPUR (Mar 16): Low cost carrier AirAsia Bhd group chief executive officer Tan Sri  Tony Fernandes said the group's  digital strategy was taking shape favourably.
In a tweet early this morning from his handle @tonyfernandes, he said "Our digital strategy is taking shape nicely. To complement huge growth in AirAsia passanger business. Super first quarter."
Fernandes had yesterday said at the Money20/20 Asia conference in Singapore that AirAsia plans to expand its BigPay debit card and mobile app recently launched in Malaysia to other countries in the region and to add remittance and lending products, its group CEO said, as the budget airline group taps new revenue sources.
BigPay is one of the businesses AirAsia, a pioneer of low-cost flying in Asia, has been developing to help gain more data on customers and to increase earnings from income streams other than selling tickets.
"We are going to cut exchange rates. We will also disrupt the remittance market. And finally we will get into the money lending business," AirAsia Group CEO Tan Sri Tony
Fernandes also commended Corrine Png, the CEO of transport research firm Crucial Perspective as an analyst who understood the value of AirAsia's data and how it acquired customers.
"Well done Corrine . Finally an analyst who understand the value of our data and how we make money acquiring customers as opposed to tech business who spend a fortune on customer acquisition," he said.
Png in note to clients on Feb 28 had said that AirAsia was making "marked progress" on digitalisation and could ultimately triple in value if it is able to monetise its data.