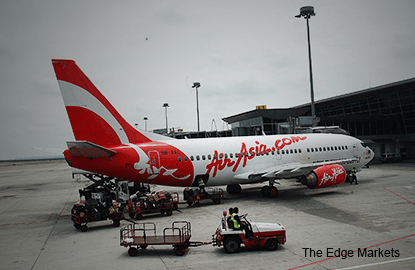 KUALA LUMPUR (July 19): AirAsia Bhd told Bursa Malaysia today that its board of directors is unaware of talks of a proposed joint venture (JV) with Destini Bhd to buy over Sepang Aircraft Engineering Sdn Bhd (SAE), an Airbus SAS subsidiary that provides maintenance, repair and overhaul (MRO) services for commercial airplanes.
AirAsia made the announcement after making due enquiry with all its directors and Tune Air Sdn Bhd, the company's substantial shareholder.
It was referring to an article that appeared on The Edge Malaysia, published for the week of July 18–24 entitled Destini and AirAsia in talks to form JV for US$1 bil MRO job.
Similarly, Destini also told Bursa earlier today that its board of directors has no knowledge of the content stated in the article.
The weekly had wrote that the move would be a critical one for Destini, which has been growing for the past five years through acquisitions, to provide a full suite of MRO services for the commercial aviation industry.
Citing sources, it further wrote that once the purchase of the SAE was completed, AirAsia would give the JV a US$1 billion contract for the low-cost carrier's full MRO service, which could materialise by the end of the year.
"The 10-year contract covers the complete range of MRO services for at least 300 of AirAsia's aircraft," the weekly noted.
It also recounted that Destini and AirAsia had, in July last year, signed a collaborative agreement allowing them to negotiate and implement a plan to outsource MRO-related services.
The plan, it said, was to implement the outsourcing activities one by one, within up to eight months after Destini and AirAsia signed the collaborative agreement.
But a year on, the two companies have been quiet on the arrangement, it added.
"The joint venture — and the planned purchase of SAE — is the way for AirAsia and Destini to move forward with the stalled collaborative agreement," a source was quoted as saying.