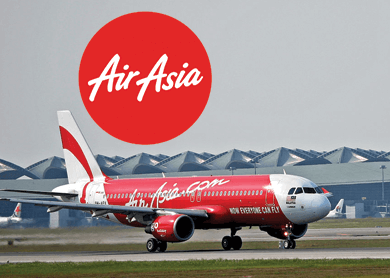 PETALING JAYA (June 22): AirAsia Bhd clarified today that it is bound by legal constraints that have limited its ability to consolidate the accounts of its consolidate companies in Indonesia, Philippines, Thailand and India.
In a strongly worded response to a report by Hong Kong-based GMT Research Ltd, AirAsia audit committee chairman VU Kumar said the committee was concerned about the report's allegations of improper accounting for AirAsia's associate companies, "accounting gimmicks" and corporate governance abuses.
"The audit committee, the board and management are therefore somewhat distressed and peeved to have been accused of corporate governance abuses and condoning accounting gimmicks," he said.
"The audit committee wishes that statements are verified with those responsible before they are put out in the market place to ensure that they do not unfairly tarnish the image of AirAsia, the board of directors, management and auditors," he added.
According to Kumar, the report had stated: "Of course AirAsia management will try to avoid consolidating associates if it leads to materially lower reported profits and without duress auditors are unlikely to push for it".
The GMT Report had also referred to "accounting gimmicks" and corporate governance abuses.
Kumar said that after a series of meeting with AirAsia's auditors PricewaterhouseCoopers (PwC) over the past year on the need to consolidate its associate companies as it would present a "true and fair" view of AirAsia's relationships with its associate companies, the company was informed that to do so would be a breach of the MFRS10 (Consolidated Financial Statements Accounting Standard).
Subsequently, the "true and fair" override would also not be allowed, he added.
"PwC has however taken the strict interpretation of power in MFRS10 (Consolidated Financial Statements Accounting Standard) and advised that AirAsia cannot consolidate its associates companies because it does not have legal power," he said.
"Their view is power in substance is insufficient to meet the criteria for consolidation, as such substantive power can be withdrawn at any time by the associate companies.
"Therefore, contrary to the GMT report that AirAsia did not want to consolidate its associate companies, we were compelled not to consolidate as a result of the opinion of our Auditors. Consolidation would have attracted an audit qualification," he added.
He also said PwC had informed the company that aviation regulations in Indonesia, Philippine, Thailand and India stipulate that AirAsia cannot have legal control or legal power over its associate companies.
He said any change in AirAsia's present relationship with associate companies, be it in equity shareholdings or shareholders agreement, that would ascribe legal control to AirAsia will result in the loss of its associates' airline operating licences.
He said due to AirAsia being unable to consolidate its sister operations, the company fully disclosed the financials and operating statistics of its associates, as provided in the first quarter 2015 announcement to Bursa Malaysia on May 28 this year, for stakeholders to have information on the performance and financial position of the associate companies.
Last week, news of the GMT Research report had caused AirAsia shares to plummet to a record five-year low on Wednesday.
On June 12, GMT Research had published a report on its website questioning its accounting, profit generation, cash flow issues, leverage and group structure.
The Edge Financial Daily had reported last Tuesday that an analyst, who had viewed the report, said the main concern raised by GMT Research was AirAsia's applied method to account for losses from its associates, saying the concern was that AirAsia had understated losses by its associates.
AirAsia (fundamental: 0.2; valuation: 1.4) shares rebounded on Thursday by as much as 9.15% after AirAsia released a four-page explanation on its desire to consolidate the accounts of its associates, which is impeded by regulatory barriers.
AirAsia shares are currently trading 2 sen or 1.24% higher at RM1.63, with 18.66 million shares traded. It is the second most active stock on Bursa Malaysia.
(Note: The Edge Research's fundamental score reflects a company's profitability and balance sheet strength, calculated based on historical numbers. The valuation score determines if a stock is attractively valued or not, also based on historical numbers. A score of 3 suggests strong fundamentals and attractive valuations.)