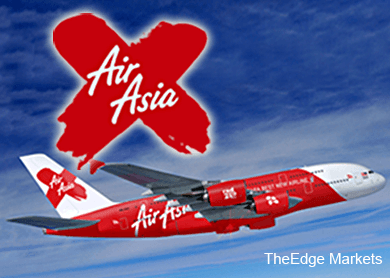 SYDNEY (Mar 12): AirAsia chief executive Tony Fernandes said AirAsia X, the long-haul arm of Asia's biggest budget airline, plans to resume flights to Europe early next year using new, fuel-efficient jets to tap into growing demand from travellers.
Speaking to reporters in Sydney on Thursday about the carrier's operations, Fernandes also said the search for passengers from crashed AirAsia Flight QZ8501 will be called off within days. The jet plunged into the Java Sea en route from Indonesia to Singapore on Dec. 28, with no survivors among the 162 people on board.
In a renewed push into Europe after unprofitable routes squeezed AirAsia into its first net loss in two years, Fernandes said that London will be the likely first destination for AirAsia X flights. It previously operated Airbus Group A340s to London and Paris, but cancelled those services in 2012, saying the low-cost model could not work until it had more fuel-efficient planes with a similar range.
The head of the Malaysia-based carrier said there was significant demand to restart European routes. Its purchase in December of 55 revamped wide-body Airbus A330neo aircraft put it back in the game, he said.
"What I've been getting thousands of tweets on...is to restart Europe early next year now we have the right aircraft to do that," Fernandes said.
Fernandes also said Australian demand was picking up after a regulatory delay to the start of the Bali to Melbourne route, which left passengers who had already booked applying for refunds. Indonesia AirAsia X will start flying the route on March 18.
AirAsia reported a net loss last month, citing heavy foreign-exchange losses along with higher financing and operating costs.
The carrier was dealt a further blow by the crash of Flight QZ8501. Fernandes said on Thursday the search for the remaining missing passengers would likely be called off within the next seven to 10 days.
The crash, which cast a spotlight on the patchy safety record of Indonesian airlines, is still being investigated with a final report not expected for several months.
"There's nothing per se we have changed on that as yet, other than reviewing everything in a very micro-management style," Fernandes said of the airline's own investigation.
Fernandes said proving the airline's safety credentials was behind its recent decision to apply to fly to Hawaii, which is regulated by the U.S. Federal Aviation Authority (FAA).
"We're deliberately doing that because we want to show that we're not afraid of flying to FAA-registered authorities," he said. "They'll audit us, they'll go through us with a fine toothcomb."