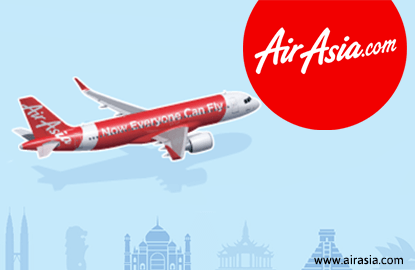 KUALA LUMPUR (Dec 16): AirAsia Bhd will purchase up to 3,042 billion rupiah (RM1.01 billion) nominal value of perpetual capital securities in its 49% associate PT Indonesia AirAsia (IAA) to address its Indonesian associate's negative equity status.
The group had previously purchased 2,058 billion rupiah worth, or 49%, of IAA shares in September 2015 to comply with a directive issued by the Directorate General of Civil Aviation of the Republic of Indonesia (DGCA) to address its negative equity position, according to AirAsia's filing on Bursa Malaysia today.
"Failure to address the capital shortfall carries the risk that the Minister of Transportation of the Republic of Indonesia would deny IAA's requests for new route approvals or even impose a suspension of operations," the group stated.
The perpetual capital securities have no fixed maturity date.
"The subscription will help to reduce IAA's gearing without any need for AirAsia to inject further funding or capital to IAA as it entails a conversion of the amount owed to the company into equity of IAA," the budget airline added in the announcement.
Meanwhile in a separate filing to the bourse today, AirAsia announced that its 50% jointly controlled entity Big Data for Human APAC Ltd (via MadCience Consulting Sdn Bhd) had incorporated a wholly-owned subsidiary company based in Singapore, called Big Data For Humans Pte Ltd (BD4HS), on Dec 14.
BD4HS provides business and management consultancy services in Singapore and the company's issued share capital is 245,972 shares, which amounts to £245,972 (about RM1.37 million).
"The objective of setting up BD4HS is to provide data analytics services in Asia," the announcement stated.