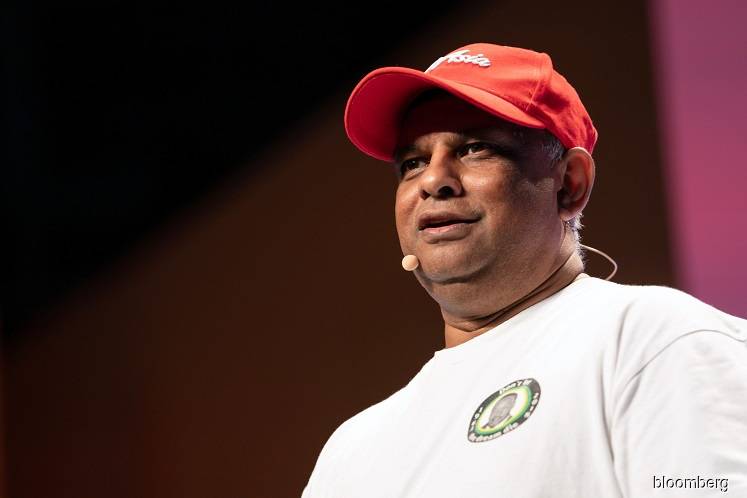 KUALA LUMPUR (June 14): AirAsia Group Bhd founder Tan Sri Tony Fernandes is hopeful that countries in the region will start reopening their borders for international travel from July, starting with Singapore, Thailand, Indo-China and perhaps South Korea, Japan and China.
"It has been a tough three months. I think airlines have probably been one of the companies that suffered the most. We have not had any revenue for three months. We're now getting some sales [but] when you have 300 airplanes sitting on the ground... it has been very tough," Fernandes said in a video post he put up on Instagram yesterday.
"But, we are slowly coming out, [and] we're coming out confidently and fighting strong. We have Malaysia now, totally open in domestic; Thailand — totally open. Indonesia's about to start and the Philippines is also totally open and beginning to start. India is also flying. Japan is not flying yet.
"We are encouraging people to know their own country and get to know their people better, and fly [in] their own country, while we are waiting for green channels and international to reopen, which I hope will reopen in July. We hope Singapore, Thailand, Indo-China, [and] maybe Korea, Japan and China will open up first," he added.
In the meantime, the group is looking at cheaper ways of screening passengers and investing in data and algorithms to lessen the risk of possible infection. "We're hoping that flying will not be painful, that testing will only be for a short time and will be routine," he said.
Commenting on reports earlier this month that AirAsia was retrenching some 300 staff, Fernandes did not confirm any numbers but said it had been a "painful" decision.
"It's a very tough time. In 18 years, we've never had to make anyone redundant. It was a painful decision that we've had to let go of some staff. It was not something I wanted to do. We fought very hard, but Covid-19 [and] the lockdown were much longer than we expected when I made my initial statements of I'm trying my best," he said, referring to his earlier statements about not laying off staff.
"Vis-à-vis other airlines, we've kept the numbers pretty limited. I can't predict the future but we're going to fight very hard so we're trying to protect whatever jobs we have left," he added.
The staff lay-off, which involved 111 cabin crew members, 172 pilots and 50 engineers nationwide, was reportedly announced by AirAsia chief executive officer Riad Asmat during an internal briefing on June 4.
Meanwhile, Fernandes gave the assurance that AirAsia aircraft are safe, and that no passengers or crew members have been infected on its planes so far, despite its crew having flown to the epicentre of the outbreak in Wuhan in China, as well as Iran and Italy, to bring back stranded Malaysians.
To further ensure the safety of its crew and passengers, Fernandes said the airline is looking at ways to have everything be contactless soon — including ordering in-flight meals via mobile phones.
'Be patient, we will get to your refunds'
Meanwhile, Fernandes urged the airline's customers who are seeking refunds on their air tickets to be patient, as the volume of requests the company has had to process has been "huge".
"I know many of you have been frustrated with the refunds. At least now, we are flying and you can use your credit [accounts]. We are still processing refunds and everyday there are more refunds.
"It has [been] an enormous strain on my staff because the call rate has gone up by 20 times. And it's just not humanly feasible [to handle all]. We have many people who are now helping customer services — [our] cabin crew, pilots, engineers — to clear those calls. So we ask you to be patient, we will get to your refunds. It's just a huge volume and we have to work with banks, and we have to work with travel agents," he said.
He also encouraged customers to convert their current flight bookings into a credit account. "If you can do without a refund — that you know you're going to fly within the next 12 months, and we've increased that to two years anyway [and] many people have taken that, 80-odd per cent — we thank you for that. It makes it much easier for all of us at AirAsia."
The airline is also tweaking the My Booking function on its website, to give customers more flexibility over their bookings.
"It was never built with cancellations in mind, so it charges you a cancellation fee, which we don't have right now when we cancel our flights. Our tech team is working very, very hard to get that [sorted] out. So, please bear with us.
"We're transparent, we're open and we're trying to solve all these problems. But this is unprecedented in the world, when you have 95% of airplanes around the world on the ground. I thought I'd seen everything — SARS, bird flu, tsunami, earthquake, government airlines, etc. But this is something else. But we'll come through it," he added.
On Santan and RedRecords
On its venture beyond the aviation industry, Fernandes said there are more excitements ahead.
Its in-flight menu brand Santan, which opened its first flagship restaurant at the Mid Valley Megamall last year and has been a "huge success", is now planning a second outlet in Sunway. The group is also opening up the business for franchising.
"For those who want to start something new, you can have Santan franchises. We have small kiosks for small investments or larger restaurants. But, we've pushed the price of the franchise down, so it's one of the lowest in the market for the number of sales," he said.
In December last year, Fernandes said the group aimed to open five flagship restaurants by end-2020 and have 100 franchisees for its fast-food chain within three to five years.
Fernandes also updated that the airline's music label RedRecords, launched last December with collaboration with Universal Music Group, has some new developments in store. "Look out for RedRecords, we have an incredible artist and an incredible song coming out soon... Watch out for Jannine Weigel," he said.
The airline group, he added, has a lot of exciting things planned and is wasting no time on self-pity.
"We are not putting our heads in the sand. We're not crying. We do not have a big sugar daddy to help us out on these issues. We have to fight every inch of the way to come back. But, we have great staff, great energy and great ideas. So, we will find a way back.
"This is just a short update to give you some of the negatives, some of the positives and some transparencies on what we are trying to do. We will try to keep you posted as much as possible on the way forward for AirAsia," he concluded.