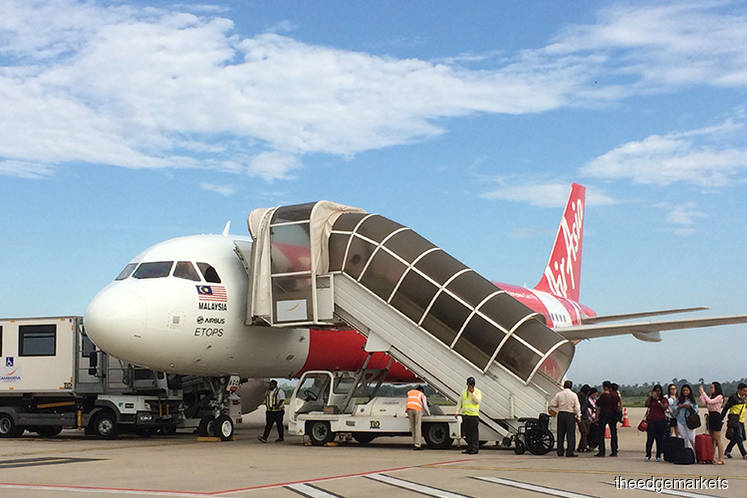 KUALA LUMPUR (July 26): The war of words over the various incentives benefited by AirAsia Group Bhd escalated further today, with Malaysia Airports Holdings Bhd (MAHB) pointing out that the budget airline was the biggest beneficiary, accounting for 44% of the total amount paid to all airlines up until 2017.
This is equivalent to the RM376 million paid out to AirAsia to date, the airport operator added.
In a statement today, MAHB pointed out that while all other airlines have enjoyed the same benefits, several incentive programmes were exclusive to AirAsia.
These incentive programmes included the Infancy Support Programme from 2002 to 2007 and the Enhanced Incentive Programme from 2007 to 2009, provided exclusively to AirAsia.
"The exclusive incentives were mainly for domestic traffic to support the growth of unchartered low-cost travel then. Subsequently incentive programmes such as the Airlines Recovery Programme and Airlines Incentive Programmes I, II and III were then made available to other airlines after 2009," said MAHB.
Yesterday, AirAsia group chief executive officer (CEO) Tan Sri Tony Fernandes lambasted MAHB, saying the incentives provided by the airport operator were given to all airlines and not just AirAsia, while acknowledging that they were given to nurture low-cost travel growth.
Fernandes added that AirAsia could have done so much more and created many more jobs if only MAHB had worked with the airline – its biggest customer.
In a separate statement today, AirAsia said it does not deny that MAHB played a big part in its early success.
"In addition to incentives, (MAHB) also provided us with a low-cost carrier terminal (LCCT) and we are grateful for that. Since then, however, MAHB has undone much of this good work," said its CEO for Malaysia Riad Asmat.
On its part, Riad noted that the airline has, since the start of operations in 2001, contributed at least RM3.5 billion in revenue to MAHB in the form of aeronautical charges – landing, parking, aerobridges, check-in counters, passenger service charges and passenger security service charges – and other charges such as rental, utilities and more.
"Any growth AirAsia experiences directly contributes to MAHB's coffers. For every RM1 in incentives we get, we give back at least RM9.33 to MAHB – and that is just in terms of direct contributions. If we look at indirect contributions from the retail, food and beverage and duty-free revenue that MAHB earns from our guests, which is another RM44.39 per RM1 in incentives for klia2 in 2017 alone.
"Malaysia was the first country in Asia to have an LCCT. Now, there are none left. Meanwhile, the rest of the world continues to move towards LCCTs – Tokyo Narita, Osaka Kansai and Frankfurt all understand the need for dedicated low-cost infrastructure. In time, we hope MAHB will come to the same realisation so that, together, we can make Malaysia the 'Dubai of Asia'," he said.
Meanwhile, MAHB also took issue with AirAsia for implying that the negative growth was the reason for AirAsia's move to Terminal 1 (T1) of the Kota Kinabalu International Airport (KKIA), saying the airline has taken the airport operator's statement out of context.
"We would like to reiterate that our intention was to refute AirAsia's claim that it has been experiencing flat growth since the move to T1. Data has clearly shown that after the consolidation of operations, there was indeed substantial traffic growth at KKIA as a whole, as well as for the AirAsia Group, thereby contributing to a rise in tourism traffic for Sabah," it said in its statement today.
It was responding to comments made by Riad on yesterday, who said the higher cost base by operating out of T1 was constraining the airline's big plans to make the airport a hub for its services into China, South Korea, Japan and India, and a transit point between Australia and North Asia.
The airline had expressed hope that operations at T2 can be revived for low-cost carrier use, adding that AirAsia was prepared to take up the costs of refurbishing T2.
On Monday, MAHB had issued a statement denying it had forced AirAsia to move to T1 of KKIA from T2 three years ago.
MAHB said contrary to Fernandes's claims, AirAsia's passenger traffic growth, which hovered between 2% and 3% in 2014 and 2015 in T2, jumped by 5% in 2016, 11% in 2017 and 15% in the first half of this year in T1.
MAHB's share price fell seven sen or 0.77% to close at RM9.03 today, giving it a market capitalisation of RM14.95 billion. AirAsia's shares, meanwhile, closed up 11 sen or 3.24% to RM3.51, valuing it at RM11.73 billion.