This article first appeared in The Edge Financial Daily, on May 27, 2019.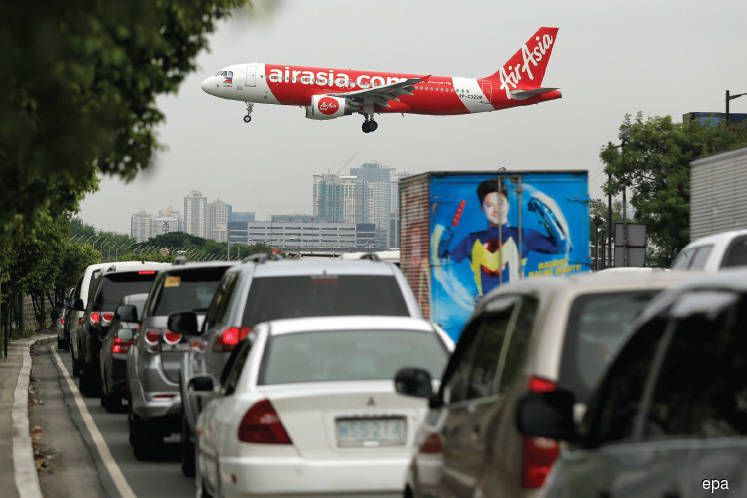 KUALA LUMPUR: Tan Sri Tony Fernandes tweeted two months ago that AirAsia Group Bhd will have its "best year" in 2019, and so far headline numbers look okay, if not promising, at least for the first quarter ended March 30, 2019 (1QFY19).
Jet fuel prices are at around its hedging price — 52% of its fuel needs in FY19 has been hedged at an effective exercise price of around US$78 (RM326.82) of jet fuel — while passenger load factor is expected to stay solid at 87.9%. The group chief executive officer (CEO) has also hinted that its Asean joint ventures would "perform well".
Notwithstanding that, AirAsia's share price has been underweight so far this year ahead of the release of its 1QFY19 results, scheduled on Wednesday, probably because investors remain wary after the airline's biggest loss-making quarter last year.
AirAsia's 1QFY19 results will be a yardstick to measure its performance amid changes in accounting practice, and expansion of its sale-leaseback model.
MFRS16 on pricier sale-leaseback model
AirAsia made two sale-leaseback deals with BBAM Ltd Partnership for US$1.185 billion (RM4.62 billion) in 2018 and Castlelake LP worth US$768 million (RM3.17 billion) in 2019 to lease back a combination of 108 planes to free up cash, pare debt and fund its digital venture.
The higher operating lease expenses partly caused AirAsia's RM394.97 million loss in 4QFY18, despite its 6.2% year-on-year (y-o-y) rise in revenue to RM2.82 billion on the back of a 16% jump in passenger count. Other main factors were higher fuel costs and a stronger US dollar against the ringgit in the period — both of which retreated temporarily in 1Q this year.
But in 1QFY19, AirAsia will adopt the Malaysian Financial Reporting Standards 16 (MFRS16). This accounting practice recognises all lease assets and liabilities, including planes that are currently treated as off balance sheet operating leases.
With the change, AirAsia's operating lease expenses — which rose 73% y-o-y to RM1.13 billion in FY18 because of the sale-leaseback model — will be removed from the calculation.
On the flip side, estimates show that MFRS16 will result in AirAsia's profit before tax retreating by around RM400 million y-o-y for the whole of FY19. It may also front-load the lease expense of these planes at a depreciation of around RM3.5 billion and interest expense of RM1.1 billion in the same period.
Fernandes, in his Twitter account, said the adoption of MFRS16 has no impact on the airliner's cash position, arguing that the non-cash impact is "not very material" at around RM35 million a year.
CGSCIMB Research, in an April 8 note, estimated that the group would book a net gain of RM174.3 million from the Castlelake deal in its profit and loss statement, with net cash proceeds of around RM891 million.
Still, AirAsia is set to expand its fleet size from 226 planes in 2018 to 399 units in 2024, as it fully adopts the sale-leaseback structure from this year onwards.
With 244 planes this year, AirAsia will book over RM11 billion of lease assets and liabilities on its balance sheet, while net gearing is expected to jump to 1.5 times.
Dividend or share buy-back after Castlelake deal concludes?
Analysts, meanwhile, confirmed that AirAsia management has guided there will be another special dividend this year, although the quantum has yet to be determined.
AirAsia is committed to pay special dividends every two years. Recall its bumper FY18, which declared total dividends of 64 sen, inclusive of a 40 sen special dividend in 3QFY18, for a total of over RM2.14 billion.
As at end of last year, AirAsia held cash equivalents of RM3.35 billion. TA Research in a note dated May 9 published its in-house estimate of AirAsia's FY19 total dividend at 70 sen per share, ahead of the conclusion of the Castlelake deal.
Others are more conservative until 1QFY19's results are out. Full-year dividend estimates among analysts covering the stock, according to Bloomberg, average at 15.5 sen. CGSCIMB's special dividend assumption was trimmed to 13 sen per share, from 19 sen per share previously, after lowering expectations on net cash proceeds from the Castlelake deal.
Of 17 analyst calls on Bloomberg, AirAsia has seven "buy", six "hold" and four "sell". Twelve-month target prices (TPs), which range from RM1.50 to RM5.20, average at RM2.84. Of the total TPs, 35% were below its last close of RM2.45.
The group, meanwhile, announced on April 26 that it is seeking shareholders' approval for the proposed share buy-back of up to 10% of its total issued share. The last time it did so was in 2015.
As in the past, AirAsia's minority shareholders may approve both the special payout and the share buy-back.
Beyond 1QFY19, the strengthening of the greenback against the ringgit and rising fuel costs are some of the things to watch out for. Amid strong load factors across its subsidiaries, market competition continues to put pressure on yields.
In the horizon is the group's digital venture, which Fernandes appears to be quite stoked about, given the number of his tweets referring to it of late. Come Wednesday, AirAsia could provide a breakdown of its digital businesses, which includes mobile payment app BigPay and one-stop travel platform, AirAsia.com.
Fernandes told investors as early as March 1 to "look out" for AirAsia's 1QFY19 results, which will provide a gauge on its operational changes. With its digital venture and changing market movements thrown into the mix, it remains to be seen if the stock will stay a darling among investors in the long run.