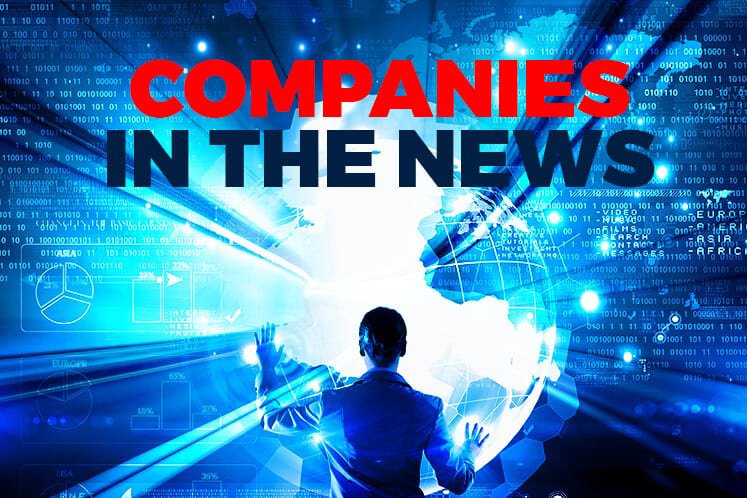 KUALA LUMPUR (Aug 14): Based on corporate announcements and news flow today, stocks in focus tomorrow may include: AirAsia Group Bhd, Batu Kawan Bhd, Kuala Lumpur Kepong Bhd, DKSH Holdings (M) Bhd, Hock Seng Lee Bhd, IHH Healthcare Bhd, Nestlé (Malaysia) Bhd, Pasdec Holdings Bhd, Scomi Group Bhd, Tan Chong Motor Holdings Bhd, Versatile Creative Bhd and YTL YTL Hospitality REIT.
AirAsia Group Bhd has disposed of its remaining 25% stake in online travel agency AAE Travel Pte Ltd to Expedia Inc for US$60 million (RM240 million), which will result in the airliner realising a gain on disposal of RM230.4 million.
At group consolidated level, the total gain would amount to RM181.6 million, it said. AAE Travel was a 50:50 JV between AirAsia and Expedia, before AirAsia sold 25% to the JV partner in 2015.
Batu Kawan Bhd's net profit in its third quarter ended June 30, 2018 (3QFY18) rose 31.95% to RM106.89 million from RM80.78 million previously, as all but its plantation segments showed better contribution.
This was despite quarterly revenue declining 10.78% to RM4.47 billion from RM5.01 billion in 3QFY17.
For the nine-month period ended June 30, 2018 (9MFY18), Batu Kawan's net profit fell 10.73% to RM1.08 billion from RM1.2 billion, on lower contribution from its plantations and property development segments. Revenue fell 9.87% to RM14.64 billion from RM16.25 million.
Better performance in manufacturing and property development segments helped Kuala Lumpur Kepong Bhd (KLK) post a 25.9% increase in net profit for the third quarter ended June 30, 2018 (3QFY18) to RM141.9 million from RM112.8 million the year before.
This was despite a decline of 11.1% in quarterly revenue to RM4.33 billion from RM4.87 billion a year ago, partly dragged by lower selling prices of palm-related products.
Nine-month cumulative net profit for the period ended June 30, 2018 (9MFY18) fell 14.6% to RM651.8 million from RM763 million in the same period last year, as revenue fell 10.3% to RM14.2 billion from RM15.8 billion.
DKSH Holdings (M) Bhd has set up a subsidiary in Brunei to expand its chocolate chip cookies and chocolate-related businesses under the Famous Amos brand there. DKSH is the owner of the franchise holder for the Famous Amos brand in Malaysia, which it acquired in January 1997.
Hock Seng Lee Bhd (HSL) has bagged an RM101.19 million contract from Petroliam Nasional Bhd (Petronas) to build the fourth Mara Junior Science College (MRSM) in Sarawak on a 40-acre site in Bintulu. Work starts in September for the 36-month contract.
Shareholders of Fortis Healthcare Ltd has given the nod for IHH Healthcare Bhd to take up a 31.1% stake in the India-based healthcare group for 4,000 crore rupees (RM2.35 billion).
While the deal could still face hiccups amid a legal battle between Fortis founders and Japan-based Daiichi Sankyo Co, the decision is a step forward for IHH, which also seeks to make an open offer for an additional 26% stake in Fortis to the latter's shareholders at 170 rupees (about RM9.98) per share.
Nestlé (Malaysia) Bhd's net profit rose 2.9% to RM166.16 million in the second quarter ended June 30, 2018 (2QFY18) from RM161.44 million last year, on higher gross profit margin.
Quarterly revenue increased 2% to RM1.31 billion from RM1.28 billion in 2QFY17, mainly driven by the launch of new products and strong consumer and trade promotions.
The consumer products manufacturer declared an interim dividend of 70 sen per share, amounting to RM164.15 million, for the financial year ending Dec 31, 2018 (FY18), payable on Sept 27.
Net profit for the cumulative six months (1HFY18) grew 1.4% to RM397.38 million from RM392.13 million a year ago, while revenue rose 3.1% to RM2.74 billion from RM2.66 billion in 1HFY17.
Pasdec Holdings Bhd executive director Datuk Seri Tew Kim Thin has failed to take over the firm via his majority-owned private unit Jasa Imani Sdn Bhd after having secured only 48.4% of the voting shares in the company, or 1.6% shy of the 50% minimum threshold.
On Aug 3, independent adviser Public Investment Bank Bhd deemed Tew's offer — at 52.5 sen per Pasdec share and one sen per warrant — as "not fair" and "not reasonable".
Loss-making Scomi Group Bhd has proposed a capital reduction of RM440 million to wipe out the ballooning accumulated losses on its balance sheet.
Post-haircut, the group's capital is expected to shrink to between RM224.96 million and RM347.15 million, while its gearing is expected to decline to 1.48 times from 1.98 times currently under the maximum scenario.
The remaining capital surplus of between RM140.94 million and RM234.69 million may be used in "such a manner as the board deems fit", it said.
Tan Chong Motor Holdings Bhd reported a net profit of RM12.36 million in the second quarter ended June 30 2018 (2QFY18) against a net loss of RM23 million last year, despite a year-on-year decline in car sales, thanks to a favourable sales mix and a stronger ringgit during the quarter.
Quarterly revenue dropped 9% to RM1.09 billion from RM1.2 billion a year ago. The group declared an interim dividend of two sen per share, payable on Sept 28.
For the six months ended June 30, 2018 (1HFY18) the group reported a net profit of RM16.62 million versus a net loss of RM58.32 million last year, while revenue slid 3% to RM2.12 billion from RM2.19 billion.
NSK Trading Sdn Bhd, the largest shareholder in Versatile Creative Bhd, has proposed seven new board members for the company, including two new executive directors, as an ongoing boardroom tussle in the listed firm picks up pace.
All the proposals are subject to the approval of shareholders at an extraordinary general meeting to be held on August 30 at 2pm.
YTL Hospitality REIT's (YTL REIT) unit Starhill REIT Niseko G.K. (Starhill Niseko) is buying a ski resort in Hokkaido, Japan, from Niseko Village K.K for RM222.5 million in a related-party transaction.
Starhill Niseko, said YTL REIT, will then lease the properties — comprising 10,728 square meters of land and hotel buildings named The Green Leaf Niseko Village — to Niseko Village for 30 years with an option to renew for another 30 years.