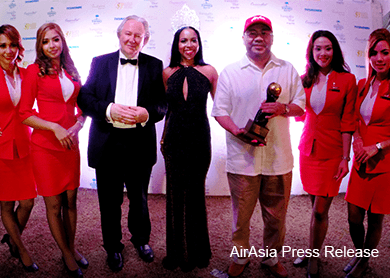 KUALA LUMPUR (Dec 8): The World Travel Awards 2014 has crowned AirAsia Bhd as the world's leading low cost airline for the second year in a row.
According to a statement from AirAsia, the World Travel Awards, hailed as the "Oscars" of the travel industry, recognies companies, organisations and brands that push the boundaries of industry excellence.
AirAsia received the highest number of votes from global travel professionals in the "World's Leading Low Cost Airline" category. AirAsia surpassed other nominees in the category such as AirBerlin, EasyJet, Jetstar Airways and Southwest Airlines.
AirAsia executive chairman and co-founder Datuk Kamarudin Meranun received the award from World Travel Awards president Graham Cooke yesterday.
Kamarudin said the recognition would not have been possible without the hard work, passion, dedication and creativity of its staff.
"It is indeed an honour to be recognised globally, and we are taking this win as a renewal of our commitment in creating a great travel experience for our guests," he said.
This year, Kamarudin said AirAsia had increased and enhanced its fly-through connections with over 858 connections available throughout its network.
Kamarudin said the airline also launched its Premium Flex service, which offered business travellers flight flexibility of flights and unveiled its low-cost Wi-Fi on board.
He said the company was also ready to launch its AirAsia Asean Pass, designed to integrate the  Association of Southeast Asian Nations community.
"These are just a few of the constant innovations that we work hard to bring to our guests. We will continue to innovate and better serve our markets," he said.
In October this year, AirAsia was also named "Asia's Leading Low Cost Airline" at the World Travel Awards (Asia & Australasia) Gala 2014.
AirAsia has also attained Asia's Best and World's Best Low Cost Airline title by Skytrax for six consecutive years from 2009 to 2014.