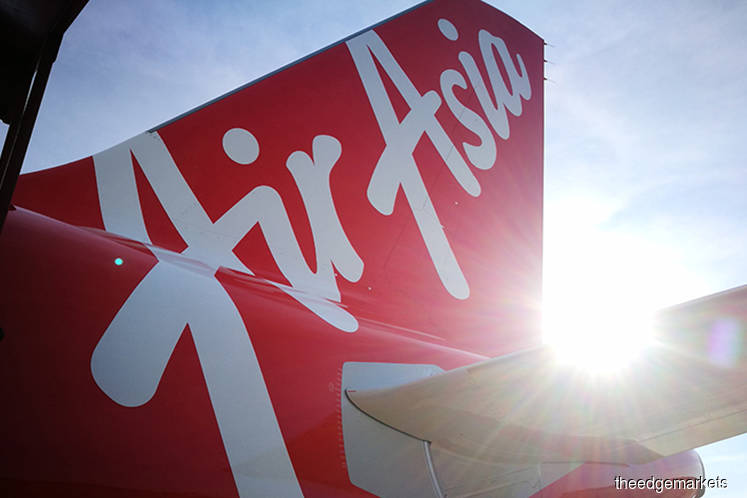 KUALA LUMPUR (Feb 3): AirAsia Group Bhd (AAGB) and AirAsia X Bhd (AAX) shares fell as much as 11.2% and 11.5% respectively this morning, even after the low-cost carriers denied all allegations of wrongdoing in the purchase of Airbus aircraft.
At 11.42am, AAGB dropped 8.4% or 12 sen to a three-year low of RM1.31, bringing it a market capitalisation of RM4.78 billion. The shares were actively traded with some 32.88 million shares exchanging hands.
Meanwhile, AAX fell to its all-time low of 12.5 sen, after dropping 3.8% or half a sen from its previous closing price of 13 sen, which valued it at RM518.52 million. The counter saw some 19.97 million shares traded.
In a filing with Bursa Malaysia on Feb 2, the low-cost carriers claimed the company was "improperly linked to the sponsorship by Airbus of a sports team jointly owned by AirAsia executives".
Hence, the AirAsia group rejected and denied any and all allegations of wrongdoing by both airlines.
"AirAsia wishes to clearly state that it was neither involved in any way whatsoever with the UK Serious Fraud Office (SFO)'s investigation of Airbus nor given any opportunity to provide any information or clarification to the SFO," the company added.
It highlighted that the entering into of each aircraft purchase agreement was never made by any single individual decision, but instead arrived at through careful evaluation, deliberation and the collective decision of the board members after taking into account technical specifications, aircraft flight performance and operating economics.
"AirAsia is deeply concerned that these allegations will have an adverse and negative impact on the AirAsia brand, reputation and goodwill. AirAsia is monitoring developments in this matter and will review any allegations or negative inferences concerning or affecting AirAsia and/or any of its executives and will fully cooperate with the Malaysian Anti-Corruption Commission and the relevant authorities where required," it said.
According to court documents sighted by The Edge Financial Daily, European aerospace multinational Airbus had allegedly bribed two "key decision-makers" at the budget airlines — who are only identified as AirAsia Executive 1 and AirAsia Executive 2 — by providing sponsorship worth US$50 million for a sports team owned by these individuals in exchange for the purchase of its aircraft.
An email between unnamed Airbus employees in the court documents showed that the purchase of their planes hinged on the sponsorship payment.
According to Reuters, the sports team in question is the Caterham F1 racing team which went defunct in 2014.
The team was purchased by AirAsia's co-founders Tan Sri Tony Fernandes and Datuk Kamarudin Meranun in 2011. Fernandes is currently chief executive officer of AirAsia while Kamarudin serves as group chairman.
See also:
SC to review US$50m graft claims against executives at AirAsia, AirAsia X
AirAsia denies bribery allegations
Airbus allegedly bribed AirAsia, AirAsia X RM205m in sports team sponsorship to secure deals