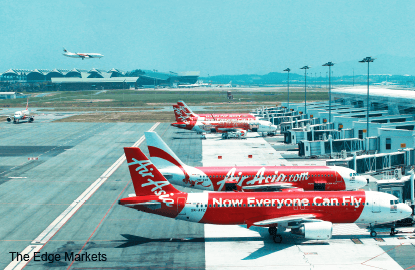 AirAsia, AirAsia X finally relocate hq from LCCT to klia2
KUALA LUMPUR (Nov 7): Budget carrier AirAsia Bhd and its long-haul affiliate AirAsia X Bhd today moved to their new corporate office located beside klia2.
Staff of the two airlines had been working from their office near the Low Cost Carrier Terminal (LCCT) although their airline operations had moved to klia2 in May 2014.
In a statement today, the two airlines said the new office called RedQ — short for RedQuarters — will house up to 2,000 AirAsia staff and encompasses an area of 18,000 sq m.
"The design of this new corporate office reflects the airline group's determination in becoming the number one airline in Malaysia and across the region, while incorporating elements showcasing its professional, fun and friendly attitude," they said.
AirAsia executive chairman Datuk Kamarudin Meranun, who is also group chief executive officer (CEO) of AirAsia X, along with AirAsia group CEO Tan Sri Tony Fernandes, AirAsia X chairman Tan Sri Rafidah Aziz, AirAsia CEO Aireen Omar, AirAsia X CEO Benyamin Ismail and respective board members were present to welcome all staff into the new building.
Construction for RedQ began in December 2014. In June this year, Aireen said there was a delay in moving to the new office due to changes in the construction of klia2 "which now is five times larger than originally planned" and, in turn, affected the construction of the AirAsia office.
AirAsia had previously claimed it was forced to relocate its airline operations to klia2 from LCCT even though the new building was allegedly rife with security and construction problems.
Last week, the AirAsia group was reported to have expressed its intention to move its entire airline operations from klia2 to the KLIA main terminal by January 2017.
A news report said the planned move was due to the lower passenger service charge at KLIA announced by Malaysian Aviation Commission (Macvom).