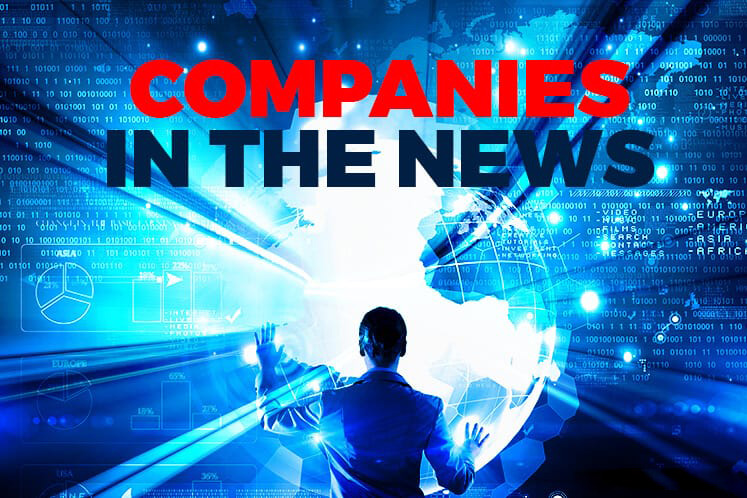 KUALA LUMPUR (July 19): Based on corporate announcements and news flow today, companies that may be in focus on Friday (July 20) may include the following: AirAsia, AirAsia X, APFT, BAT, CIMB, Malayan Flour Mills, PUC, Serba Dinamik and WZ Satu.
AirAsia Group Bhd has transferred 30 aircraft with gross proceeds totalling US$355 million (approximately RM1.44 billion) as part of its divestment plan for its aircraft-leasing unit.
The group said the planned disposals of the other remaining 54 aircraft and 14 aircraft engines — under the sales and purchase agreement it has signed with Incline B Aviation Ltd Partnership and FLY Leasing Ltd — is also on schedule.
AirAsia X Bhd has finally agreed to acquire another 34 Airbus A330neo widebody aircraft in addition to 66 units ordered back in 2016 — making the order backlog to 100 units to also be shared with its Thai and Indonesian operations.
AirAsia Group founder Tan Sri Tony Fernandes said that the model will be the AirAsia X's primary fleet until 2028, with the airliner replacing some of its predecessor A330ceo, as the neos are 11%-12% more cost-effective to operate.
The High Court has issued an interim order restraining APFT Bhd's former executive chairman Datuk Faruk Othman from participating in company management, trading its shares, or exercise his voting rights pending the full disposal of a suit brought by the aviation training firm against him.
This is in relation to a lawsuit filed by APFT on July 18 against Faruk for alleged misappropriation of company funds which resulted in the company to obtain the Practice Note 17 status. It had also sought an interim injunction against him.
British American Tobacco (Malaysia) Bhd blamed market contraction and absence of sales of certain raw materials for the 21.07% net profit decline RM113.72 million for the second quarter ended June 30, 2018 (2QFY18).
Revenue was 9.24% lower at RM679.15 million from RM748.31 million in the same quarter last year. The tobacco product manufacturer declared a second interim dividend of 35 sen per share.
Net profit for the cumulative six months ended June 30 (1HFY18) slipped 18.85% to RM209.61 million, against RM258.31 million last year. Revenue also declined 12.02% to RM1.32 billion, versus RM1.45 billion in 1HFY17.
CIMB Group Holding Bhd's 94.11%-owned Thai unit saw net profit drop 46.38% on-year in the second quarter ended June 30 (2QFY18) to 191.23 million baht from 356.64 million baht, amid higher operating expenses and provisions.
Quarterly operating income rose 4.91% at 3.41 billion baht compared with 3.25 billion baht in 2QFY17, due to gains on financial liabilities designated at fair value against a loss last year.
For its first half of FY18 (1HFY18), net profit was down 24.64% to 360.12 million baht, from 477.84 million baht. Operating income rose 6.46% to 6.8 billion baht, against 6.38 billion baht in 1HFY17.
Malayan Flour Mills Bhd wants to raise up to RM275.1 million — of which around 80% will be used to expand its poultry business and logistics facilities, and the rest to pare down its revolving credit facilities.
"The proposed repayment of revolving credit facilities of up to approximately RM54.8 million will result in an interest savings of up to approximately RM1.9 million based on the interest rate of 3.46% per annum," it said, adding that the proposal is expected to be completed before end-2018.
PUC Bhd has followed up on its acquisition of a controlling stake in 11Street malaysia from Axiata Digital Services Sdn Bhd in April with two additional Memoranda of Understanding between the companies' subsidiaries.
The first was for PUC's unit to be the agency for Axiata Digital's advertising arm in handling all traditional media buying and planning services in exchange for digital services such as digital buying and social media management.
The second was for PUC's Presto and Axiata Digital's Boost digital platform operators to collaborate to explore interoperability between the two services.
Serba Dinamik Holdings Bhd has secured an engineering, procurement, construction and commissioning (EPCC) contract worth US$66.2 million (RM268.8 million) to build two 15 MW hydro power plants in Laos from Nam Taep 1,2,3 Hydropower Co Ltd.
Separately, Serba Dinamik has proposed to subscribe to a 15% stake in UK-listed Green & Smart Holdings Plc (GSH) for £3.21 million (RM16.99 million) to tender for EPCC works under GSH.
WZ Satu Bhd swung into a net loss of RM7.29 million in the the third quarter ended May 31, 2018 (3QFY18) from a RM8.03 million net profit last year after its three key segments — civil engineering and construction, oil and gas, and mining — all turned into the red.
Quarterly revenue fell 13.4% to RM122.94 million, from RM141.91 million in 3QFY17, due to lower revenue contribution from the O&G segment and a loss of revenue contribution from a subsidiary.
It posted posted a net loss of RM6.57 million for the cumulative nine-month period (9MFY18), against a net profit of RM21.86 million in 9MFY17. Revenue dropped 6.13% to RM384.93 million from RM410.07 million.